UFC Liverpool Thompson vs Till preview: Hometown hero must put weight struggles behind him to impress
UFC commentator and analyst Dan Hardy looks ahead to the event at the Echo Arena in Liverpool which see's Liverpool's own Till take on No.1 ranked welterweight Thompson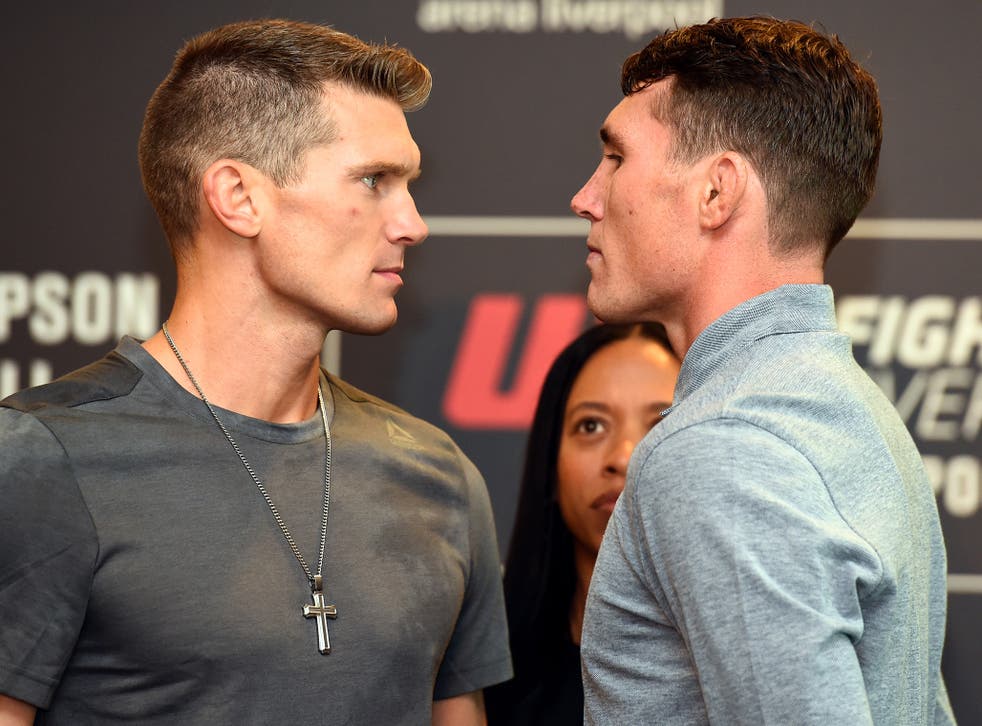 I hope you are ready for a special weekend in combat sports! This Sunday the Echo Arena in Liverpool, will host the city's very first UFC event, headlined by the man of the moment, Darren Till. The opponent across the Octagon not only escalates the pressure and attention around the event, but exponentially increases the value of a victory. Number one ranked Stephen 'Wonderboy' Thompson has contended for the world title twice, losing a decision both times to the current king, Tyron Woodley. In order for Thompson to get a third crack at the belt, and try to change the outcome, he must beat a someone of prospect status. After his first round stoppage over veteran, Donald 'Cowboy' Cerrone, Till is the name in the division getting the most attention.
With the champion temporarily absent, the division has had a little time to breath, and I can't think of a time in history when the welterweight division has been so competitive. Historically it has been a weight class that has been locked down for a number of years by one champion. In the modern day Matt Hughes and Georges St Pierre have been the main title holders, up until GSP retired. When this happens as contenders rise, they get expedited to a title shot because the champion has beaten all other comers. With Woodley being out everyone is jockeying for that prime position. They want to be ready to step in and face him when the time is right, making that number one contender spot even more important.
Currently that is Wonderboy's position, but he has to validate himself in that spot by beating Till, and maybe another top ten fighter as well. With two underwhelming bouts with Woodley, Thompson will have to get the fans on board again before he will be put back in for a title shot. It must be a frustrating position to be in, as he now needs to risk opening that door to the contender spot, to Darren Till. Much like Cowboy did when he flew over to Gdansk to take him on a few months back. Cowboy didn't know a lot about Till, and neither does Thompson. To be flying out to Liverpool to face him though, Wonderboy knows that he is the golden ticket for Till, and has to hold ground against the rising tide.
In my opinion, aside from the implications of victory for both fighters, what we have this weekend is a match-up of elite strikers. Possibly two of the best in the entire sport. Wonderboy, with his Karate styling, is fast and elusive. Tricky to pin down and near impossible to predict. He moves in and out of range with ease and peppers people with shots that they never saw coming. Disguising the finishing head kick or punch within the barrage, and often doing it unscathed. He began his training at the age of three, under the watchful eyes of his father, who also doubled as the head instructor at the family owned Karate dojo.
With a world champion older sister it took Stephen a while to find his confidence, and realise his potential. Being her primary training partner, and not realising how good big sister actually was, by the time Thompson took his first fight, at the age of fifteen, he was comfortably beating fully grown men. Amassing a perfect record of fifty-seven victories and no defeats, 'Wonderboy' was ready for his next test. He signed with the UFC with a record of 6-0 in MMA, and won eight of his next nine in the Octagon. That positioned him across the Octagon from the champion, Tyron Woodley.
They fought to a draw in their first meeting, and Woodley edged the decision in the rematch. That was back in March of 2017, and he fought once since, getting back on the winning track with a decision over veteran striker, Jorge Masvidal. It has been a very impressive career so far, and at thirty-five, he surely has one more run at the title in his future. Losing ground to an undefeated fighter ten years his junior would not help that at all. It would be a far bigger setback for Thompson than it would for Till. Even though Darren Till is stepping in as the eighth ranked welterweight, to face the number one contender, he is set to gain far more than Thompson, and lose a lot less.
As a naturally aggressive fighter, Till relies on his confidence, conditioning and intelligence, to apply pressure in the right ways. Squeezing his foe up against the fence where they are forced to feel the power in his left hand, even if they take the first few on their guard. During the face-offs at media day it was clear that Till is the bigger athlete. Speaking to both of them after, Thompson was comfortably hydrated and sipping on water, while Darren was a little low energy and clearly parched. This means that the effort to make 170lbs (77kgs) will weigh heavier on Darren, but he will enjoy a decent weight advantage on the day.
Conor McGregor's most controversial moments

Show all 13
With his bullying style it suits him to be the bigger man, whereas 'Wonderboy' is the footwork heavy, counter-striker, that wouldn't necessarily benefit in being any bigger. They both benefit massively from a successful weekend, and I would go as far as to say that an impressive finish for Till may just carry him all the way to a title shot. It's a big night for all of the fighters on this weekends card, but one stands out when you walk around the city of Liverpool and speak to a few people. Molly McCann makes her UFC debut this weekend. After winning the Cage Warriors title in this very same arena a few weeks ago, this is a dream come true for the fighter known as 'Meatball'.
She will be fighting a durable ground specialist in Gillian Robertson. and will have to contain her excitement so as not to get overzealous and rush into a submission. The Cage Warriors roster was raided again when Icelandic favourite, Gunnar Nelson withdrew from the co-main event against Neil Mangy. In steps Craig 'Thundercat' White. On two weeks notice he steps into the biggest fight of his career, on the biggest stage in the world. It's a big ask to defeat Magny, even with a full training camp. Great careers aren't built on safe decisions though, and when opportunity presents itself, you have to punch it as hard as you can.
Watch UFC Fight Night: Thompson vs. Till live on BT Sport from 6pm BST on Sunday, May 27 or catch the Early Prelims exclusively on UFC Fight Pass from 3.30pm BST.
Register for free to continue reading
Registration is a free and easy way to support our truly independent journalism
By registering, you will also enjoy limited access to Premium articles, exclusive newsletters, commenting, and virtual events with our leading journalists
Already have an account? sign in
Register for free to continue reading
Registration is a free and easy way to support our truly independent journalism
By registering, you will also enjoy limited access to Premium articles, exclusive newsletters, commenting, and virtual events with our leading journalists
Already have an account? sign in
Join our new commenting forum
Join thought-provoking conversations, follow other Independent readers and see their replies