UFC London results: Jimi Manuwa stunned by Jan Blachowicz in thrilling light-heavyweight rematch
Manuwa was stunned by a dominant Blachowicz, while Leon Edwards was quick to call out UFC Liverpool headliner Darren Till after his late victory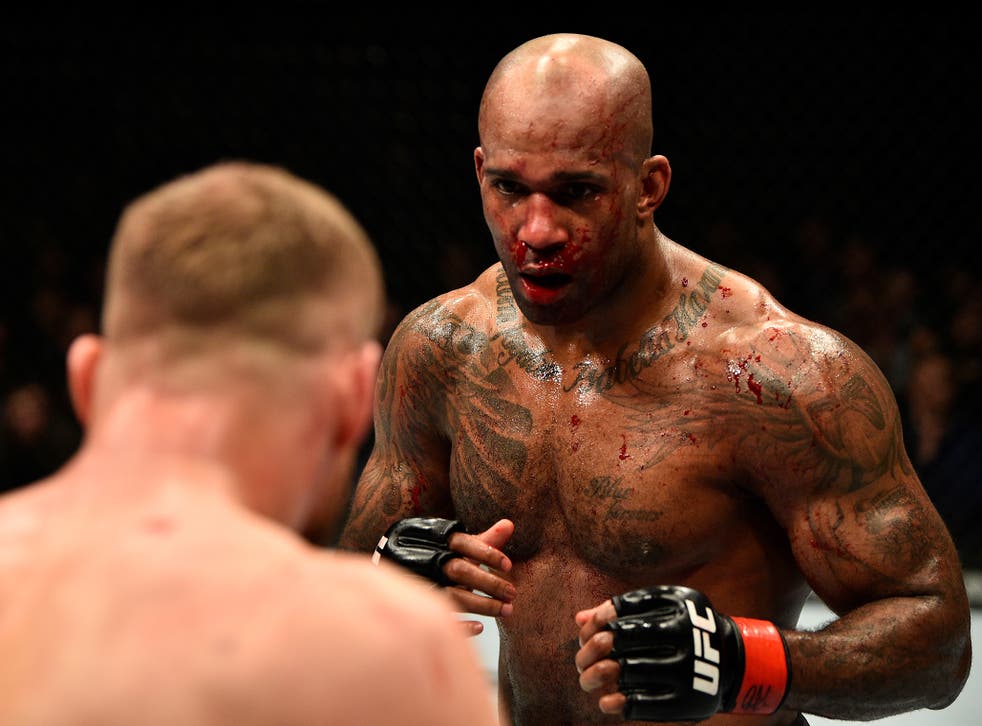 Well that wasn't supposed to happen. Before Jimi Manuwa stepped into the Octagon at UFC London to face Jan Blachowicz for a second time, all the pre-fight chat had concerned whether or not the English light-heavyweight would be able to improve upon the only decision victory of his career. It turned out he couldn't.
Instead Blachowicz seized his shot at redemption, stunning Manuwa with a completely dominant decision victory and leaving the Londoner's career at a crossroads. Afterwards, as The O2's jeers slowly transitioned into grudging cheers, Blachowicz was full of praise for his opponent. "He was a monster," he said. "In training I was doing better than that but Jimi is a tough guy and very dangerous. Tonight I played my game, not his, and that is the difference between this fight and our last."
As a bloodied Manuwa traipsed back to his dressing room, ignoring the fans who clamoured to shake his hand, it was hard to escape the feeling that his shock defeat represented a changing of the guard in British MMA. Earlier in the night there were important victories for both Leon Edwards and Danny Roberts, while UFC Liverpool headliner Darren Till was heartily cheered throughout, but it is difficult to see where 38-year-old Manuwa heads next.
He had made no secret about his initial lack of enthusiasm for this match-up. "I am not taking anything away from my opponent but the right fight to make would have been against Glover Teixeira, the number three," he told The Independent a few weeks before fight night. And perhaps that frustration seeped through to his fight camp because he made a slow start, with Blachowicz wasting no time in landing a heavy right that dropped him to the canvas.
He rallied in the second, punishing Blachowicz's lack of movement with a destructive combination to the head and upper body, and took the round on two of the three scorecards. But it was to prove a fruitless effort: Blachowicz pulled ahead in strikes thrown in the closing stages and landed a late takedown to put the contest beyond any doubt.
Manuwa is now likely to drop further down the light-heavyweight rankings, while Blachowicz can expect to move into the top ten, with a third contest between the pair likely.
In truth, it was a shame the rematch had not headlined this much-criticised card, especially as Manuwa looked to still have something left in the tank as he rose to his feet at the end of the third. Instead the legendary Fabricio Werdum took on Alexander Volkov in a peculiarly slow-burning heavyweight bout, which the Russian won in the fourth to extend his UFC record to 4-0.
Elsewhere, there was a coincidence of fairly epic proportions when Edwards equalled a UFC record for the latest finish in a three round fight — which had only been set earlier that evening.
His welterweight contest with Peter Sobotta had been a largely forgettable war of attrition until an explosive finale and post-fight interview. With a tiring Sobotta pinned to the cage, Edwards applied a ground and pound to his opponent's head which saw the contest waved off, before locating Till in the audience and seizing his opportunity.
"In Liverpool, let's go," he shouted, as the big screens around The O2 showed a grim-faced Till shaking his head. "Me and you, Liverpool versus Birmingham, let's go. All day, easy work." Edwards later elaborated backstage. "I called out Darren Till - it is what it is," he said. "There are no friends in this game. I'll have a rest this weekend and then I want to go again in eight weeks."
Way earlier in the evening Paul Craig chalked up the first British victory on a card stacked with local talent, winning by the same scarcely believable one second margin. After losses for Mark Godbeer and Stevie Ray, Craig looked to be heading for a similarly disappointing defeat against the previously undefeated Magomed Ankalaev, only to throw an audacious triangle-choke from his back deep into the third round.
Miraculously, he locked on. A wide-eyed Ankalaev was forced to tap, handing Craig a slice of UFC history that lasted less than two hours. "My coach jumped into the Octagon and said I had finished it with only seconds to spare," a disbelieving Craig said backstage afterwards. "So to come back after a couple of losses with that finish — it means so much."
And there was an important win for Danny Roberts, who lost last time out against Nordine Taleb. With the pressure on the Scouser required just two minutes and 12 seconds to knock out Oliver Enkamp, and immediately called for a place on the forthcoming UFC Liverpool card. "Next up, it has got to be Liverpool for me," he said. "It is a realistic turnaround time and it's my home."
Register for free to continue reading
Registration is a free and easy way to support our truly independent journalism
By registering, you will also enjoy limited access to Premium articles, exclusive newsletters, commenting, and virtual events with our leading journalists
Already have an account? sign in
Register for free to continue reading
Registration is a free and easy way to support our truly independent journalism
By registering, you will also enjoy limited access to Premium articles, exclusive newsletters, commenting, and virtual events with our leading journalists
Already have an account? sign in
Join our new commenting forum
Join thought-provoking conversations, follow other Independent readers and see their replies