UFC London: British mixed-martial-arts stronger than ever ahead of return to the capital in March
UFC welterweight and commentator Dan Hardy looks ahead to UFC London at The O2 on 18 March 2017, and reflects on his stand-out memories from the UFC's past visits to the capital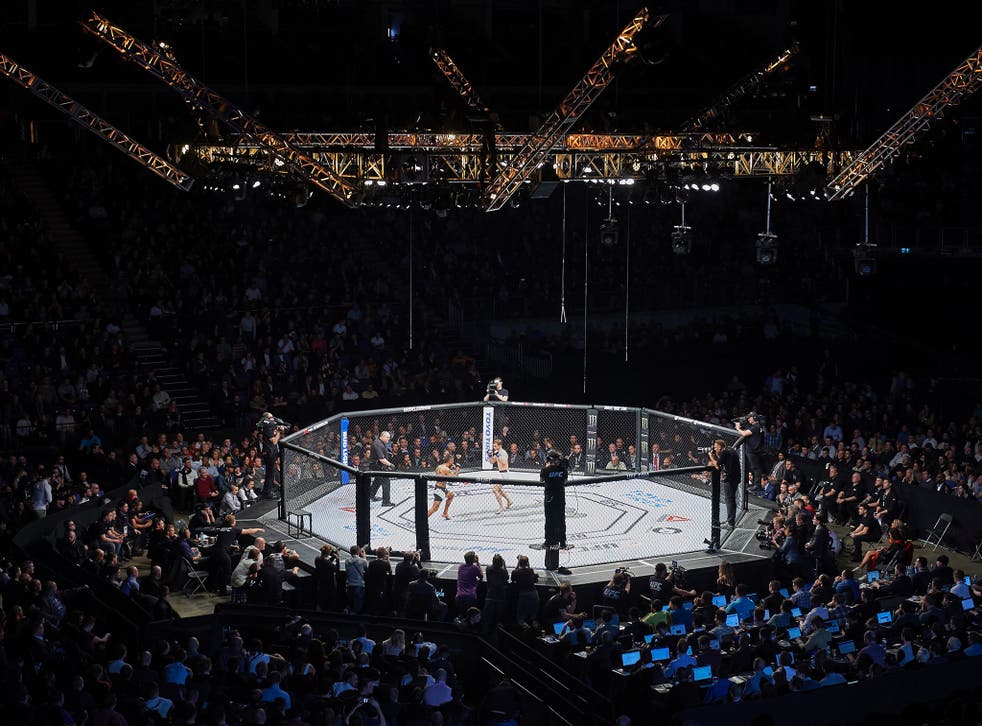 As we approach the end of 2016 and the last UFC event on the schedule is readying itself to take over Las Vegas, on December 30, the planning for next year is well underway and the annual London event has already been announced for March 18. Some of the fighters that will appear on that card will already be planning for that night and may even have an idea of who they are fighting.
I remember being in that situation myself ahead of UFC 95 back in 2009 and I trained on Christmas Day morning so I could have dinner with my family as dieting had already started. It's strange to think that was almost eight years ago now, but this yearly appearance of the Octagon in London offers the perfect stage for UK talent to get a good win on home soil at the beginning of the year, before the UFC send them off to a faraway land to fight another tough up-and-comer, and really test their potential.
Gathering together the best British fighters on the roster and matching them against tough but fair opposition, makes this an excellent gauge as to where the UK stands on the world stage. We also get to see fresh talent that have made a name for themselves the previous year and signed in time for the new year of events. Across the country we have smaller events taking place almost every weekend, and on these shows young athletes cut their teeth on the UK circuit and find out if they have what it takes to reach to UFC. When that offer comes through, the next best news is usually that you are fighting in London.
It's special for me because its home soil and the fans are always raucous in support of the local boys and girls. I fought twice there, beating Rory Markham via knockout at UFC 95 before being stopped with a good left hook from Carlos Condit on my second visit in 2010. Despite the knockout loss I have good memories of that event and was honoured to be a part of it.
There have been so many great fights in London, both before and during my fighting career, and since I've stepped into this role as a commentator. One fight that comes to mind was my first gig on the mic back in March of 2014, when Neil Seery took a short notice fight against Brad Pickett and they both fought their hearts out. Seery was a debutant realising his dream of fighting in the UFC and Pickett was appearing in front of his hometown crowd, a six-time UFC veteran and five-time bonus winner.
The O2, where our next UFC Fight Night on these shores will be taking place, is quite a special venue for many British athletes. It stirs performances like the one Michael Bisping put on when facing the legend that is Anderson Silva earlier this year. The atmosphere that evening was palpable. An electric shock pulsed through the 16,000 in attendance when, in the third round, Silva connected with a knee that put Michael on the canvas. There was a surge behind him at the beginning of the fourth, when he got off his stool bloody and dazed, but determined to push on. He then pressed the former champion for another 10 minutes to clinch a hard-earned victory, taking on the legend status himself.
On that same night Davey Grant, Arnold Allen, Tom Breese and Brad Pickett also picked up good wins, as well as Scott Askham with his highlight reel knockout over Chris Dempsey. I would expect at least some of those names on this upcoming card, along with newer signings such as Jimmy Wallhead and Paul Craig. We also have a new wave of Welsh fighters who would be missed if they didn't appear on the card, with Brett Johns and Jack Marshman both impressing in Belfast in November. Plus the new signing announced this week, hard-hitting John Phillips has finally got the call and will be making his UFC debut in 2017.

The future of UK mixed martial arts is looking brighter than ever. Michael Bisping, the first British champion, will close the year out with a belt around his waist, and the fresh generations of fighters are better than the last. If this pattern continues and the UFC visit London in the first quarter of every year I'm sure we will see this evolution gather momentum. It's been 14 years since the first UFC event in London and we have come a long way since then. My 20 year-old self was training in China at the time, but I remember feeling inspired watching it upon my return home, seeing the old guard stand their ground in representation of UK MMA.
The pinnacle of the night at UFC 38 wasn't the main event between Matt Hughes and Carlos Newton, but when Ian Freeman beat Frank Mir in the first round of their heavyweight bout. He then sat astride the Octagon wall with arms aloft, as the crowd inside the Royal Albert Hall erupted all around him. We have had many great fighters come out of the British Isles, and there will be many more to come. The O2 on March 18th will be the next time the eyes of the MMA world will be cast upon the United Kingdom, and I feel that the British representation in the sport is stronger than ever.
Tickets for UFC® FIGHT NIGHT LONDON will go on general sale at 10:00 a.m. on Friday, January 27 via AXS and Ticketmaster.
Register for free to continue reading
Registration is a free and easy way to support our truly independent journalism
By registering, you will also enjoy limited access to Premium articles, exclusive newsletters, commenting, and virtual events with our leading journalists
Already have an account? sign in
Register for free to continue reading
Registration is a free and easy way to support our truly independent journalism
By registering, you will also enjoy limited access to Premium articles, exclusive newsletters, commenting, and virtual events with our leading journalists
Already have an account? sign in
Join our new commenting forum
Join thought-provoking conversations, follow other Independent readers and see their replies