UFC Mexico City: Sergio Pettis defeats home hope Brandon Moreno in close flyweight clash
Pettis was the higher ranked of the two flyweights and beat home hope Moreno on a unanimous decision in an incredibly close clash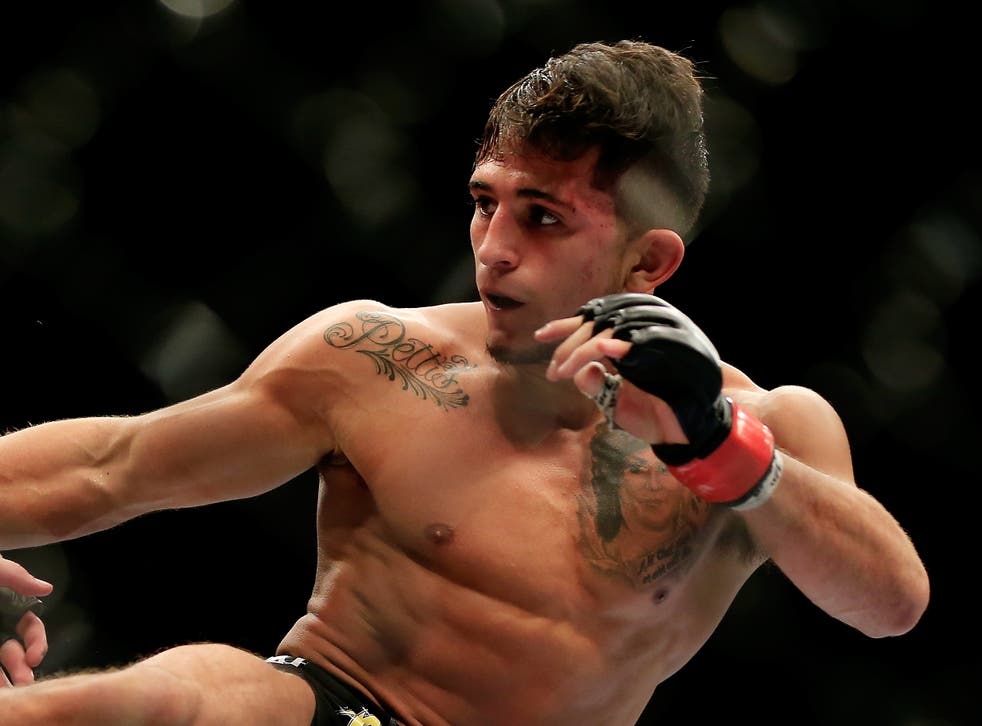 All eyes were on Mexico City on Saturday night, as the UFC held their eleventh show in as many weeks to conclude a busy summer of MMA.
UFC Fight Night 114 was headlined by a flyweight main event as Sergio Pettis took on Brandon Moreno, with fans excited to see two of the hottest prospects at 125-pounds going toe-to-toe in the Mexico City Arena.
Sergio, younger brother of former UFC lightweight champion Anthony, was the higher ranked of the two heading in to the bout last evening, but the hometown man Moreno was the favourite with the bookmakers and had the capacity crowd behind him.
As is often the case with the flyweights, the action began at a furious pace and Moreno wasted little time taking Pettis to the mat after he caught his leg off a kick. The Mexican worked to Pettis' back quickly and locked on a tight body triangle before attempting to sink in a rear-naked choke for over two-minutes. To his credit, Pettis did well defending the choke and he made it back to his stool to grab a much-needed breather.
In round two, Pettis kept the fight standing for the first two-minutes, but just as he did in the first round Moreno caught a kick and briefly took the fight to the mat. This time though Pettis worked his way out of trouble quickly and he scrambled back to his feet to initiate the standing exchanges where he had some success with some kicks to both head and body.
The third-round saw Pettis settling in to his rhythm as he began to land frequently on Moreno with kicks and right hands. The Mexican was beginning to look tired and Pettis sensed it was his time to apply the pressure and make him pay. The momentum shift was clear for all to see as Pettis began peppering him with jabs before landing a big head kick before the round ended.
Round four opened with an accidental eye poke to Moreno but after a brief pause both men were back at it again and exchanging strikes at lightning fast pace. Pettis continued to find success with his jab, but Moreno threatened with big winging hooks to stop him from totally dominating the exchanges.
The fight went to a final round with both men breathing heavily as it got underway. A big moment in the fight came almost immediately as the Mexican landed a takedown to put Pettis on his back. Moreno then worked away in top position for over two minutes but Pettis made his way back to his feet with 90-seconds left on the clock and the two slugged it out until the final bell came.
It was a close fight and the judges had the unenviable task of scoring some very tight rounds. Pettis was announced the winner via a unanimous decision on all three scorecards. The scores of 49-46, 48-46 and 48-46 don't really tell the story of how close it really was.
Grasso edges Markos
In the co-main event, Randa Markos and Mexico's own Alexa Grasso went at it in a strawweight fight contested over three, five-minute rounds.
Both women wasted little time letting their striking go and they started off at a ferocious pace and traded heavy shots in the pocket throughout the first round. Both women were breathing heavily after the first five-minutes, but the action didn't slow down and Markos looked to be even more aggressive as round two began.
The Canadian tried to cramp Grasso for space using her wrestling and midway through the second round she sent the Mexican down to the mat heavily following a big slam. From there, Markos worked her way into full mount and landed some nice elbows until the end of the round saved Grasso from being finished.
It was likely one round a piece heading in to the third and final five-minutes and the crowd gave both women plenty of love as they rose from their stools.
Grasso landed a few nice shots in opening exchanges, but Markos took her down to the mat for a brief period with a nicely timed takedown. With a minute left on the clock, Grasso began to land some nice combinations, but time ran out and both fighters stood in the centre of the Octagon with their hands raised after what was a very entertaining fight.
After a tense pause, the Mexican crowd were celebrating as Grasso was announced the winner via a split decision.
Alvey hands Evans his fourth straight defeat
Elsewhere on the card, former UFC light heavyweight champion Rashad Evans took his second fight at middleweight as he looked to snap a three-fight losing streak against Sam Alvey. The fight for the most part was very forgettable as both men looked afraid to let their striking go.
Evans tried throughout to take it to the mat, but Alvey did well to stuff the majority of his takedowns and he hit him with a number of counter knees in the clinch that appeared to suck the life out the former champion. After three uneventful rounds, Alvey was declared the winner via a split decision.
With four straight losses, Evans now has some serious thinking to do and he must decide whether it's worth him continuing to fight.
British fighter Bradley was also in action as he took on Jack Hermansson. Unfortunately for Scott it wasn't a good night and he was submitted via rear-naked choke with not even four minutes on the clock.
UFC Mexico City Full Results
Sergio Pettis def. Brandon Moreno via Unanimous Decision (49-46, 48-46, 48-46)
Alexa Grasso def. Randa Markos via split decision (29-28, 28-29, 29-28).
Niko Price def. Alan Jouban via TKO (strikes), 1:44, Round 1.
Humberto Bandenay def. Martin Bravo via KO (knee), 0:26, Round 1
Sam Alvey def. Rashad Evans via split decision (29-28, 28-29, 29-28)
Alejandro Perez def. Andre Soukhamthath via split decision (29-28, 28-29, 29-28)
Jack Hermansson def. Brad Scott via TKO (Punches) 3:50, Round 1
Dustin Ortiz def. Hector Sandoval via TKO (punches), 0:15, Round 1
Rani Yahya def. Enrique Briones via submission (kimura), 2:01, Round 1
Jose Quinonez def. Diego Rivas via unanimous decision (30-27, 30-27, 30-27)
Joseph Morales def. Roberto Sanchez via submission (rear-naked choke), 3:56, Round 1
Jordan Rinaldi def. Alvaro Herrera via submission (Von Flue choke), 2:01, Round 1
Register for free to continue reading
Registration is a free and easy way to support our truly independent journalism
By registering, you will also enjoy limited access to Premium articles, exclusive newsletters, commenting, and virtual events with our leading journalists
Already have an account? sign in
Register for free to continue reading
Registration is a free and easy way to support our truly independent journalism
By registering, you will also enjoy limited access to Premium articles, exclusive newsletters, commenting, and virtual events with our leading journalists
Already have an account? sign in
Join our new commenting forum
Join thought-provoking conversations, follow other Independent readers and see their replies