Michael Bisping says Yoel Romero doesn't deserve a UFC middleweight title shot after failing drugs test
The Manchester-based UFC champion is ready to face all three opponents eyeing his middleweight title, but would prefer a mega-fight with MMA legend Georges St-Pierre
Jamie Clubb
Thursday 16 February 2017 15:32 Comments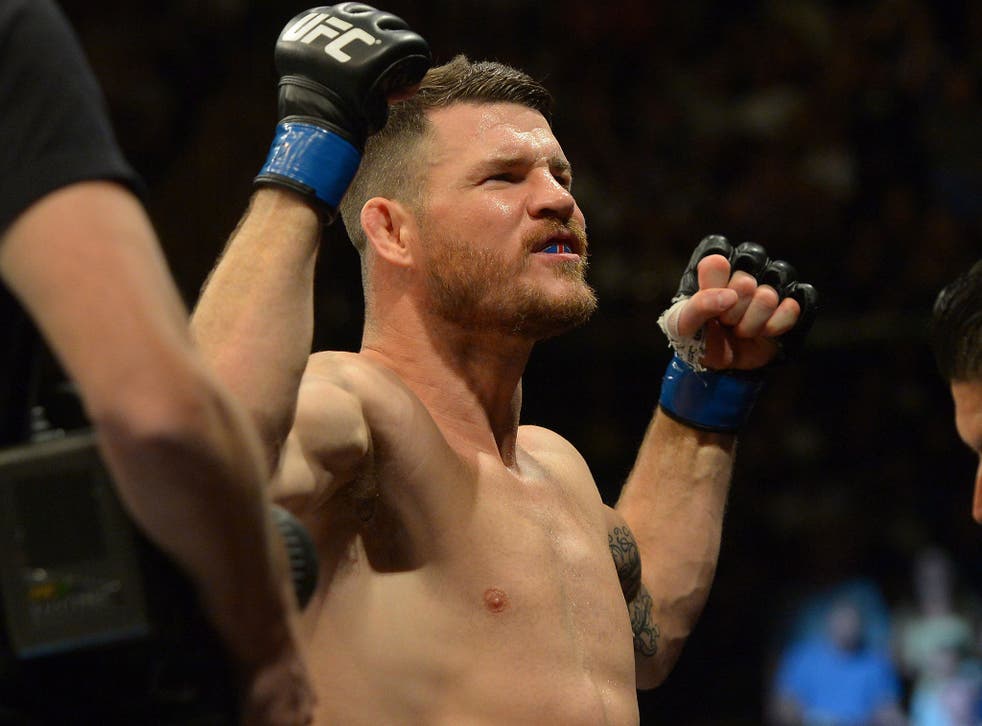 UFC middleweight champion, Michael 'The Count' Bisping, has openly criticised his next likely opponent, Yoel Romero, for failing his drug test last year, and now says the number-one contender is not worthy of a title shot.
The English fighter, who is no stranger to taking on opponents that have tested positive for illegal substance use, has argued that the 'cheating' fighter should have been suspended for longer than the six months that the United States Anti-Doping Agency [Usada] agreed upon last year.
"From what I'm led to believe from my research, the advantages of steroids is that they stay in your system for a long, long time," he said in a recent exclusive interview with The Independent. "But he (Romero) only got a six-month ban. That's my kind of issue with it. I think he should have to wait a lot longer. You can't test positive for steroids and be back fighting in six months."
The champ further revealed that Romero is one of three potential opponents lined up to challenge him for his belt. The other two strong contenders are the three-time former UFC welterweight champion, Georges St-Pierre, and the UFC's number-three ranked middleweight fighter, Ronaldo 'Jacare' Souza. The former is considered a legend in the sport by many, including Bisping, who appears to want this fight the most. Bisping called St-Pierre 'one of the most dominant champions the UFC ever saw'. Although a fight with Romero is more likely to materialise next, 'The Count' has fuelled further speculation as far as who will actually be facing him.
"I think this will be a great legendary fight (with St-Pierre)," Bisping said. "It's a fantastic storyline, but I see myself winning that fight. His camp has reached out and told me he wants to fight me. The UFC offered me this fight awhile ago but couldn't get a deal done. But now the deal is almost done, this fight will generate a lot of business."
Such openness about the financial side of things has earned the first ever UK UFC champion the derision of his other wannabe challenger, 'Jacare'. The Brazilian has earned himself a reputation as one of the best Brazilian jiu-jitsu fighters in the history of the sport and winner of nine of his past ten MMA fights. He publically proclaimed his impatience in waiting to fight Bisping. "The reality is he (Bisping) doesn't fight for his honour nor his family's and he doesn't even fight for himself," he said. Bisping fights solely for financial gain and doesn't give a damn about the fans and what they want, he added.
Jacare agreed with the taunts Romero has made about the Brit. Romero said that Bisping was afraid to fight him, while Jacare said that Bisping was 'running' from Romero. These jeers were clearly on Bisping's mind and a pressing matter on who will be his next contender when he was recently interviewed.
"Of course I'm the world champion now and you've got to defend the belt, but you've also got to be as lucrative as possible," he said. "Everybody wants to be lucrative in this world. I've got a few options but it's down to the UFC what they want to do. Certainly it's Yoel Romero, George St-Pierre, or even Jacare."
Moreover, he said that whoever he gets in the Octagon with next, some people aren't going to be happy. "I can't fight everybody but one person by one," Bisping said. "The thing is if I fight Yoel Romero, then Jacare is going to be pissed off. If I fight George St-Pierre, then Yoel Romero is going to be pissed off. And they're all saying that I'm running, but I can only fight one person." The Brit is waiting to hear from the UFC and will be speaking to president Dana White this week for a final confirmation.
However, despite the lack of a definite confirmation, Bisping, who is currently still recovering from knee surgery and has been busy with acting gigs in Hollywood, said that he will likely be facing Romero, even though a deal is not far off to face the legend St-Pierre.
UFC_ Dan Henderson reflects on his last ever fight - which Bisping won
Adding fuel to fire the defending champion wasn't shy to dig into Romero further, he said his next potential adversary has got a reputation for cheating inside the Octagon. Romero has been accused of sitting on the stool too long, covering himself with grease and grabbing the fence. "But that's not my issue with him; my issue is the steroid thing," Bisping succinctly said. "I'm not running from the guy. I've always taken a strong stance against steroid use so I think there should be harsher penalties."
When asked what he thought about Romero's jibe on social media more than a week ago, that he was willing pay for the UFC star's medical bills via a GoFundMe fundraiser, Bisping clearly wasn't impressed. "I mean, to be honest the whole thing about a fundraiser is to help the ill," he said. "It's designed to do good things. It's designed to give help to people who are really ill or dying. It's only typical of a guy who has cheated by using steroids mock something like that."
He was just recently raising some money for a young boy to beat cancer for the fourth time, raising money so he can have a lifesaving surgery. "Regarding medical bills, I'm not going to need any medical bills. I see that he did raise 200 dollars, so I think I'll take that and go for a nice night out after my fight against Yoel Romero, thank you very much."
'The Count' is set to defend his title in May and it looks like he will be locking horns with Yoel Romero to settle the score once and for all in the Octagon.
Register for free to continue reading
Registration is a free and easy way to support our truly independent journalism
By registering, you will also enjoy limited access to Premium articles, exclusive newsletters, commenting, and virtual events with our leading journalists
Already have an account? sign in
Join our new commenting forum
Join thought-provoking conversations, follow other Independent readers and see their replies