5 things we learned from Super Bowl 51 as Tom Brady inspires New England Patriots to all-time great comeback win
New England 34-28 Atlanta: One of the greatest Super Bowls ever played was decided in overtime after an incredible comeback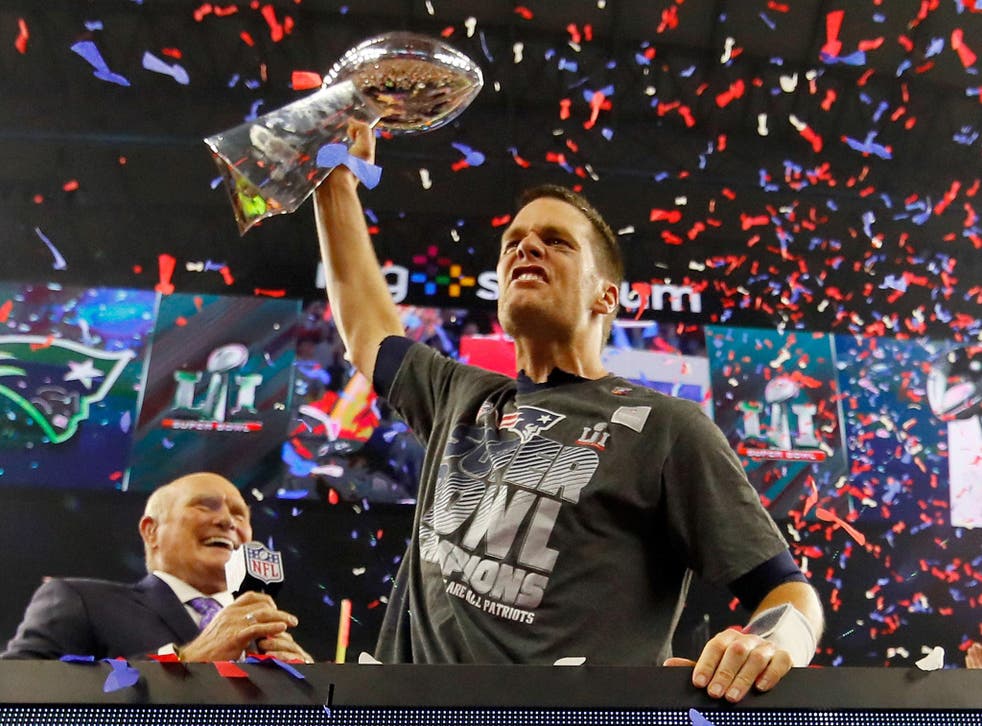 The New England Patriots completed the greatest-ever comeback in a Super Bowl, overturning a 25-point deficit to win Super Bowl 51 in Houston, Texas.
Tom Brady led his side down the field in overtime, the first-ever overtime period in a Super Bowl, and handed the ball off to running-back James White who squeezed over the line for a two-yard touchdown that ended the game and decided an incredible encounter.
Atlanta had looked all-but certain to win a first-ever Vince Lombardi trophy when they led 28-3 in the third quarter.
But they couldn't stop 39-year-old Brady, who now has five Super Bowl rings and has claim to be the greatest player to ever grace the NFL.
Here's what we learned from a wild encounter....
1. Patriots' offense hits a first-half wall
Tom Brady is a surefire Hall-of-Famer and, quite probably, the best quarterback to ever play the game.
And yet, he couldn't get the offense moving as the Patriots struggled out of the blocks in Super Bowl 51.
The first four New England drives went: punt, punt, fumble, punt. Those last two were crucial as the Pats handed Atlanta possession with dangerous field position, giving up a touchdown, before handing it straight back to Matt Ryan who repeated his feat. 14 points in three-and-a-half minutes was killer.
Brady should have been three-and-out in the next drive, only for an Atlanta penalty to save him, and then another flag gave them a second life after Brady had failed to convert a third down.
The next third-down opportunity sailed into the hands of Robert Alford for a pick-six and the Patriots were done. Rattled. 21-0 down. There looked to be no way back.
That didn't account for Tom Brady's magic.
2. Speed crucial on both sides of the ball
Pre-game suspicions were that Tevin Coleman and Devonta Freeman, Atlanta's dynamic running-back duo, would be key in damaging the Patriots.
It proved that way with Freeman, in particular, doing damage to the Pats outside the tackles on stretch plays and running outside the tackles.
Coleman got involved, catching a second-half touchdown, while full-back Patrick DiMarco provided some assistance, catching passes out of the backfield and blocking for his backfield colleagues.
The speed with which Freeman and Coleman stretched the Pats was crucial, keeping them moving sideline-to-sideline and opening up the field for Matt Ryan to find his receivers - where speedsters Taylor Gabriel (below) and Julio Jones made big plays.
On the defensive side of the ball the rapid linebackers, particularly Deion Jones, and his fellow rookie, safety Keanu Neal, got after the Patriots in a way they couldn't handle during the first half. They, and their colleagues in the secondary, slowed in the second half though and were helpless as the Patriots turned the screw.
Dan Quinn did so well early on, spicing up their playbook, employing extra pass-rush stunts to pressurise Brady and Atlanta got all over New England on both sides of the ball, using speed to dominate and tire out Bill Belichick's men.
The Patriots eventually came back into this game and it was because of another sort of speed, Tom Brady's quick, short-passing game that allowed New England to slice and dice Atlanta's secondary - particularly through James White.
Indeed, as time ticked on and Brady upped the ante, there was no stopping him. Age hasn't slowed him down, and White - brilliant all night - got the winning touchdown that his display deserved.
3. Belichick masterminds incredible comeback
Bill Belichick is the ultimate schemer but, after two weeks of preparing, he proved to have been out-thought by Dan Quinn.
He had one opportunity to right that, at half-time, and he needed his side to recover from an 18-point deficit.
And, trusting in his process, Belichick's side ground down a tired Falcons team to win yet another Lombardi.
After stopping Matt Ryan with his first possession of the second half, the signs were good. But Tom Brady couldn't get points on the board and Ryan rolled the Falcons down the other end for Tevin Coleman's touchdown. 25 points back, it was suddenly Belichick's largest-ever post-season deficit and it showed little sign of improving.
Belichick had an opportunity to cement himself as the NFL's greatest-ever coach coming into this game, should he win his fifth Super Bowl as head coach.
And when his side recovered from 28-3 down in the third quarter to be level with less than a minute remaining, it surprised nobody. Belichick and Brady have done this time and again.
Once it got to overtime, there felt like there was no stopping them. The Falcons never even got their hands on the ball.
Brady was incredible but Belichick was behind it.
4. Kyle Shanahan could not have done more to earn his shot
Atlanta went to the brink of winning the Super Bowl on the back of having an all-time great offense and lots of the credit for that should go to Kyle Shanahan.
Still just 37, Shanahan is one of the brightest young minds in football and schemed a supreme offense that not only blew away virtually everyone they played this season, but a team led by one of the NFL's greatest-ever defensive coaches.
That is how impressive what we've seen from the Falcons is, and it earned him his first head-coaching job in San Francisco.
Shanahan will be confirmed shortly as the man to lead the 49ers forward and it's a brave choice, with a poor roster and an inexperienced general manager working alongside him.
But if he can mould the San Fran offense into something even half as effective as what we've seen from Atlanta then they'll be one of the NFL's most exciting teams over the coming seasons as they rebuild.
5. Record-breaking Super Bowl blows everyone away
It was hard to make sense of such an incredible game.
The Patriots completed a 25-point comeback, the biggest ever (by miles) in a Super Bowl.
Tom Brady and Bill Belichick got their fifth ring each as a quarterback and head coach respectively.
The first-ever overtime in a Super Bowl was incredible. It was Brady performing at the highest level. A word for Atlanta, who were brilliant first half but whose time management was poor and their defense tired playing unfamiliar man coverage against these Pats.
But there's no doubt that those who stayed out the entire encounter tonight witnessed something special.
We witnessed sporting greatness.
Join our new commenting forum
Join thought-provoking conversations, follow other Independent readers and see their replies