Kyler Murray picks the NFL: Dual-sport starlet turns his back on Major League Baseball for his shot at football
The Heisman Trophy winner looks set to give everything to making it in the NFL even after being drafted in the first round by baseball's Oakland Athletics last year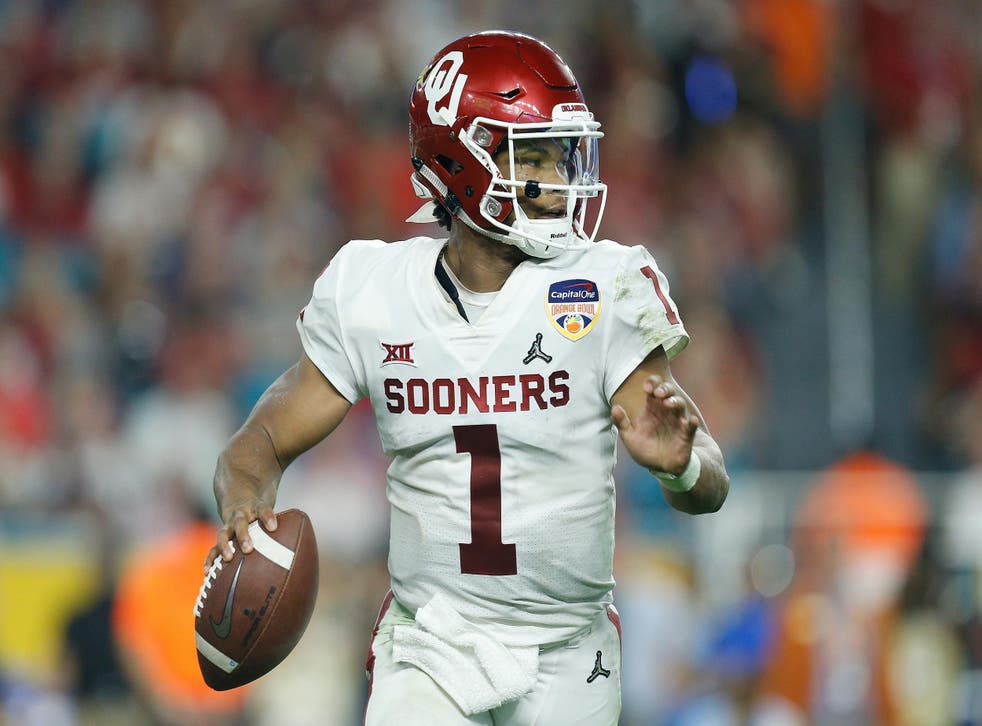 Kyler Murray has put an end to one of sport's most intriguing storylines by announcing that he will turn his back on Major League Baseball and a $4m contract with the Oakland Athletics in order to pursue a professional career in American football.
The Oklahoma University product was drafted in the first round of last year's MLB draft by Oakland, who allowed him to play one final season of college football before turning his attentions to a career on the diamond.
Murray's final season in Oklahoma surpassed all expectations, however, winning the Heisman Trophy for the best player in college football after a record-breaking season. Succeeding number one overall pick Baker Mayfield in Lincoln Riley's offense, the tiny quarterback had a blowout final season with the Sooners and began to be tipped as a potential first-round pick in the NFL, which left him and his entourage with a decision to make.
While baseball's top earners take home far more than NFL stars, they tend to be less marketable and a first-round quarterback could be expected to make far more than an outfielder in baseball - Murray's position. The questions linger over the young QB's frame though, with Murray measuring in at just 5ft 9in. NFL teams traditionally prefer statuesque passers, but Murray's talents have convinced some teams that he could be a top-10 pick in the NFL draft. Clearly Murray has been persuaded of that too.
The 21-year-old Texan has refused to reveal which sport he was leaning towards in recent weeks, culminating in a number of excruciating interviews around Super Bowl week in which Murray refused to even talk in response to the only question interviewers wanted to know.
2018 NFL season in pictures

Show all 35
MLB executives had been scrambled to meet with Murray's representatives with a view to swaying him, with talk of an improved contract before he even arrived in baseball.
But on Monday morning in Texas, Murray revealed that he has chosen to fully commit himself to becoming an NFL quarterback.
"Moving forward, I am firmly and fully committing my life and time to becoming an NFL quarterback," Murray wrote.
"Football has been my love and passion my entire life. I was raised to play QB, and I very much look forward to dedicating 100% of myself to being the best QB possible and winning NFL championships. I have started an extensive training program to further prepare myself for upcoming NFL workouts and interviews. I eagerly await the opportunity to continue to prove to NFL decision makers that I am the franchise QB in this draft."
Murray did not mention baseball or the A's at all in his statement, but it is understood he will have to return $4.41m of the $4.66m he received from Oakland.
It is nigh-on certain now that Murray, despite being considered too small by many NFL scouts, will become the first player in history to be drafted in the first round of both the MLB and NFL drafts.
Join our new commenting forum
Join thought-provoking conversations, follow other Independent readers and see their replies