Wayne Rooney's influence in DC United's late-season surge can't be ignored - and he could take them to the playoffs
The Englishman has stepped up to lead by example in the US capital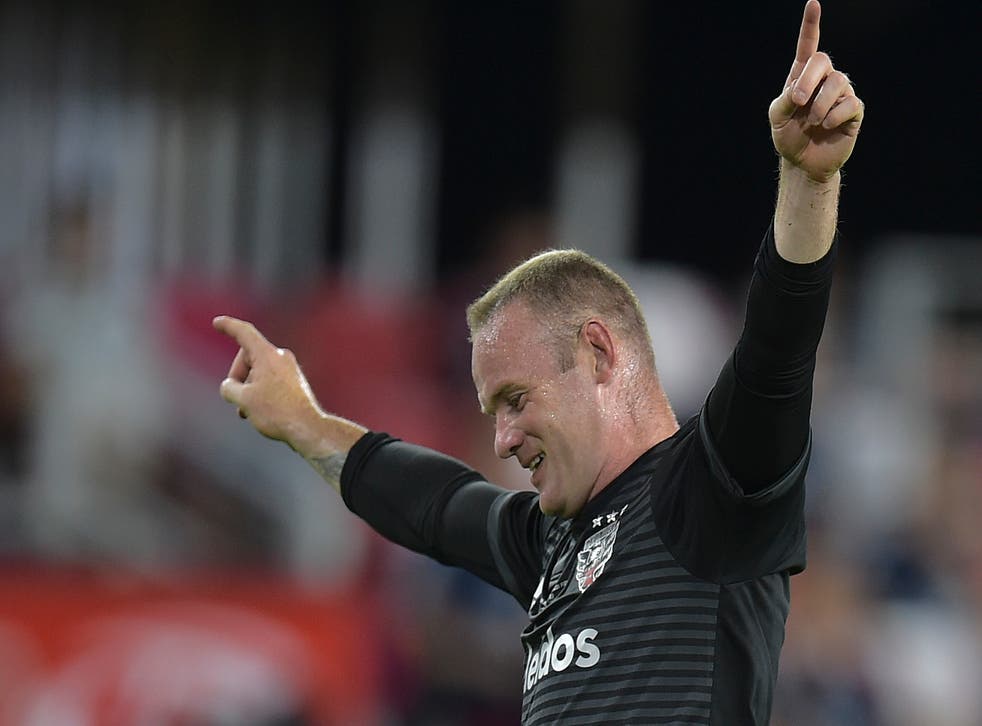 This time it was an assist where frequently in recent weeks and months it has been goals.
But far beyond the obvious numbers, it is impossible to look beyond the effect that Wayne Rooney has had on reinvigorating DC United and catapulting them up the Major League Soccer standings.
Having joined in June with the team from the capital rooted to the bottom after just two wins from their opening twelve games, United are currently unbeaten since August and have won their last three on the bounce to find themselves in a playoff spot.
The latest came on Saturday night as Rooney, with five minutes to go, urged his teammates forward as he stood over a free kick around 50 yards from goal with the score 0-0 against FC Dallas.
""Wayne pushed us all in the box. Obviously, we needed a goal," said Russell Canouse, to whom the ball would eventually bounce fortuitously to head home the winner for DC and a first career goal.
"I peeled off the player, got the ball and hit the crossbar. Somehow, some way, the ball was pushed back to me and I followed it up and hit it in.
"It was special obviously the situation we are in as a team to get my first goal. I think that wasn't our best performance as a team but we still put in a fighting effort and I think if we keep doing that we can still grind out results."
Sometimes they have ground them out and other times they have ground teams into dust. The 5-0 win over Montreal Impact that kickstarted DC's latest winning streak saw a brace from Rooney but a goal and a hat-trick of assists for Luciano Acosta, the Argentine who has ensured that the former England captain isn't overly burdened with creative responsibility.
Acosta was a starlet with Boca Juniors when DC came calling and, like so many young players in the Argentinean Primera, couldn't say no when the salaries and security on offer in Major League Soccer came knocking.
Yamil Asad, another of United's great creators, arrived from Velez Sarsfield on the same principle, and on that day against Montreal the trio combined with a regular and devastating efficiency.
Recruiting in the River Plate basin is not a trend isolated to DC, in fact defending champions and the best team in the league, Atlanta United, have been one of the most successful teams in sourcing South American talent that may one day be sold on to Europe, but it has been a great help for Rooney not to be thrown into a helpless team like his former Manchester United teammate Bastian Schweinsteiger was in Chicago.
Indeed, it has helped DC United get hot at the right time and surge up the standings, finding themselves in a playoff position with three games remaining in the season of which two are against Toronto FC and Chicago Fire - teams with nothing left to play for. Rooney has nine goals and seven assists in 17 matches now, and that doesn't look like a run that's going to stop any time soon.
Whatever happens, this won't prove to be Wayne Rooney's greatest-ever season or even his greatest triumph, even if DC United continue to be upwardly mobile and stun everybody in the post-season to win it all.
But this will be a story of a franchise that looked down and out until the former England captain arrived to turn them around, and a new situation and a different type of story for a player who has known nothing but expectation and glory.
Join our new commenting forum
Join thought-provoking conversations, follow other Independent readers and see their replies