Wayne Rooney rolls back the years with superb last-ditch tackle and 40-yard assist to win game for DC United
A video of Rooney's match-deciding intervention has been watched over one million times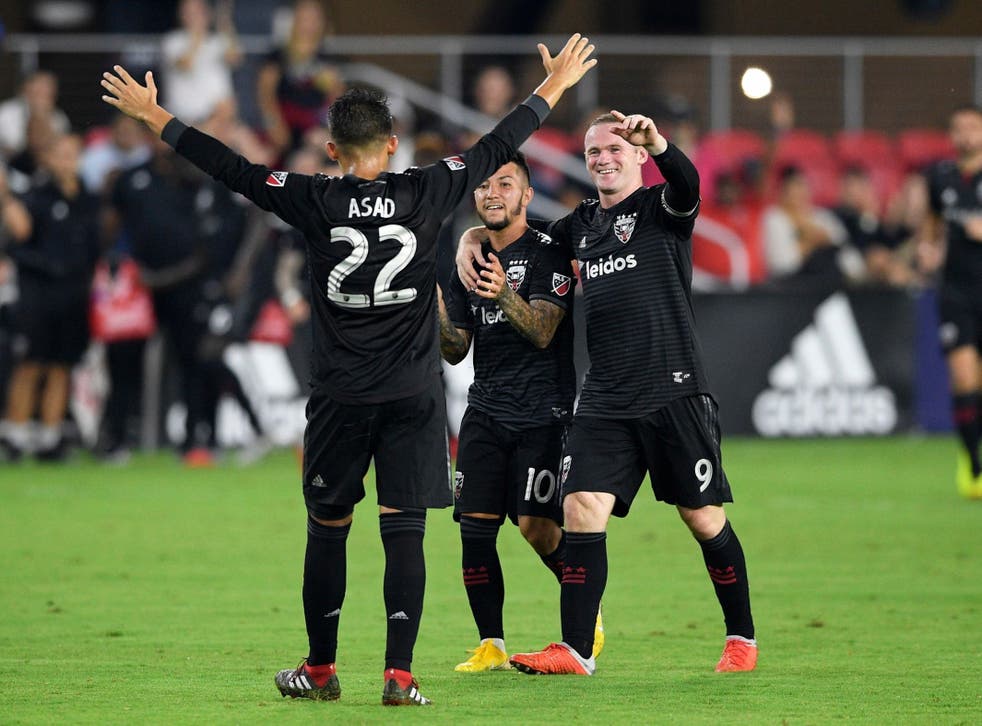 Wayne Rooney has taken little time to make his impact felt in Major League Soccer after providing a 96th-minute 40-yard assist for DC United's winning goal against Orlando City – just seconds after sprinting back to make a last-ditch tackle.
Rooney's move to the MLS may have risked taking him out of the headlines back home in the United Kingdom, but a video of his match-deciding moment on Sunday night has gone viral overnight with more than a million views in just 12 hours.
With Rooney's teammate and goalkeeper David Ousted going up-field for a corner with the scoreline locked at 2-2, Orlando broke away through Will Johnson and faced more than 60m of clear field ahead of him.
But Rooney, sprinting across the pitch to meet Johnson, dispossessed the midfielder superbly with a sliding tackle and immediately dribbled into the opposition's half. Looking up with time running out, Rooney fired a long ball across to the far side of the box, setting up Luciano Acosta to head in and secure a 3-2 victory for United.
The goal not only secured their side victory but also completed Acosta's hat-trick and keeps DC United's faint play-off hopes alive – they sit bottom of the Eastern Conference 18 points out of the reckoning.
Watch the video below...
"It was strange, we went from losing to winning in five seconds," Rooney said after the match.
"They're the best games of football to win. Of course, we should've done better against 10 men so it's something we can look to improve."
After leaving Everton in the summer to join DC United, Rooney has become a prominent figure in the side, scoring in the recent 2-1 victory over Colorado Rapids at the end of last month and has made six appearances for the MLS side.
But in what was perhaps a sign of his experience, the former England captain admitted that he saw the danger from the late corner unfolding before it had even begun.
"To be honest, I saw it happen before we took the corner," he added.
"I normally go in the box for corners, that's why I stayed out because I tried to anticipate something like that happening.
"I've seen it before in football. You just run as quick as you can trying to get back. I was hoping he'd [Johnson] take a touch and he did."
Register for free to continue reading
Registration is a free and easy way to support our truly independent journalism
By registering, you will also enjoy limited access to Premium articles, exclusive newsletters, commenting, and virtual events with our leading journalists
Already have an account? sign in
Register for free to continue reading
Registration is a free and easy way to support our truly independent journalism
By registering, you will also enjoy limited access to Premium articles, exclusive newsletters, commenting, and virtual events with our leading journalists
Already have an account? sign in
Join our new commenting forum
Join thought-provoking conversations, follow other Independent readers and see their replies