It's a long way from London to the NFL, but Jermaine Eluemunor is blazing a trail as he prepares for the draft
Born in Chalk Farm, brought up in Camden, Jermaine Eluemunor played for one of College Football's most famous teams and is now headed for the big leagues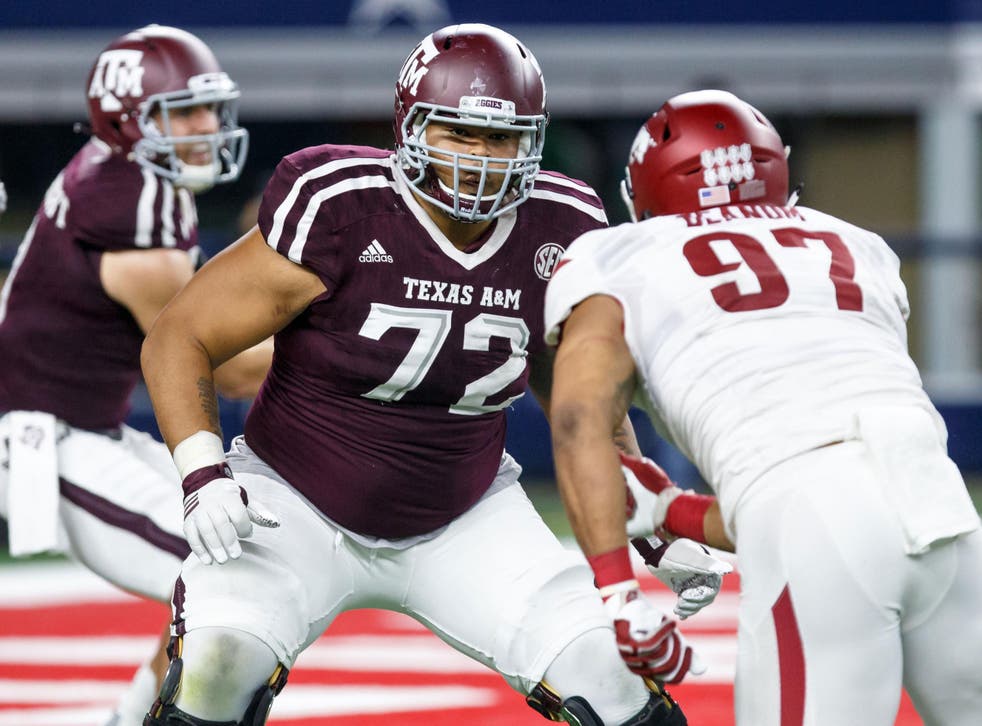 Texas A&M is the Lone Star State's biggest and oldest university - in a state that really does 'big'.
It is so sprawling, well-regarded and all-consuming that the town in which it finds itself is simply called College Station and, with its roots as a college of Agriculture and Mechanics (hence A&M), it finds itself in a fairly rural setting for such a large college, nearly 100 miles from Austin and Houston, two of the state's better-known metropolises.
In short, it is a long way from anywhere, let alone London. And yet for Jermaine Eluemunor, this expansive campus is not the end of a long journey, it is merely the latest stopover.
The 22-year-old was born in Chalk Farm, north London, and grew up in nearby Camden, not that you'd know it from his accent as he tells The Independent about his incredible story from trudging through England's muddy parks to playing in front of sold-out stadia from sea to shining sea. It's a story that will see its next chapter written in late April as Eluemunor enters the NFL draft and, with all likelihood, is handed a contract with one of the league's 32 teams.
"See I think of my accent as more London/Jersey/Texas," he laughs, "but when I hear you guys speak it kinda reminds me! It makes me realise how American I sound."
While born and raised in London, Eluemunor's story, like every variant on the American dream, is a one of spontaneity, hard work and sacrifice. Of seizing an opportunity that didn't even appear to be there. Of taking a rough diamond and polishing it - a process that is not yet complete.
After stumbling across an NFL game on television while channel-hopping in London, the teenaged Eluemunor found himself entranced by the game's power and speed. The immense, repeated collisions and arching rainbow passes appeal to a teenage boy as they do to hundreds of millions of normal Americans every Sunday; a game of absolute chaos and extremes punctuated by sporting artistry and technical excellence.
The sport sucked him in so much that he attended a trial day with the London Blitz at Finsbury Park in north London. This confirmed to him, after brief flirtations with rugby and football, that this was what Jermaine wanted to do. What he needed to do.
So he did it.
"I was fortunate enough to have the best Mum and Dad you could possibly ask for," he says. "They saw how much I wanted to play football and they saw how much I could play football and they gave me that opportunity to come here with my relatives."
Eluemunor moved to New Jersey at 14 in search of not only better opportunities but the opportunity of a lifetime. His father had done the same in leaving Nigeria for London at an identical age, but as a teenager moving across the ocean and away from family, things were - predictably - difficult. The path to this dream was nearly cut short.
"My second year, sophomore year, was really difficult because we moved back to England - me and my Dad. I begged my Dad to go back to the States, and he gave me one opportunity under the condition that I graduate from university and go as far as I could in football."
How far is that? Well after only playing one full year at High School due to a lack of familiarity with the rules, Eluemunor was nonetheless encouraged to persist with football. 5ft 11in tall and over 300lbs (21 st) at just 14 years old, he had always had the physique and athleticism to succeed but needed to understand the sport better - something that wouldn't really come until Texas A&M, one of the most prestigious footballing universities in America, took a chance on him.
Unable to afford a 'prep school' that might guarantee him entry to a top football program, Eluemunor gambled on Junior College where he continued to improve his game and sent out videos to hundreds of leading recruitment directors by e-mail. He estimates there were over 500 e-mails but, within hours, there were also floods of replies.
In the end his uncommon physique, brilliantly suited to combating the athletic freaks in elite football, earned him north of 30 offers from leading schools but, after visiting Texas, he found his new home. Albeit a home where there was still much to learn.
"It's pretty crazy," Eluemunor says as he takes a break from training.
"When I came here from London I never imagined I'd be in the position that I am now. Even when I got to A&M I was still learning how to play football and my first year, 2014, was a red shirt so I didn't play, my second, in 2015, I was still off the field because I just didn't know the game.
"Then 2016 I was fortunate enough to be blessed with the best offensive line coach. He taught me everything I know right now. Without him and the other people around me in 2015, when I was going through a bunch of stuff, I wouldn't be here right now."
Jim Turner was that coach. Turner had spent time with the Miami Dolphins in the NFL before leaving under a cloud, but when he returned to College Station he found a London-born offensive lineman waiting to be shaped into a star, and he began to make good on that raw talent.
"When he came to A&M he saw that I had potential and that I was really athletic. I just needed someone to help me learn the intricacies of football because there's a huge learning gap coming from Junior College to the SEC – the best conference in the country for college football.
"There's a learning gap and in my first two years I didn't learn enough. When he came in though he made things easy for me, he explained things in a way that I can understand and he moved me to right tackle. He taught me schemes, he taught me defences, how to read different looks from the opposition and how, really, to play the game of football. He just really helped me out and without him I wouldn't be in this position where I am today."
That position is in American sport's biggest, most high-pressure waiting room.
After all these workouts, Eluemunor's next big milestone is the Combine in Indianapolis, where the best draft prospects are invited to test their physical skills and post scores that are used to help evaluate talents. It is a big, competitive industry trying to unearth the next star, and many of the top analysts are already tipping Eluemunor as a potential steal on the second day of April's draft.
"When my draft profile came out a few days ago and [respected NFL Draft analyst] Mike Mayock had me as number five of all the offensive tackles in the draft I just had to sit back and realise things were actually happening. This is actually happening and I'm going after my dream.
"I started to tear up a little bit because if you'd asked me a year ago if I would be here I'd have said no because I just didn't have the confidence or anything so it's just a whirlwind."
The whirlwind will sweep through Philadelphia, the host city for this year's draft, but it could end up anywhere. Each of the 32 teams in the NFL could pick Jermaine Eluemunor and give him the opportunity of a lifetime, from Seattle to south Florida, from New York to New Orleans. But how do you cope with not knowing where you will even live in a few months' time?
"I haven't thought about that!" he says.
"I like the south, I like Texas. If I could play for any team it would be the [New England] Patriots. But there's the [Dallas] Cowboys, the [Arizona] Cardinals… I'd play for anyone and there are 32 teams. But the hard part isn't getting there, it's staying there.
"The important part is getting through and wherever I get picked I'm gonna go there and work as hard as I've ever worked to make this happen and my dream come true. This is just the start."
Now 6ft 4in and 325lbs, Eluemunor is the perfect shape to be an offensive lineman in the NFL. In his own words, his job is to protect the quarterback. "I basically take hits and blows so the quarterback can look pretty and throw touchdowns."
His versatility, as well as physique, are expected to see him drafted in the mid-rounds, meaning he will be putting pen to paper on a multi-million dollar contract in the spring. Some payback for all that sacrifice and risk. Some way from trying out in Finsbury Park.
"It's just real crazy to me but I can't get enough of it," Eluemunor concludes.
"I'm loving it because it's giving me the platform to show people, kids back in London, that you can achieve anything if you put your mind to it.
"No challenge is too great and no dream is too big.
"Don't be afraid because you can make it come true."
Register for free to continue reading
Registration is a free and easy way to support our truly independent journalism
By registering, you will also enjoy limited access to Premium articles, exclusive newsletters, commenting, and virtual events with our leading journalists
Already have an account? sign in
Register for free to continue reading
Registration is a free and easy way to support our truly independent journalism
By registering, you will also enjoy limited access to Premium articles, exclusive newsletters, commenting, and virtual events with our leading journalists
Already have an account? sign in
Join our new commenting forum
Join thought-provoking conversations, follow other Independent readers and see their replies