'We're going to win the Super Bowl': How Jimmy Garoppolo took just one month to transform the San Francisco 49ers
The quarterback has transformed a franchise that now has the most valuable thing in sport - hope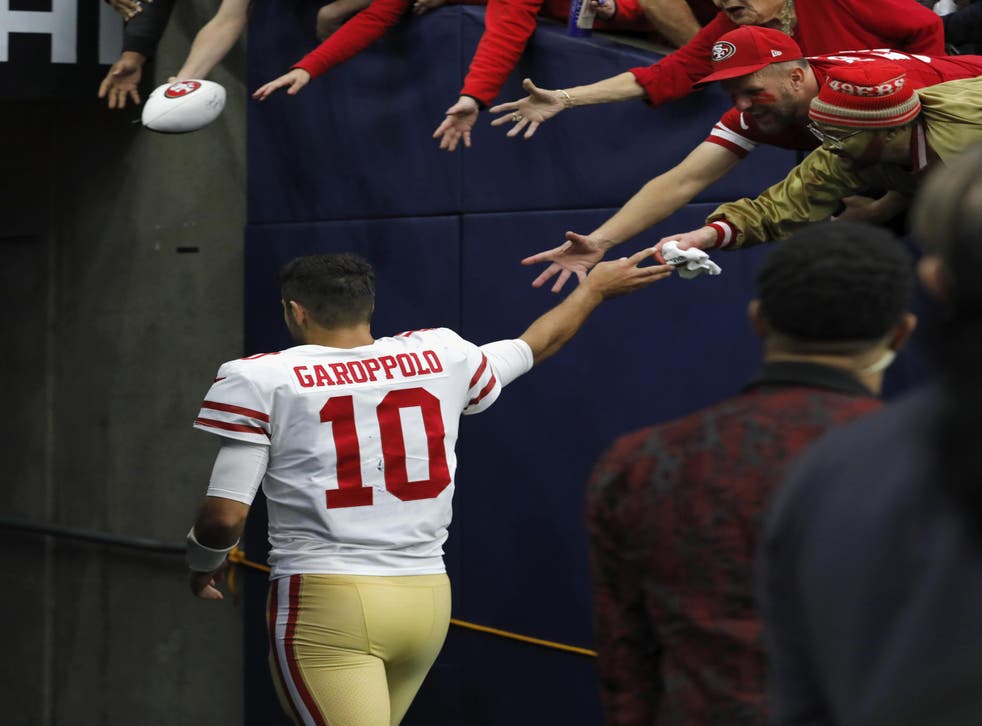 The hype was always going to be off the charts.
The San Francisco 49ers were now 4-0 since bringing in new quarterback Jimmy Garoppolo, the man many thought would and should succeed Tom Brady at the New England Patriots, but this was their most impressive win yet.
In destroying the Jacksonville Jaguars 44-33, they not only helped out Garoppolo's former team by denting the Jags' pursuit of a top play-off seeding but they also hung 44 points on the best defense in the league. It was scary, it was foreboding.
What could this team achieve next season with a fresh haul of young stars from the draft, the largest amount of salary cap space of any team in the league to add free-agent talent and this incredible quarterback - the real deal - under the orders of possibly the finest offensive mind in the league in Kyle Shanahan?
"Next year we're going to win the Super Bowl," said running back Carlos Hyde, showing no efforts to manage expectations.
A month ago the 49ers were 1-10 and probably the worst team in the league.
In came Garoppolo, probably the best player in the entire league during December, and the outlook couldn't be more different. It is hard not to overreact to what is just a good few games when one player has seemingly altered an entire franchise so convincingly in almost no time.
But Jimmy G's transformative effect on this team only serves to underline the immense importance of the quarterback position in American football. Almost no sport has one role of such weight, and while teams have shown there is a way to win with an average quarterback, it's far easier when you have one who is this good.
And boy does he look good. As well as receiving favourable reviews as one of the most handsome signal callers in recent years, Garoppolo has stunned everyone with his maturity. At just 26, a video last week showed the quarterback coaching up his teammates, giving precise instructions and information on the opposition defense that was both enlightening and immediately actionable. In one snippet, he tells young receiver Trent Taylor what to expect from the Tennessee Titans' safety corps so he can get open and complete a catch. The next play Taylor hauls in a significant gain and the 49ers kept rolling to another victory.
The only problem for the 49ers - and at this point, it really is only a minute problem given the hope that is now surging through the entire operation - is that their late-season burst means they'll miss out on one of the top 5-7 draft picks and it will also cost them a lot of money when it comes to sitting down with Garoppolo and thrashing out a long-term contract.
With the franchise tag available to them, a way of securing Garoppolo whether he likes it or not, the future of this team revolves around the 26-year-old Illinois native and it's hard to see how they can't be a success with him under center.
Register for free to continue reading
Registration is a free and easy way to support our truly independent journalism
By registering, you will also enjoy limited access to Premium articles, exclusive newsletters, commenting, and virtual events with our leading journalists
Already have an account? sign in
Register for free to continue reading
Registration is a free and easy way to support our truly independent journalism
By registering, you will also enjoy limited access to Premium articles, exclusive newsletters, commenting, and virtual events with our leading journalists
Already have an account? sign in
Join our new commenting forum
Join thought-provoking conversations, follow other Independent readers and see their replies