Rams vs Chiefs and the night the NFL changed, possibly forever
It was a game that had been tipped as a potential Super Bowl preview and it more than lived up to the hype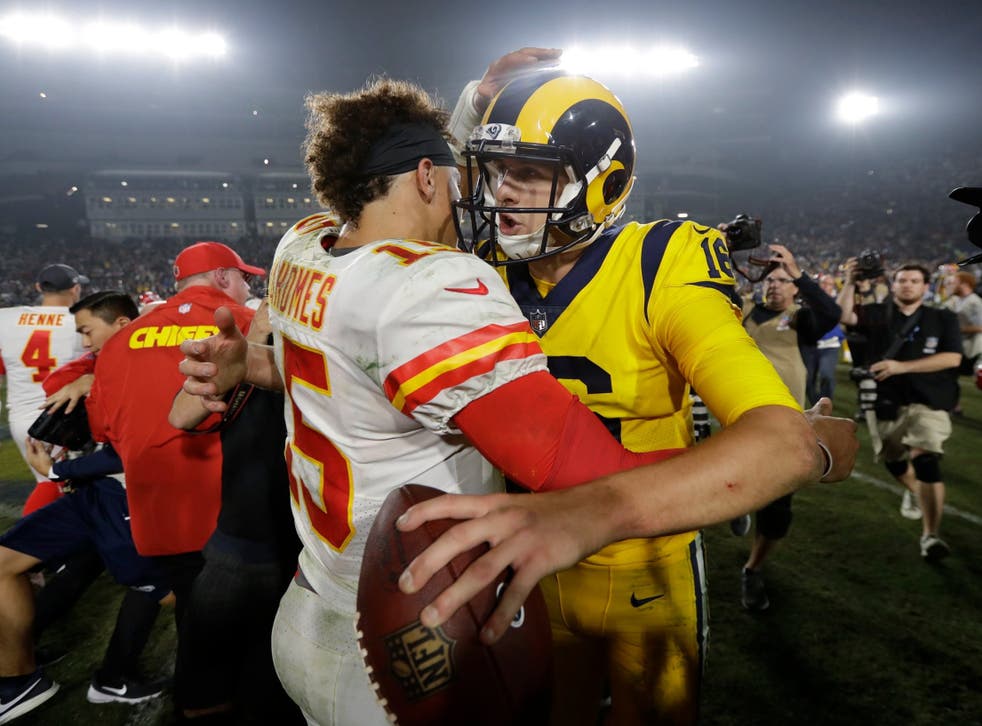 It was a game that had been tipped as a potential rehearsal for a Super Bowl but as it turned it out, it might have been much more than that.
And even though this Super Bowl lite lost its neutral venue after poor field conditions forced the game to be moved from Mexico City back to Los Angeles, it was still going to be the best team in the AFC - the 9-1 Kansas City Chiefs - against (probably) the best team in the NFC - the 9-1 Los Angeles Rams - not to mention two of the league's smartest coaches scheming for two of the league's best young quarterbacks and both surrounded by thrilling, explosive attacking weapons under the Monday night lights.
Somehow it lived up to that hype.
In many ways, it would be a surprise - and an enormous blessing - if the Super Bowl was even half as good as this 54-51 romp that produced the third-most points of any game in NFL history, the first time that two teams had scored north of 50 in a game and laid a marker down not just for this season but for the next decade of offenses.
The 20 contenders for 2018 Sports Personality of the Year

Show all 21
Even in the greatest offensive season in the history of the NFL, this blew the world away. And even within a game of such electric offensive might there was still a stage for defensive stars to shine brightly, most notably Aaron Donald, a household name and the best in the league on that side of the ball, and Samson Ebukam, who few have heard of outside his own household but who has become a key part of the Rams' defensive unit. Ebukam scored two touchdowns on the night and tipped a pass that helped secure the game for Los Angeles. Nobody knew him before but they can find his name in the record books now - the first player since records began to get a sack, interception and multiple touchdowns in a game.
Quarterbacks Jared Goff and Patrick Mahomes racked up eye-bulging statistics but the only mild disappointment was that the star running backs on both sides found themselves nullified, admittedly by game script more than opposition game planning. And yet the striking thing about this topsy-turvy, point-stuffed game as a whole was that the minute details, every single 'wow' moment that made it so entertaining, seemed to mean so little. LaMarcus Joyner's slip to allow Tyreek Hill a huge 73-yard touchdown, Gerald Everett splitting out wide from tight end to pick up a 40-yard score on a go route… they were all just explosive, brilliantly entertaining but utterly meaningless data points on a night that felt very meaningful in other ways.
Because this was the night the whole of America watched live on primetime as football changed, possibly forever.
One of the NFL's great strengths is that it essentially owns its sport in a way that no major leagues outside America do. The Premier League, for example, can't arbitrarily change the rules of football to improve the product but the NFL has constantly tweaked and twiddled with its regulations to ensure the number one priority is always achieved - entertainment.
The rulebook alterations over recent years have slanted the game more and more in favour of passing offenses by protecting quarterbacks and those same QBs have been aided by smart coaches and the burgeoning influence of new play designs being imported from college and even high-school football. With more creativity, a background of QB-friendly rules and some of the best athletes on the planet to throw to, it is little wonder that defenses have no chance. It is no mystery, then, that points totals, touchdowns and yardage have continued to rise year-on-year but this season is special, it is a huge leap and that is why this game was so significant.
The revolution was televised. The night of 1,001 total yards, 105 points, 56 first downs, 10 passing touchdowns, eight sacks, seven punts, seven turnovers, four lead changes and 35 points in the fourth quarter alone was broadcast to an utterly enthralled nation leaving nobody in doubt that the offensive wave isn't going away. The old ground 'n' pound football has died and few are likely to mourn its passing.
It felt like an inflexion point in American football history, and while Newton's third law of motion - what goes up, must come down - doesn't apply to sports in the same way it does inanimate objects, even if defenses can react to this offensive surge over the coming seasons and find ways to limit these wild offensive numbers it seems hard to imagine a time when they will be dominant enough to virtually win Super Bowls on their own again, as the Denver Broncos did only three years ago.
For a game that was tipped as a mini Super Bowl to turn out to be even bigger than that is quite some going.
Join our new commenting forum
Join thought-provoking conversations, follow other Independent readers and see their replies