NFL: Philadelphia Eagles outlast Atlanta Falcons to win 2018 season-opener
Philadelphia Eagles 18-12 Atlanta Falcons: Two Jay Ajayi scores were enough to give the defending champs a winning start
Ben Burrows
Lincoln Financial Field
Friday 07 September 2018 05:32 Comments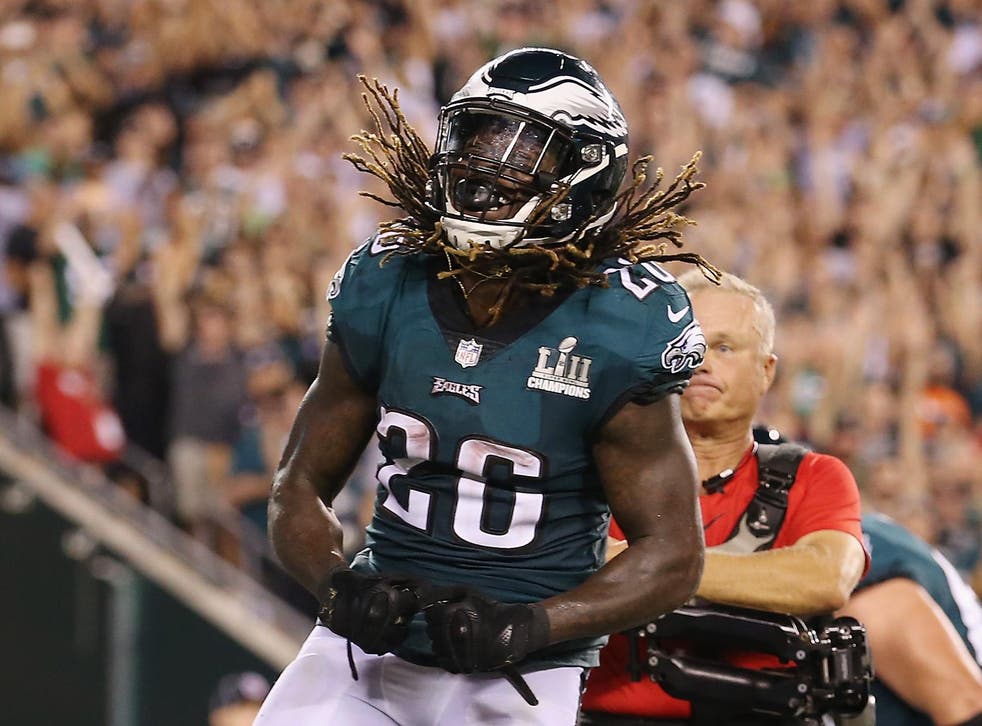 It tells you everything you need to know about the drama of the NFL that a season-opener that was, for all intents and purposes, a hugely disappointing damp squib for 59 of the 60 minutes still delivered a classic ending.
Jay Ajayi proved the game-winner, his two second-half scores dragging an off-colour Philadelphia Eagles team to a win they scarcely deserved to open their title defence.
Just as it did eight months ago in the NFC Divisional Round it came down to Matt Ryan, Julio Jones and the Eagles defence and once again they prevailed with Ronald Darby making the key player to finally ice it as time expired.
Here's what we learned in Philadelphia:
1. The Falcons' red zone woes continue
Perhaps it was fate that this one ended as the last one did, on the edge of the north end zone, with the Falcons failing to convert a 4thdown. It was indicative too of what was a forgettable night for both offenses.
After a much-critiqued season a year ago Atlanta OC Steve Sarkisian has a target on his chest this time around, but did nothing to alleviate calls for his exit with his inexplicable decision to leave Jones', the game's standout player, on the sidelines for both 3rdand 4thdown in the exact same spot on the game's opening drive.
Sark can't be blamed for Ryan's off night though with his dismal fourth-quarter pick (in the red zone, of course) emblematic of a very off night at the office. Tevin Coleman's slashing fourth-quarter TD showed what is possible on a far more regular basis but this remains firmly a work in progress. Atlanta have all the pieces to make a run again this year but that high-powered offense needs to pick up big time.
2. The Eagles' offensive offense
If the Falcons attack was anaemic on the night then the Eagles' was positively AWOL for large swathes of this one. Nick Foles took out the New England Patriots in his last outing but showed nothing of the MVP form of that fateful night in Minneapolis here.
A first third down conversion didn't come until midway through the second half as an Alshon Jeffrey-less receiver corps struggled to get loose. Mike Wallace, an intriguing offseason addition, was anonymous. A skittish and scattergun Foles was by no means blameless himself and did everything but throw a pick before he eventually did, but wasn't helped by uncharacteristically conservative play-calling from the sidelines with Doug Pederson seemingly completely unwilling to go deep.
A re-imagining of the Philly Special in the second-half threatened to wake everyone inside Lincoln Financial Field from their slumber, but it was all too brief. That that play, with the quarterback catching the ball for 15 yards, was the Eagles' longest offensive pass play of the night tells you all you need to know.
Last year's Eagles team was built on that balls out, go hard or go home attitude. This team needs to re-find it.
3. The return of Julio
The aforementioned Jones was the game's best player by a wide margin, despite those notable red zone snafus, creating separation early and often - between the 20s at least – and giving the Eagles' back end, who seemingly had no answer, fits all night.
He went off with 10 catches for 169 yards and would have had a chunk more had it not been for a questionable no call on a long second-half reception. No. 11 remains Ryan's first read every time and, on this evidence, hinted at what could be a monster year. Fantasy owners rejoice.
4. Philadelphia's confusing backfield
Speaking of fantasy, some sage advice would be to stay well clear of the Eagles running back room, based on this game anyway. When Philadelphia traded for Ajayi ahead of the midseason deadline a year ago the London-born former Dolphin was widely tipped to take control of this backfield. But that particular conundrum looks as confusing as ever.
The returning Darren Sproles started the game with Super Bowl hero Corey Clement backing him up. Ajayi, who it must be said had been struggling with a foot injury in the run-up, wasn't used until deep into the second quarter while Wendell Smallwood also suited up. The committee approach worked a season ago but someone needs to step up and take charge. Ajayi's two second-half scores make him the clubhouse leader but there remains more questions than answers to ponder.
5. Too. Many. Flags
This snoozefest did nothing to improve the ailing reputation of Thursday Night Football but the whole kick-off spectacle wasn't helped by a flag-happy officiating crew seemingly intent on slowing everything down, down in, down out.
Both teams were culpable too. The Eagles had more penalty yards than offensive yards in the first half while the Falcons committed more infractions in three-and-a-half quarters today than they did in any game a year ago.
With 25 there were nearly more penalties than points. Think of that. Everyone wants to make the game safer, but this kind of ticky-tacky, over-officiating helps no one.
Register for free to continue reading
Registration is a free and easy way to support our truly independent journalism
By registering, you will also enjoy limited access to Premium articles, exclusive newsletters, commenting, and virtual events with our leading journalists
Already have an account? sign in
Join our new commenting forum
Join thought-provoking conversations, follow other Independent readers and see their replies