George Floyd's brother pays tribute at memorial
'We were wrong': NFL says player protests during national anthem will be allowed as rally against racial inequality continues
Commissioner Roger Goodell admitted the league had been at fault for not listening to its players' fight for racial equality
NFL commissioner Roger Goodell admitted that the league has been at fault for not listening to its players' fight for racial equality and will no longer punish those who protest during the national anthem.
Goodell's statement followed a video released by Super Bowl-winning quarterback Patrick Mahomes and several other players demanding the NFL condemn racism.
The US has been gripped by protests over racial injustice and police brutality since the death of George Floyd on 25 May in Minneapolis – issues that were raised by former San Francisco 49ers quarterback Colin Kaepernick when he took a knee during the national anthem in 2016.
"First, my condolences to the families of George Floyd, Breonna Taylor, Ahmaud Arbery and all the families who have endured police brutality," Goodell said. "We, the National Football League, condemn racism and the systematic oppression of black people.
"We, the National Football League, admit we were wrong for not listening to NFL players earlier and encourage all to speak out and peacefully protest. We, the National Football League, believe Black Lives Matter. I personally protest with you and want to be part of the much needed change in this country.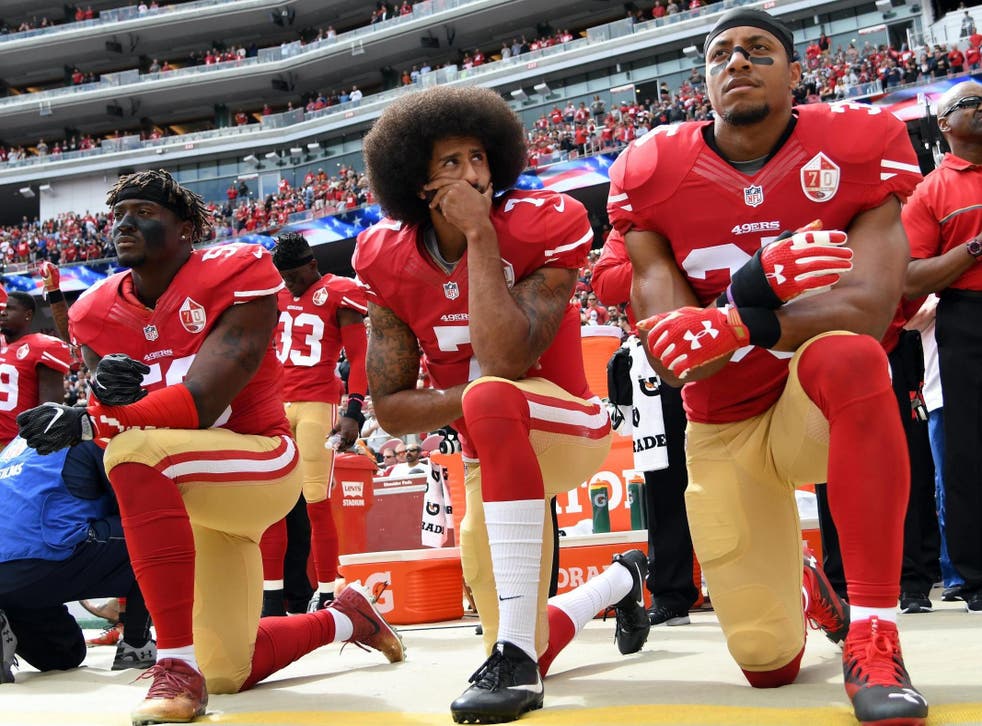 "Without black players, there would be no National Football League. And the protests around the country are emblematic of the centuries of silence, inequality and oppression of black players, coaches, fans and staff. We are listening. I am listening, and I will be reaching out to players who have raised their voices and others on how we can improve and go forward for a better and more united NFL family."
Further protests are expected in Washington DC on Saturday after Floyd, an unarmed black man in handcuffs, died after a white policeman knelt on his neck for almost nine minutes. The officer has since been charged with murder.
On Friday, six-time NBA champion Michael Jordan announced that his company would pledge $100m (£79m) over the next 10 years to organisations helping to fight for racial equality and social justice.
In a statement, the Jordan Brand said: "Black lives matter. This isn't a controversial statement. Until the ingrained racism that allows our country's institutions to fail is completely eradicated, we will remain committed to protecting and improving the lives of Black people.
"Today, we are announcing that Michael Jordan and the Jordan Brand will be donating 100 million over the next 10 years to organisations dedicated to ensuring racial equality, social justice and greater access to education."
Join our new commenting forum
Join thought-provoking conversations, follow other Independent readers and see their replies