NFL season preview: why this year, more than ever, looks like the year of the quarterback
After years where there were maybe 12-16 good quarterbacks in a league of 32 teams, this season's crop looks the strongest and deepest in some time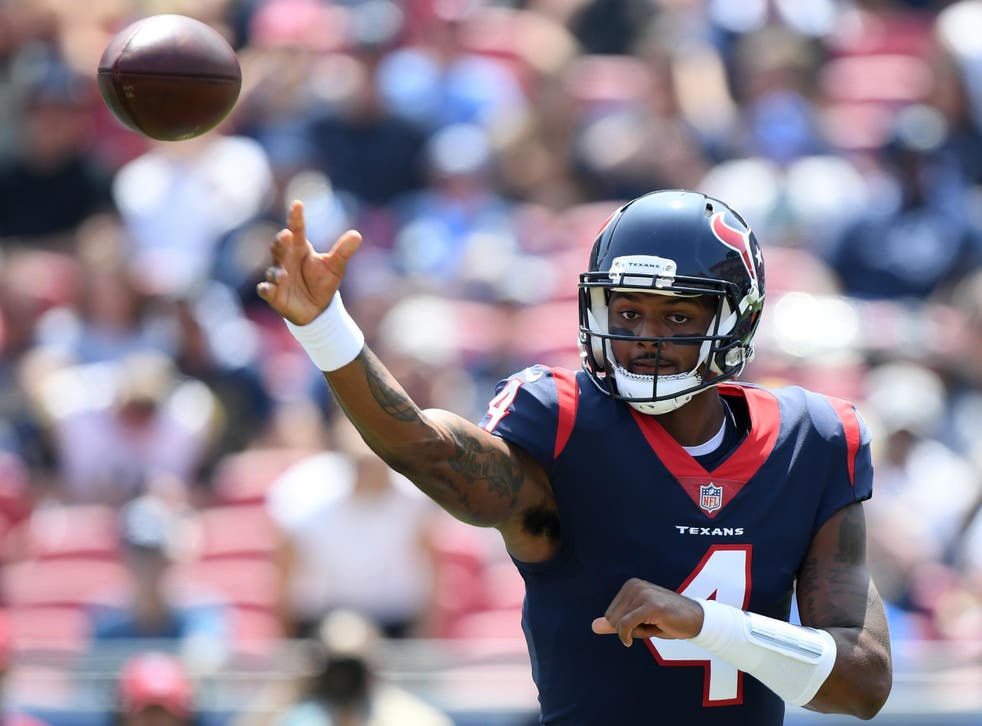 Calling the NFL a 'quarterback league' while true, has become something of a cliché in recent years.
But for the first time in a long time something feels different as the 2018 season nears. The quarterbacks might be really good, and there are a lot of them.
Everything in the NFL is geared around winning and competing and for so long the best chance of that has been having an elite quarterback. In recent reasons; most notably when the Denver Broncos won the Super Bowl with Peyton Manning's barely-animated corpse, and then with back-up Nick Foles leading the Philadelphia Eagles to the Lombardi back in February, teams have found ways to win without a top-class QB. It's just more difficult.
After one of the most-lauded quarterback draft classes in years, boasting five first-rounders, many of the teams struggling at football's most important position have been able to address that most obvious, most painful deficiency. The emergence of existing NFL veterans like Case Keenum (now in Denver), Tyrod Taylor (now in Cleveland) and Sam Bradford (now in Arizona) as viable starters has also strengthened the league's quarterback rooms.
What this means is that far from last year's opening-week cast of signal-calling filth that included (and take a deep breath now) Tom Savage, Mike Glennon, Scott Tolzien, DeShone Kizer, Josh McCown and Jay Cutler - as well a marginally less offensive but still not great gaggle of passers like Trevor Siemian and Brian Hoyer - this year's lineup is filled with far more promise. After years where there were maybe 12-16 good quarterbacks in a league of 32 teams, this season's crop looks the strongest and deepest in some time. Amazingly, 15 teams have a different starter for week one of this year than in week one in 2017. The turnover is incredible, but the uptick in quality appears undeniable.
New kids on the block
Of the five first-round QBs picked this year, only one will make their NFL debut in week one with teams opting to phase in their new franchise faces. That means that while Sam Darnold will go straight in for the New York Jets, the Buffalo Bills are throwing Nathan Peterman (the author of one of the worst QB performances in NFL history) to the sharks for the first few weeks ahead of polarising rookie project Josh Allen.
Josh Rosen will start the season behind Sam Bradford for the Arizona Cardinals but promises to be the face of that franchise for the next decade.
Cleveland took Baker Mayfield with the first overall pick but, for now, he will sit behind Taylor, who led the Bills to the playoffs last season for the first time since 1999. Lamar Jackson, selected with the final pick of the first round this year, may have to wait a little longer than the others for his first opportunity but bumbling incumbent Joe Flacco has been put on notice by the drafting of the Heisman Trophy winner.
Rising stars
So they are the new kids, but there are other young quarterbacks who look set for noteworthy seasons. Chief among those is Mitch Trubisky, quarterback of the Chicago Bears. Trubisky's situation has improved almost immeasurably after dour relic John Fox was replaced with bright offensive mind Matt Nagy and then general manager Ryan Pace surrounded the sophomore passer with high-grade weapons. Allen Robinson, Anthony Miller, Taylor Gabriel and Trey Burton all promise much, while the Bears also loaded up on the other side of the ball by drafting linebacker Roquan Smith in the first round and making an earth-shattering trade for Khalil Mack, both of whom will indirectly make Trubisky's life easier in an otherwise difficult division (and conference).
Patrick Mahomes sat behind Alex Smith last year in Kansas City but after shining in their week 17 outing against the Denver Broncos, the explosive Mahomes is now the starter at Arrowhead and promises to be more fun than Smith - now with the Redskins - has ever been, if not more reliable. While Mahomes sat his first year, Deshaun Watson was the most exciting quarterback in the league for a decent chunk of his rookie season, but once he went down with a torn ACL the Houston Texans' season was over. They go again with one of the most exciting players in the league under center and are probably the most boom-or-bust team in the whole league.
Jimmy Garoppolo's first full season as a starter promises much, with the former Patriot having won every game he's ever started in the NFL. Now in San Francisco with the brilliant offensive scheming of Kyle Shanahan, the man who would have been Tom Brady's heir has already made the league's best GM, Bill Belichick, look a fool for trading him away for only a future second-rounder.
Known quantities
The rest of the league's quarterbacks are unlikely to turn up many surprises. They are all players established as quality starters in the league with perhaps the exception of Tampa Bay Buccaneers starter Jameis Winston, who is suspended and will be replaced by Ryan Fitzpatrick for the first few games. Winston, a talented-yet-boneheaded gunslinger, is not yet locked in as a long-term NFL QB because of off-field concerns but his ability is not really in question.
Tom Brady, Aaron Rodgers and Drew Brees continue to lead the pack of elite quarterbacks. Matt Ryan, Philip Rivers, Russell Wilson, Ben Roethlisberger and Cam Newton sit behind them, with Kirk Cousins and Derek Carr both keen to justify big-money deals that pay them like superstars and Marcus Mariota, Dak Prescott and Carson Wentz hoping to cement themselves as franchise-level quarterbacks and earn contracts on the same level.
Andy Dalton, Alex Smith and Ryan Tannehill need to show this season that they're good enough not to be replaced in next year's draft, while another washed out season for Andrew Luck, who has elite talent, could tempt the Indianapolis Colts to do the same.
Luck's return after two years of injury woe is just another example of why it is so easy to be positive about the quarterback situation in the NFL this year. Of course, rookies could turn into busts, blown ACLs might rob the league of its best passers as they do every season but the returning quality is immense and the new blood seems so well-positioned to succeed. Even if Luck were injured, the back-up QBs in the league are clearly superior to those who have gone before and the Colts have one of the better ones, Jacoby Brissett, should the face of their franchise not return to his best.
The glut of quality under center heading into the new season is undeniable. The 'quarterback league' just got a whole load more quarterbacky.
Register for free to continue reading
Registration is a free and easy way to support our truly independent journalism
By registering, you will also enjoy limited access to Premium articles, exclusive newsletters, commenting, and virtual events with our leading journalists
Already have an account? sign in
Join our new commenting forum
Join thought-provoking conversations, follow other Independent readers and see their replies