Tom Brady shares touching postgame moment with Drew Brees and his family
Brees' son was able to catch a throw from NFL star player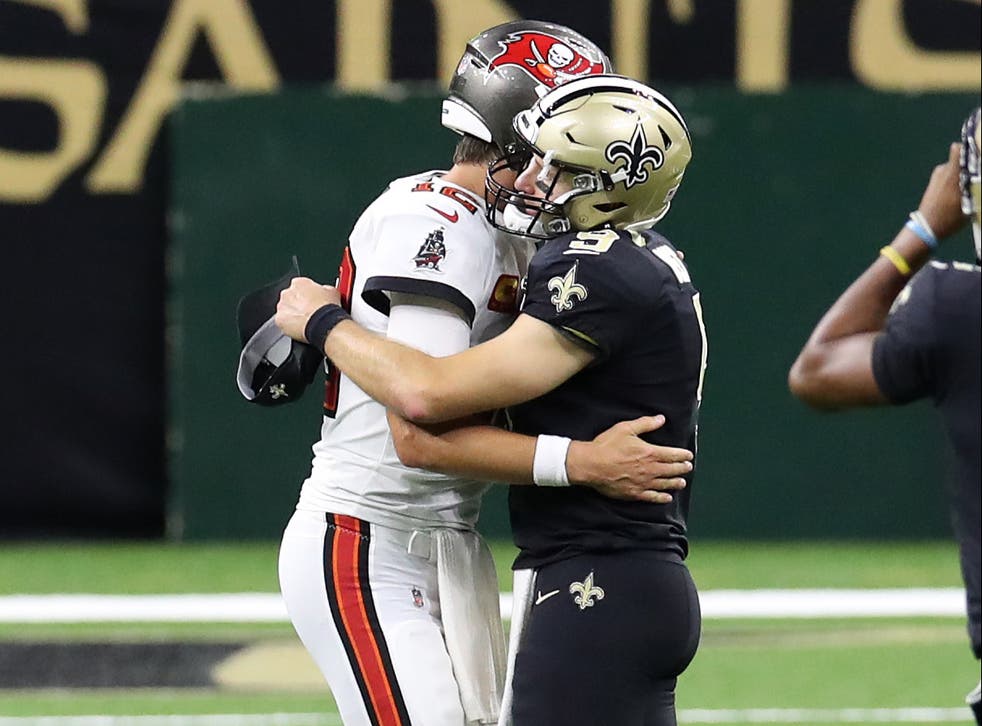 Leer en Español
Fans are praising Tom Brady after a video captured the postgame moment the Tampa Bay Buccaneers quarterback threw a touchdown pass to Drew Brees' son.
On Sunday, after Brady led his team to playoff victory against Brees and the New Orleans Saints, the two quarterbacks took the opportunity to chat on the field alongside Brees' wife, and their four children.
During their goodbye, Brady threw the football to Brees' son Baylen, who successfully caught the ball following a running jump.
"We could have used you tonight," Brady joked, before adding: "Be nice to your sister," as he walked off the field.
The touching moment has since gone viral on Twitter, where it has been viewed more than 7.9m times.
"This is the wholesome content my timeline needs right now," one person tweeted.
Another said: "This is the kinda stuff that reminds us that there's people behind the player. And it's just awesome to see. I'd imagine Brees spent a lot of time out there just taking in the stadium."
The NFL game may have been Brees' last, as the quarterback told reporters following the loss that he is going to give himself some time to process the season.
However, the 42-year-old would not say for sure whether the game marked his last, or what factors will influence his decision to continue playing or retire, telling reporters: "I'll keep that to myself."
Join our new commenting forum
Join thought-provoking conversations, follow other Independent readers and see their replies