Golden State Warriors release statement in response to Donald Trump's outburst at star player Stephen Curry
'In lieu of a visit to the White House, we will use our trip to the Washington to celebrate equality, diversity and inclusion – the values that we embrace as an organization'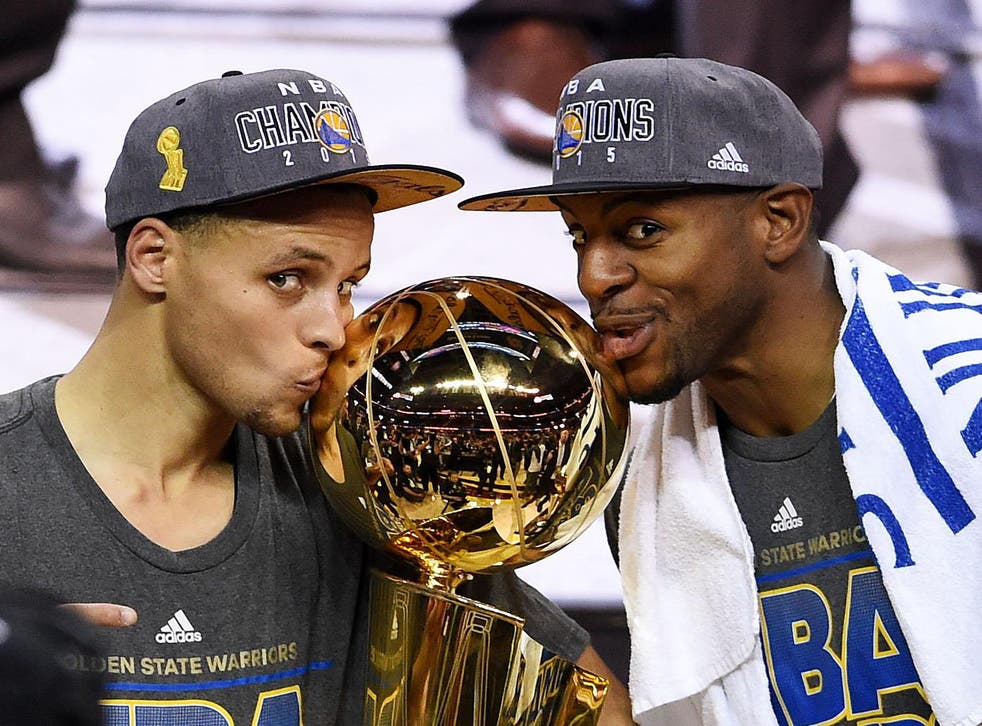 The Golden State Warriors responded to Donald Trump uninviting their star player Stephen Curry to the White House by saying that they will use their visit to Washington this season to instead "celebrate equality, diversity and inclusion".
The statement followed a two-day rant by the US president in which he denounced protests by NFL players and targeted top professional athletes, bringing swift condemnation from league executives and star players alike.
Wading into thorny issues of race and politics, Trump's comments in a Friday night speech and a series of Saturday tweets drew sharp responses from some of the nation's top athletes, with LeBron James calling the president a "bum".
Donald Trump's first 100 days: in cartoons

Show all 33
Trump started by announcing that Curry, the immensely popular two-time MVP for the Warriors, would not be welcome at the White House for the commemorative visit traditionally made by championship teams after Curry indicated he didn't want to come.
"Going to the White House is considered a great honour for a championship team," the president said on Saturday.
"Stephen Curry is hesitating, therefore invitation is withdrawn!"
The Warriors said it was made clear to them that they were not welcome at the White House.
Warriors statement:
"While we intended to meet as a team at the first opportunity we had this morning to collaboratively discuss a potential visit to the White House, we accept that President Trump has made it clear that we are not invited.
"We believe there is nothing more American than our citizens having the right to express themselves freely on matters important to them. We're disappointed that we did not have an opportunity during this process to share our views or have open dialogue on issues impacting our communities that we felt would be important to raise.
"In lieu of a visit to the White House, we have decided that we'll constructively use our trip to the nation's capital in February to celebrate equality, diversity and inclusion – the values that we embrace as an organization."
General manager Bob Myers said he was surprised by the invitation being pulled, and NBA Commissioner Adam Silver said he was disappointed that the Warriors won't be at the White House.
"The White House visit should be something that is celebrated," Myers said. "So we want to go to Washington, DC, and do something to commemorate kind of who we are as an organization, what we feel, what we represent and at the same time spend our energy on that. Instead of looking backward, we want to look forward."
Curry had said he did not want to go anyway, but the Warriors had not made a collective decision before Saturday - and had planned to discuss it in the morning before the president's tweet, to which coach Steve Kerr said: "Not surprised. He was going to break up with us before we could break up with him."
Others had far stronger reactions.
"U bum @StephenCurry30 already said he ain't going!" James tweeted in a clear message to the president — a post that Twitter officials said was quickly shared many more times than any other he's sent. "So therefore ain't no invite. Going to White House was a great honor until you showed up!"
Curry appreciated James' strong stance.
"That's a pretty strong statement," Curry said. "I think it's bold, it's courageous for any guy to speak up, let alone a guy that has as much to lose as LeBron does and other notable figures in the league. We all have to kind of stand as one the best we can."
Donald Trump's international Presidential trips

Show all 22
Curry added that he doesn't believe Trump "respects the majority of Americans in this country."
James also released a video Saturday, saying Trump has tried to divide the country. "He's now using sports as the platform to try to divide us," James said. "We all know how much sports brings us together. ... It's not something I can be quiet about."
Warriors forward Draymond Green said the good news was that Golden State won't have to talk about going to the White House again - unless they win another title during the Trump presidency.
"Michelle Obama said it best," Green said. "She said it best. They go low. We go high. He beat us to the punch. Happy the game is over."
Register for free to continue reading
Registration is a free and easy way to support our truly independent journalism
By registering, you will also enjoy limited access to Premium articles, exclusive newsletters, commenting, and virtual events with our leading journalists
Already have an account? sign in
Register for free to continue reading
Registration is a free and easy way to support our truly independent journalism
By registering, you will also enjoy limited access to Premium articles, exclusive newsletters, commenting, and virtual events with our leading journalists
Already have an account? sign in
Join our new commenting forum
Join thought-provoking conversations, follow other Independent readers and see their replies