Legendary semi-naked dancing fan known as 'Jiggly Boy' returns to welcome back Minnesota Timberwolves legend Kevin Garnett
Garnett was so moved by 'Jiggly Boy' that he has decided to give away 1,000 free tickets for the Timberwolves' next home game
Jack Simpson
Monday 02 March 2015 16:54 Comments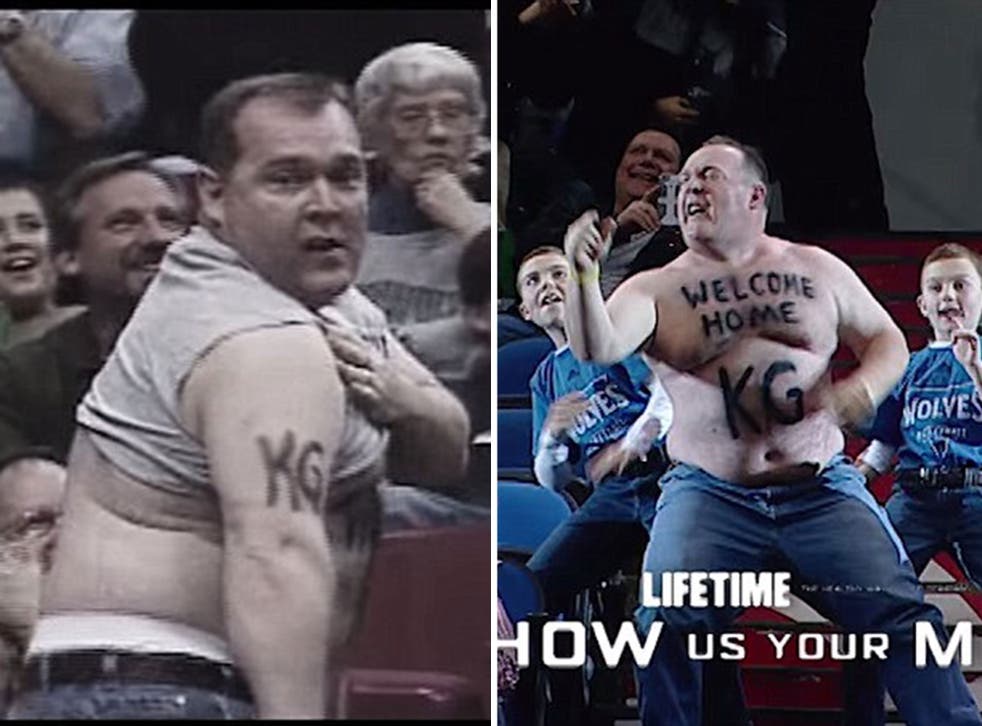 A Minnesota Timberwolves "super fan" known as "Jiggly Boy" received a hero's ovation last week after he was filmed dancing topless to celebrate the return of his favourite player Kevin Garnett, over a decade after a video of his semi-naked fan dancing went viral.
John Sweeney, affectionately known by Timberwolves fans as "Jiggly Boy", became a fan favourite over a decade ago when he was captured stripping off to Nelly's Hot in Herre to reveal the word "WOLVES" printed on his belly and the initials of his favourite player Kevin Garnett emblazoned on his arm.
And he was back showing that he still could throw a few shapes last Wednesday, to celebrate the return of Garnett after eight years away from the Minnesota. In the video, the arena's "Show us your moves" fancam is seen panning around the packed Target Center stadium.
To the delight of the crowd the camera stops on Sweeney's two sons and their dad, who despite massive cheers from those in attendance remains unmoved.
After cutting to other dancing fans the arena's announcer asks the camera to go back to Sweeney.
Sweeney's children can be seen trying to get their dad to dance, but he remains seated, instead encouraging his kids to dance.
It is not until the Nelly's Hot in Herre is played and the camera moves back to Sweeney for one last time that he explodes out of his seat and once again becomes "Jiggly Boy", removing his shirt to reveal the words "Welcome Home KG".
As he "shakes his body rolls", the flattered Garnett can be seen showing his appreciation by smiling and giving Sweeney a thumbs up.
Speaking after the match, Garnett told the Star Tribune: "I think if you saw a fat guy with everything off, dancing with your name on his chest, I think you would pay attention to that – or at least for five seconds."
According to Sweeney, he received a text from the Timberwolves Games operation team before the game asking him if he wanted to bring back "Jiggly Boy" for Garnett's homecoming.
He told The Star Tribune: "I got a text days before the welcome home game that said: 'KG is coming back. What about Jiggly?"
He added that this would be a one time only appearance for Jiggly Boy and that he had his kids to think about now.
"We had a good philosophical discussion on the car ride home,' he said. 'About when it's appropriate to take your shirt off."
"Jiggly Boy's" dancing must have had some sort of impact on the 38-year-old Garnett.
On Sunday he announced that he was so overwhelmed by the support shown by fans since rejoining the Timberwolves that he purchased 1,000 free tickets that he intends to give away to Timberwolves fans for their next home tie.
Register for free to continue reading
Registration is a free and easy way to support our truly independent journalism
By registering, you will also enjoy limited access to Premium articles, exclusive newsletters, commenting, and virtual events with our leading journalists
Already have an account? sign in
Join our new commenting forum
Join thought-provoking conversations, follow other Independent readers and see their replies