The Independent's journalism is supported by our readers. When you purchase through links on our site, we may earn commission.
Masai Ujiri interview: 'You can't always go with the trend,' says Toronto Raptors GM as team prepares for London test
EXCLUSIVE: Ujiri on the Raptors in London, NBA teams settling in Europe and the development of his team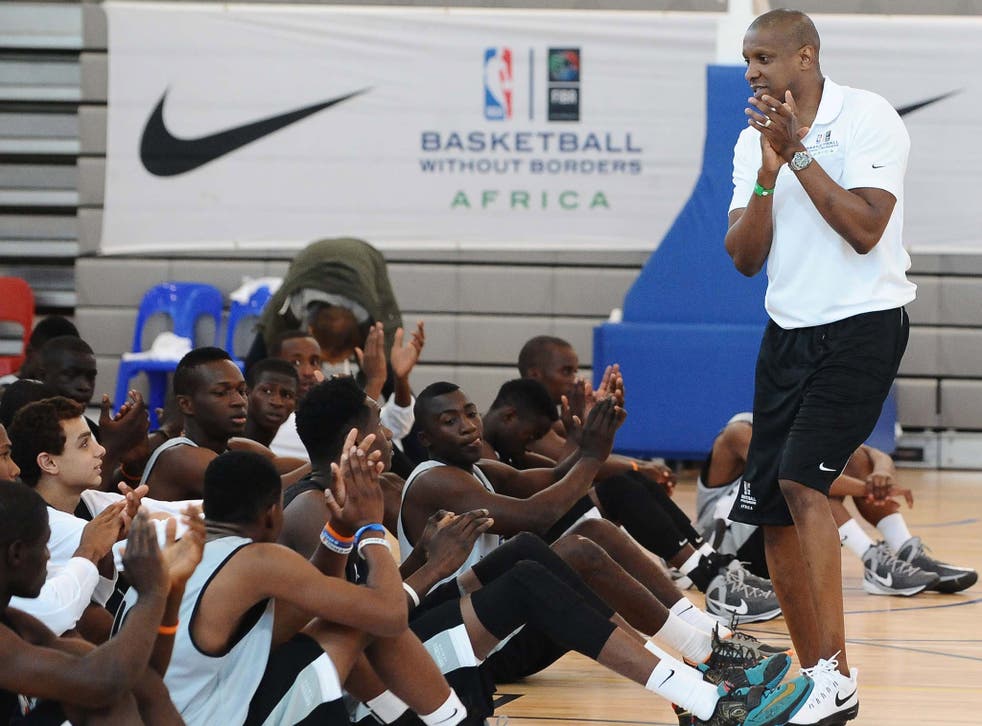 Masai Ujiri is a trail-blazer in American sports.
The Nigerian became the first African-born general manager among the major sports leagues when he was appointed to the Denver Nuggets in 2010 and is the only non-American to be named NBA Executive of the Year when he did so as head of the Nuggets in 2013.
When he was headhunted by the Toronto Raptors in summer 2013 and offered a five-year, $15million deal few were surprised. Fewer still were surprised when he rebuilt the Raptors roster and took the team to a Division title in his first season in charge, their first since 2006-07 and their first play-off berth since 2008.
The Raptors repeated that feat last season, winning a franchise record 49 games, but a poor play-off performance that saw them exit at the first round after being swept 4-0 by the Washington Wizards, saw Ujiri again re-work his squad.
Eight new players were added, three left and Ujiri also oversaw the addition of the Raptors 905 in the NBA Development League.
So far it's working out with the Raptors currently sitting second in the Eastern Conference with a record of 24 wins and 15 losses. They trail only LeBron James' Cleveland Cavaliers, last year's beaten Finalists, and have recorded impressive wins this season against title challengers including the Oklahoma City Thunder, Los Angeles Clippers and San Antonio Spurs.
The Independent spoke to Ujiri on Tuesday ahead of his team's match with the Orlando Magic on Thursday night at the O2 Arena.
--
The Independent: What is it like as a team, as a GM, to travel to London for a game?
Masai Ujiri: It's very interesting for us. It's unique because you are coming during the regular season. We are a global team and we love being a global team, we want to keep growing. It's a unique opportunity for us. You want to be relevant you want to play, so we're happy to be in this position.
There seems to be increasing interest in having a team, or teams, permanently based in London and Europe. What would be your thoughts on that?
MU: We want to grow the game as much as we can, I know the commissioner talks about it. But that takes a lot of work, a lot of time. One day is that going to happen? Hopefully.
In the past free agents haven't been attracted to Toronto, because the team was unsuccessful but maybe also because the team was in Canada. Would a London team have trouble attracting players? Or would it not matter if the team was successful?
MU: I don't think it's something you can look at that way, until that happens or not, I don't think you can make a judgement. In the end you have to win, we're trying to win in Toronto and we feel we have as good a chance as anybody [to attract players]. Players want to go where the team wins and where the team has a great culture, ownership and all of that. It doesn't matter where you are. It really doesn't matter, you have to perform and you have to win.
Starting small forward DeMarre Carroll has been ruled out with an injury until at least the All-Star break. With the team competing at the top of the East, will you look to make a trade to keep the Raptors on track? You haven't been afraid to make big moves before.
MU: We feel were an OK team, we're good, we're growing. We'll see what presents itself and where we are at the time. We hope that DeMarre continues to make progress and will get well soon. We'll see how we continue to grow as the trade deadline comes and as we go into the second half of the season.
When you first arrived as GM it was well reported that you had a long sit down with Kyle Lowry. He had been a talented but troubled player and now he is an All-Star - did you ever expect him to become this good? Has he exceeded your expectations?
MU: I think he's grown remarkably. He's always been such a competitive player but Kyle has worked really well for us because he's become so much better at the things he didn't do so well. We've tried to be better at the things we didn't do so well too. I think it's been a good partnership and I think we just have to create a unique environment for him to succeed and we hope he continues to do that.
In terms of his game it's night and day. The kid has given everything that he has. Whether it's changing his body or whether it's his personality. Everything. He has done so well in growing as a person. This is somebody that was an All-Star last year and is going to be an All-Star again this year.
Your other All-Star, DeMar DeRozan, is likely to enter free agency in the summer. How difficult, or easy, will it be for you to keep him?
MU: We're confident with DeMar because this has been the only team that he has played on and we hope it continues that way. That's the advantage of drafting a player and him being part of your programme. Free agency is one of those things where players like to test it and we're not afraid of that. We believe in what we have and we believe in DeMar as a player. We're excited because he's somebody that we'd love to have continue with our franchise.
As well as building a win-now team you have also shown that you are prepared to look to the future and draft and develop young guys such as Bruno Caboclo and Lucas Nogueira. How tough is it to balance those two things?
MU: It's very difficult in the NBA. You want to see those young players develop, that's one of the reasons we got the 905, the NBDL team, so that they can go and play a lot of games. And it's not just Bruno and Lucas but Delon [Wright], Norman [Powell], Anthony Bennett. We have young players that we're trying to develop. We love them, we think they're growing their games and we'll continue to give them the opportunity that we can give them.
Around the league teams have rushed to adopt the three-point shot and pace and space. You still have a traditional big man, Jonas Valanciunas at centre. Do you think you can be successful like that, and will big men become the type of coveted asset they were 10-15 years ago?
MU: People were playing fast paced before, it's just that Golden State succeeded in winning with it so it's become the trend in our league now. Players like Jonas are hard to find. You have to be unique in your own ways and the ways that you play to find a way to win. You can't always go with the trend that's going on. Sometimes you have to create the trend yourself and be confident in it. Hopefully the way we play, as a defensive-minded team that can score in many different ways, hopefully we can build that and win with it.
The Eastern conference has also become a lot better this season. Why is that - GMs making better decisions, young players developing or something else?
MU: The East was bound to catch up at some point; that's the nature of it. There are some great GMs in the league and young players got better. Teams that were young last year, Orlando, Boston, Detroit, even us, have just got slightly better. [As a player] you have one more year under your belt in the NBA it helps. Now the East is the place to be, it's very tough to survive, every game you play is a challenge. We'll see how it continues to go.
At the same time the West has maybe got a bit weaker? Would you expect teams, maybe the Grizzlies, Suns and Pelicans, to start again?
MU: I don't think the West is weaker, maybe a couple teams are having a down year but it's not necessarily weaker. You want to win in the NBA you want to build a culture and teams will always do that and try to win. It's cutthroat. All 30 teams want to be that way whether they are rebuilding, have young players, have a style of play. It doesn't matter, everybody wants to win.
Thanks very much for you time, Masai. Good luck on Thursday.
Tickets for the O2 Arena have sold out. Follow the game live on BT Sport 1 and NBA LEAGUE PASS
Register for free to continue reading
Registration is a free and easy way to support our truly independent journalism
By registering, you will also enjoy limited access to Premium articles, exclusive newsletters, commenting, and virtual events with our leading journalists
Already have an account? sign in
Register for free to continue reading
Registration is a free and easy way to support our truly independent journalism
By registering, you will also enjoy limited access to Premium articles, exclusive newsletters, commenting, and virtual events with our leading journalists
Already have an account? sign in
Join our new commenting forum
Join thought-provoking conversations, follow other Independent readers and see their replies