NBA week 2: Five things we learnt as Warriors continue to roll and Pistons surprise
The two London teams clashed in thrilling preview of game to come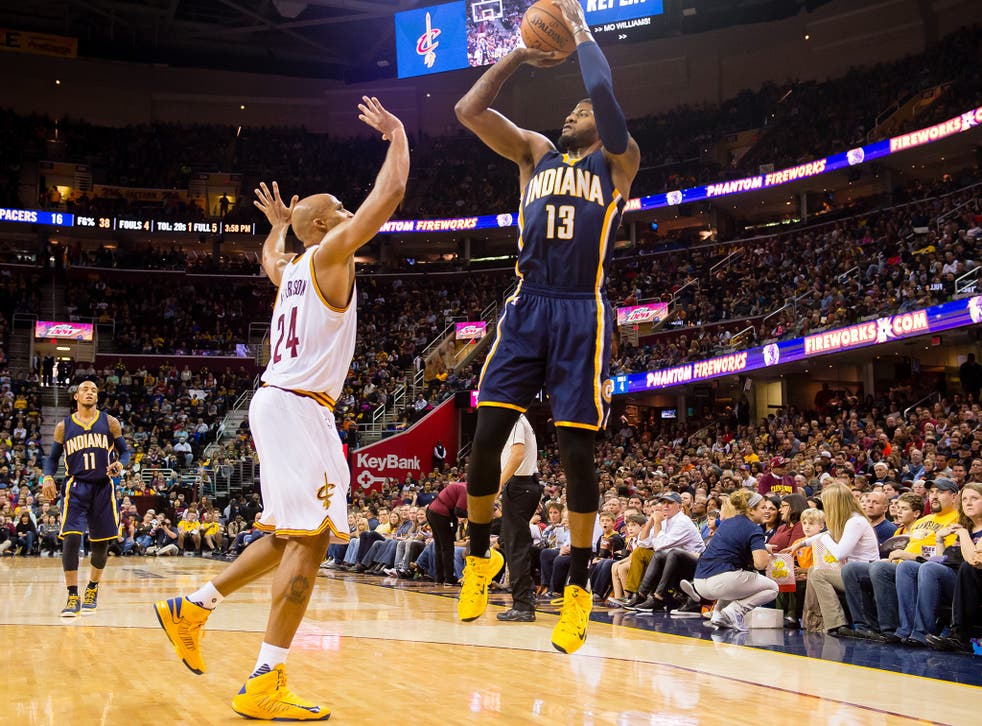 Players returning show no ill-affects
Both Oklahoma City Thunder and the Indiana Pacers missed out on last season's play-offs by just a single victory, despite finishing in the top two of their respective conferences a year earlier. The injuries suffered by key figures Kevin Durant and Paul George were a major factor in the sides missing out on the post-season, which has been highlighted by their outstanding individual performances in the past week.
Durant – the league's leading scorer in 2014 – has averaged 30.3 points per game in the last seven days and shot 52 per cent from the field. George has also continued to impress, scoring 36 points in a win against the Miami Heat before being desperately unlucky to finish on the losing side in Cleveland after scoring 32 points to go with 11 rebounds and six assists.
Both players missed almost all of the 2014-15 season with injuries that some feared, especially in George's case, may have had an even longer-term effect and reduce the effectiveness of the star men. But they have come back even stronger in the opening part of the season, and Kevin Love is another example of a player recovering from adversity. The power forward played a major role in the victory against the Pacers, recording a huge double-double with 22 points and 19 boards as his side recorded a sixth consecutive win.
The loss of D-Will is really hurting Brooklyn
After reaching the play-offs last season, the Brooklyn Nets have lost their first seven games this year and have the worst three-point shooting record in the NBA. They have shot an abysmal 24 per cent from beyond the perimeter and it is clearly harming their offence as they attempted just nine 3s in their defeat against Milwaukee last time out. The decision to allow former All-Star point guard Deron Williams to leave in the summer was not one taken lightly, but they will save $40-50 million over the next two years and were reported to be tiring of his attitude.
However, his departure has left a huge gap in their young squad, with big man Brook Lopez not getting enough touches and again struggling with foot injury. In contrast, Williams is shooting 38.9 per cent from behind the arc for his new Dallas Mavericks side, suggesting the decision to let him go may well be one they regret. Brooklyn have conceded over a hundred points in all but one of their games this season, and are averaging just 90. It could be a very long season for the Nets, with the side having made just 17 of their 68 three-point attempts this week. To put that into some context, Stephen Curry alone has made 21 three-pointers in the past seven days.
It's time for Kobe's playing time to be reduced
'I suck' were the words of future Hall of Famer Kobe Bryant after a third-straight defeat for the Los Angeles Lakers last week, and things have got no better for the 17-time NBA All-Star in week two. Averaging 16.5 points per game, the 37-year-old has miserable shooting statistics for the season, hitting just 32 per cent of his field goal attempts and a woeful 21 per cent from three-point range. He even airballed a lay-up against the Knicks in New York in the latest of a number of disappointing performances. Bryant has played 29.2 minutes per game this season, the second most in the Lakers side, but his numbers just do not warrant a continued starting spot, even in a side with a 1-5 record. Head coach Byron Scott has said that he is not concerned with Bryant's shot selection or worrying form, but it must surely be time for the veteran's playing time to be reduced at the very least. It is still unknown if this will be his last NBA season, yet it is looking increasingly more likely as his struggles have shown no sign of letting up. The 99-95 defeat against the Knicks on Sunday may well have been the last time that he played at Madison Square Garden, a venue where he has so many great memories, but all good things must come to an end.
Van Gundy's Pistons could be this year's Hawks
With victories against Eastern Conference contenders the Chicago Bulls and Atlanta Hawks, and sitting on a 5-2 record, something has clicked in Detroit. They suffered a setback at the Palace of Auburn Hills when the Indiana Pacers came and defeated them on their home court, but recovered with a couple of impressive road victories against talented Western conference sides this week. They finished 12th in the Eastern conference in 2014-15, with just 32 wins and few gave them a chance of any possible success this year. But their rapid rise in the opening weeks can be likened to the Atlanta Hawks, who shocked the whole of the NBA by winning 60 games last season en route to clinching the first-seed in the East.
The year before that, Atlanta were lucky to sneak into the play-offs after winning just 38 of their 82 regular season games. The Hawks rise to the top came about from an outstanding team ethic, with no real superstar at the franchise – although four of their players became All-Stars as a result of their remarkable season. Stan Van Gundy's Detroit Pistons have a similar type of squad, yet in Andre Drummond they have a player that is fast-becoming a superstar. His numbers were nothing short of remarkable in their first six games, averaging 20.3 points and 20.3 rebounds as he has totally dominated the paint. Drummond then put up 14 and 15 in a spirited defeat to the all-conquering Warriors on Monday.
No one else is averaging over 14 boards so far this season. On Sunday Drummond posted 29 and 27, to go with Reggie Jackson's outstanding fourth-quarter performance that led to a career-high 40 points for the point guard. It is still early in the season, and this is not to say the Pistons will be competing for the top seeds come April, but their superb start is beginning to turn a few heads.
If Magic vs Raptors was anything to go by, London game could be a cracker
Last year's NBA global game at The O2 arena was rather disappointing in truth, as the Milwaukee Bucks defeated a struggling New York Knicks side with ease in a game where star man Carmelo Anthony was clearly injured.
Despite this, the 20,000 capacity sold out in less than an hour for this year's game in London and it was no real surprise. It may be the best basketball league in the world, but taking the game outside of the United States and Canada continues to be vital for the development of the league. Although there is just one British player in the NBA this season, Cleveland's Luol Deng, January's game will again bring a buzz like no other. The Orlando Magic and Toronto Raptors are the two teams that will take to the floor in a few months, and they played out the dress rehearsal in Florida on Friday night.
The Raptors were boasting an unbeaten record going into the game, but the Magic are an improving side and secured a 92-87 win after outscoring their Eastern conference counterparts by 10 points in the final quarter. It does have the feeling of a slightly more glamorous game this year, with the Raptors winning the Atlantic Division last year and a young Magic side continuing to grow every week. It was a tight game that went right down to the wire, and basketball fans in this country will be hoping for a repeat when the side's next meet on 14 January.
Register for free to continue reading
Registration is a free and easy way to support our truly independent journalism
By registering, you will also enjoy limited access to Premium articles, exclusive newsletters, commenting, and virtual events with our leading journalists
Already have an account? sign in
Register for free to continue reading
Registration is a free and easy way to support our truly independent journalism
By registering, you will also enjoy limited access to Premium articles, exclusive newsletters, commenting, and virtual events with our leading journalists
Already have an account? sign in
Join our new commenting forum
Join thought-provoking conversations, follow other Independent readers and see their replies