Oklahoma City Thunder to win the NBA title, says former Los Angeles Laker Rick Fox
EXCLUSIVE: Fox won three titles with the LA Lakers from 2000 to 2002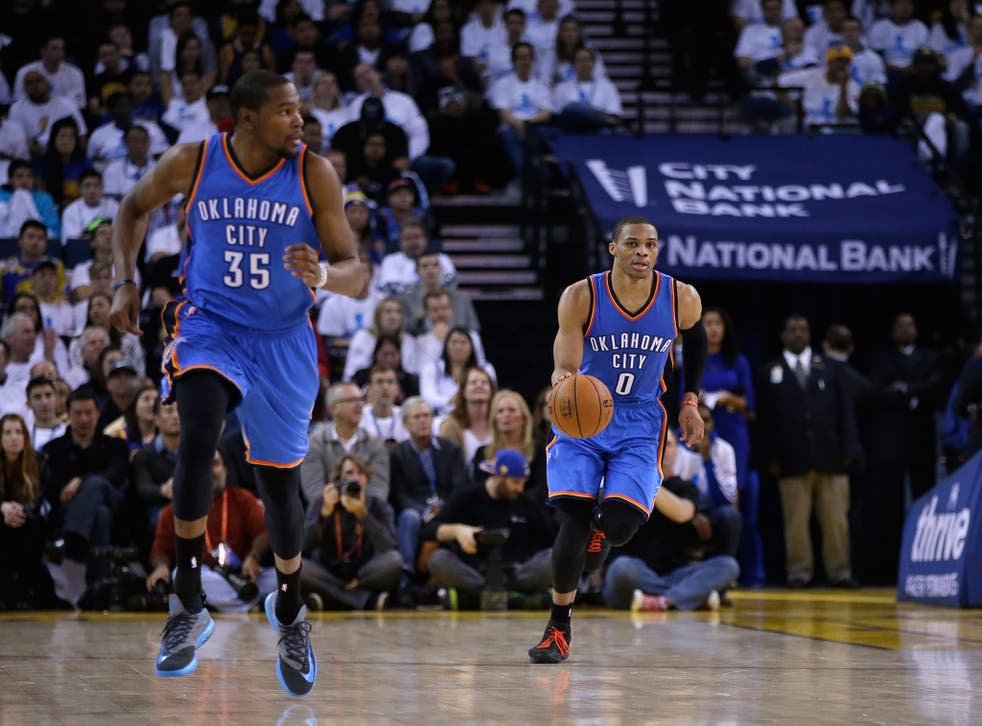 NBA legend Rick Fox believes the Oklahoma City Thunder will get over their recent injury hell to win the first title in the franchise's short history.
Since coming into the league in 2008 - after Sam Presti and Clay Bennett moved the Seattle Supersonics to Oklahoma - the Thunder enjoyed a meteoric rise to contention and looked set to be one of the league's dominant teams for years to come. They reached the Finals in 2011-12, where they were eventually beaten by the Miami Heat, despite their four best players being aged 22 and 23.
That summer the team lost sixth man James Harden, who has gone on to become a MVP candidate with the Houston Rockets and have had worse injury luck than any other NBA team. In 2012-13 Serge Ibaka missed crucial play-off games with injury, then Russell Westbrook (above, right) in 2013-14 and last season Kevin Durant (above, left), who had been MVP a year earlier, played just 27 games as the Thunder missed the play-offs.
But with Durant now fully healthy and Presti making several win-now moves over at the trade deadline, Fox believes the Thunder have the quality to win it all.
Miami Heat can get to the NBA Finals, says Deng
"I think it's Oklahoma City's time again to make their way back to the Finals," said Fox, who won three successive titles with the Los Angeles Lakers from 2000 to 2002. "The emergence of Russell Westbrook, the return of Kevin Durant and the presence of Enis Kanter, Steve Adams and Serge Ibaka in the paint, I think is going to be solidifying defensively.
"I think the Cleveland Cavaliers will make it out of the East and we'll have a pretty epic matchup.
"I'm going to go with the Oklahoma City Thunder to win it all."
Fox, 46, is now an actor and lives in LA after seven years playing in the city, but doesn't believe his former team have the talent required to reach the play-offs this season. Former team-mate Kobe Bryant, 37, is still the biggest draw at the Lakers but his considerable skills are declining and the five-time champion has suffered a season-ending injury in each of the last three seasons. He's also in the final year of his contract with retirement now on the horizon.
"Considering their roster [Kobe] is still their best option of success, on a night-to-night basis as long as he can remain healthy. We know he's not going to be capable of delivering 'Bryant-esque' performances every night, but I think there's still enough left," added Fox.
"There are still some amazing performances left in the tank to put him in a category of one of the top 50 players in the game."
The Lakers added elite defender Roy Hibbert to their squad over the summer and drafted D'Angelo Russell with the No 2 pick in the draft but it doesn't seem like enough to make it through the gauntlet that is the Western Conference.
"We're going to be watching a group of young players thrown on the fire and discover, not only their own individual skills and whether they can grow and improve, but discover whether they can grow together to make something of their season," added Fox.
"As we know in the West they're going to be facing teams that are not only the best in the league but that are going to be around for a while. So they better strart at some point to crack the code of facing the likes of the Warriors, Spurs and Thunder - the list goes on. They have a tall hill to climb. I didn't even mention the Clippers in their own city.
"I don't think they'll make the play-offs, just because it's too deep in the West."
Fox spent the first six years of his career with the Boston Celtics, another NBA power house who are currently out of title contention. He is slightly more optimistic on their chances this season with Brad Stevens impressing in his first years as an NBA coach to lead the young Celtics to the play-offs last year.
"The acquisition of David Lee brings veteran leadership, which is much needed, but also the addition of Amir Johnson is going to bolster their front court," said Fox.
"The youth is extremely evident with this team and the growth and progress of their play is going to be key to their success this year. They're going to need to continue to expand their individual aptitude but also their chemistry, if they're going to progress beyond the first round and deeper into the play-offs."
Boston have a bit of a log-jam at the guard positions but it appears that general manager Danny Ainge is holding onto as much talent as possible in the hopes of trading for a disgruntled star, if one becomes available, down the line.
"Talking to Danny Ainge I dont think there's going to be a lot of opportunity for some of the rookies to get in there amidst Avery Bradley, Marcus Smart and Isaiah Thomas, that's a pretty tough core already.
"If they do get a chance to play I'm hearing positive things. They're starting to make a positive impression on the coaching staff and the veterans. It'll probably be later in the season if they do play at all.
"[This season will be about] getting better individually and collectively. Going through the experience of more play-off basketball.
"I don't know but maybe some of the youth that they have could be attached to some of the picks that they still have in their arsenal to attract an additional superstar. If they could pull that off then maybe they could escalate their chances of being contenders a lot sooner than maybe the four or five year track they would be on [with this group]."
Elsewhere in the Eastern Conference last season's beaten Finalists, LeBron James' Cavaliers, are the consensus pick to again come out on top.
"There are definitely other teams to challenge them but barring any upsets to their health, the Cavs will be the team to come out on top on the East. But a month into the season there's always a team or two that surprises you, either way, that rise above expectations or in other directions disappoint. We saw it with every team [last year] as the ebbs and flows of a season happen, but I think Cleveland have given themselves greater depth and made themselves a repeat contender for the Finals.
"I still like Chicago's chances [to challenge Cleveland]. Derrick Rose is once again starting the season with physical challenges, but I think he'll return quickly. I like what Milwaukee has done. Miami is going to come back stronger than they performed last year, they'll be in the mix. Atlanta will be competitive again but I think they'll dip a little bit and then there's Toronto, who will also challenge."
Watch the 2015-16 NBA season live on BT Sport or via NBA League Pass
Join our new commenting forum
Join thought-provoking conversations, follow other Independent readers and see their replies