Big, bold and unapologetically brash: what can the English Premier League learn from America's NBA?
Long read: The Independent goes behind the scenes of one of the world's biggest sports leagues. From American fan culture, to media coverage, to the NBA clubs themselves, there's plenty to take on board - and certain aspects which look unlikely to ever cross the water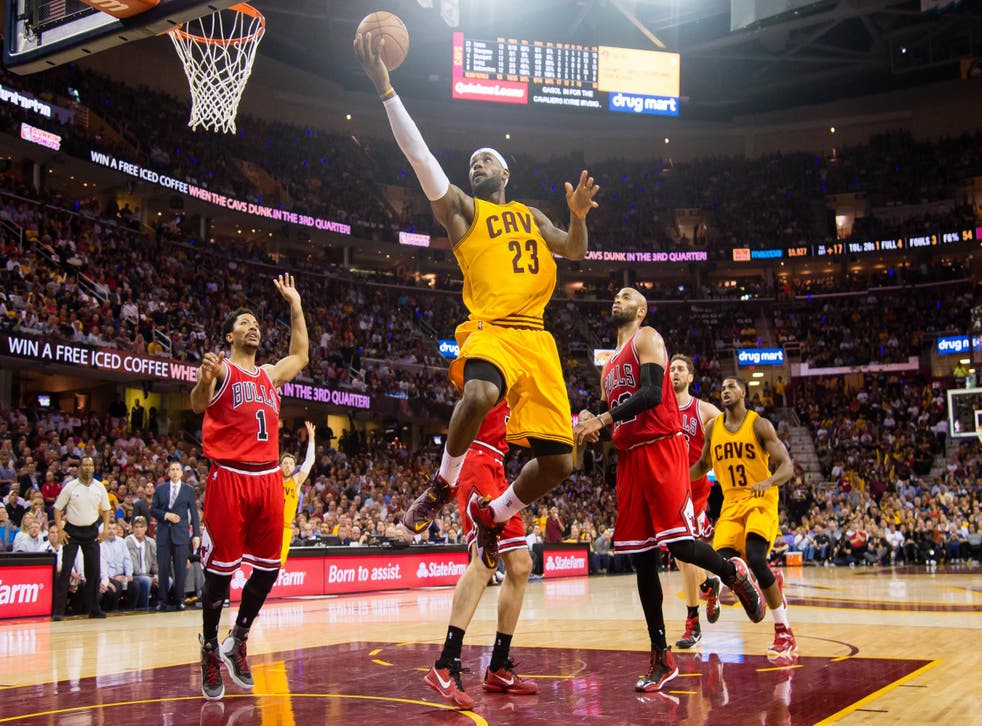 As one of the most globally-recognised brands in sport, the English Premier League has spent the last 25 years successfully delivering its product to fans across the world. It may be easy to snipe at the league for its perceived lack of quality, uncultured football, and the high influx of foreign players and owners - not to mention the repeated failures of its home nation on the international stage - but there's no denying its reach and lucrative pulling power.
The EPL is carried by 80 broadcasters into 212 territories worldwide, and an average game is watched by more than 12 million people. In terms of wealth, the EPL is thriving. A multi-billion industry, it made around £4bn in revenue in 2015, added £3.4bn to the UK's GDP, provided 100,00 local jobs and contributed £2.4bn in taxes to the Exchequer. Simply put, the Premier League is one of the most successful sports leagues in the world - if not the most successful.
But as it vies for global superiority, can the Premier League and its clubs take anything from their competitors?
Realistically, there are not many leagues that can match the EPL for both its international footprint and dizzying financial success. La Liga is, of course, globally recognised but falls short of the Premier League's wealth. Conversely, the NFL has comfortably cemented its spot at the top of the money tree but has struggled to export its brand beyond America's shores.
When it comes to both factors, the NBA, interestingly, stands alone with its English counterpart. Indeed, America's National Basketball Association enjoys greater financial success than the EPL and, like the Premier League, has succeeded in globalising its brand - something which sets it apart from the NFL and MLB. Basketball may be worlds apart from English football, but when it comes to fostering, packaging and delivering a sport, the NBA has plenty to teach. From fan culture, to media coverage, to the clubs themselves, the EPL would be wise to take note of just how exactly the NBA is running things over the pond.
At face appearance, the differences between fans in the NBA and Premier League points to an unbridgeable gap in the two sporting cultures - but is there anything British supporters can learn from their American cousins? In comparison to the amicable, often docile sentiment that marks basketball fans, football has always been underpinned by a visceral tribalism, manifest in the outbreaks of violence that tarnish the game each season.
A total of 431 football-related arrests were made at Premier League games last season while 617 banning orders were imposed on supporters of top-flight clubs. Violence, admittedly, is on the decline, but the scale and breadth of disorder points to a propensity for tribalism that is absent from basketball.
Put simply, NBA doesn't suffer from the same problem. Fan violence is a rarity while arrests are unheard of - and this is a league that sees 2,460 games played across one season, compared to the Premier League's 760. Of course, there have been reports of violence, such as when two Golden State Warriors fans were killed in a shoot-out with rival Spurs supporters in 2013, but such incidents are exceptions to the rule.
This absence of discord and disorder was clear to see when attending the clash between the LA Clippers and Cleveland Cavaliers at Los Angeles' Staples Center. With no home and away divide rival fans sat shoulder-to-shoulder, offensive chants were not to be heard, and players were even applauded by opposition fans for impressive passages of play. The nature and spectacle of basketball certainly helps propagate this tolerant environment. With its high-scoring, stop-start format - thus permitting in-game entertainment for all to enjoy while encouraging fans to flitter in and out - the sport promotes inclusivity.
Such a landscape seems a million miles away from the EPL. Impassioned, explosive and tribal, the atmosphere surrounding a game of Premier League football couldn't be more different. It comes at a cost, as seen in the figures above, but can it be really changed? NBA fan culture promotes a safer, more inclusive experience but could it feasibly be replicated within the Premier League? To do so would be to fundamentally change the dynamics and spirit of the English game - something few fans would want to see. Nonetheless, this shouldn't stop the EPL from coming to terms with its violent complex, especially when compared to a sport that plays more fixtures per calendar year and which dominates fans' lives in a similar way. NBA fan culture may ultimately struggle to take off here but it demonstrates just how much the Premier League continues to lag behind its rival major when it comes to fan disorder.
Away from life in the stands, what about down in the tunnels, among the buzz of the changing rooms and unseen flurry of activity before and after games? Access to such areas is limited in the Premier League but this certainly isn't the case in the NBA. "Everything is about access," Tim Corrigan, a senior ESPN producer, tells The Independent. "You want more access, more exposure, to get closer." From the club-specific mobile apps, which provide a glut of data and replays for fans to salivate over, to the locker room access permitted to press after games, to the wearing of microphones by players; the NBA is streets ahead of the Premier League in securing and delivering access.
In comparison to the Premier League, there is a much clearer and concrete dialogue in place between the NBA's star players and the fans. As alien and impractical as it seems to us, the wearing of microphones has so far proved a success in the league. Basketball royalty LeBron James has worn one in the last four NBA finals in which he's appeared, something which Corrigan argues "resonates with the fans".
"To be in that calibre of game and still be open to doing things like that I think really resonates with fans, and he knows we're going to turn around content from that," he says. The notion of 'turning around' content is already a phenomenon that takes place in the EPL. On-pitch altercations, crossed words and unseen challenges are repeatedly flagged up after games and scrutinised to the point of death. Why is this the case though? Simply because it's what the fans want. The love for the game doesn't just stop at the final whistle but centres around the countless intricacies that define it. A quick look at today's back pages will showcase the ubiquitous, all-consuming character football has taken on - whether rightly or wrongly.
So could English players realistically one day wear microphones? The notion of handing the likes of Joey Barton a voice piece to broadcast his on-pitch rants may delight certain fans, but in practical terms it's not an option. The sheer physicality of the game would make it a logistical nightmare. But why not carry the idea forward to the game's officials and provide access to their microphones? As in rugby union, it's a practice that brings the fans closer to the game and provides more match-day content to get stuck into. Corrigan reiterates this: "People want to get closer to these players".
The privilege of 'locker-room' access has certainly helped bring the American press closer to the NBA's stars, too. But in England, such a practice is unheard of and, for many players, represents an invasion of privacy. Jermain Defoe, who has spent much of his Premier League career kept at arm's length from British journalists, was known to have reacted with horror when he first joined MLS side Toronto FC. The idea of reporters entering a team's private locker room after the final whistle seemed absurd. But from a journalistic and fan point of view, such access would simply add another layer of content to a high-profile Premier League game and, as in America, provide fans with the opportunity to get closer to their sporting stars. The introduction of 'locker-room' access in football would certainly require a degree of trial-and-error, but it's worth a shot.
With plenty of positives to take from the current model seen in the NBA, Corrigan has encouraged the Premier League to embrace heightened access. "I don't see why not," he argues. "Again, the only thing I would say from our standpoint is it hasn't hurt our sport. More access in the NBA has not been bad, it hasn't been bad for the players, it hasn't been bad for the viewers, it hasn't been bad for the league."
But it isn't just in terms of access that NBA is leading the field when it comes to coverage. The presence of women within the sport has become so prevalent that it has largely ceased to become a talking point. Many of NBA's most prevalent voices, from Countdown anchor Michelle Beadle to The Jump's Rachel Nichols, are women. And nobody seems to be talking about it. That is perhaps the strongest indication of the game's changing social landscape.
"It's a cliche," Sage Steele, lead host of ESPN's SportsCenter On The Road, says. "It's been a progression and now, I don't know about you, but when I watch TV at any level, local, regional, national, I mean women are just there."
Although the presence of women in the Premier League is improving, the recent furore sparked by David Moyes' off-camera remarks to the BBC's Vicki Sparks demonstrates that English football is still playing catch up.
His joke-threat to 'slap' a reporter prompted all manners of responses but it's almost impossible to imagine Moyes directing the same words - in which he chided Sparks for being a "wee bit naughty" - towards a male reporter. There still resides an attitude of derision for women in football under the shiny new politically correct facade that now exists, despite claims to the contrary.
For Steele, an ever-present figure among the basketball industry for the past 21 years, the distinction between male and female reporters in NBA is fading away into irrelevance. "I don't hear nearly as much or even see it on social media," she tells The Independent. "I don't see as much negative talk as far as whether or not a woman belongs there. I think it's been accepted in most ways. There's still work to do in every area but it's so much different. Even if you look at the internet, broadcasts on websites, sportscasts on websites, there are women everywhere."
Returning to the grounds, the NBA is also setting a new bench march for how sporting arenas are designed and built. With Everton the latest Premier League side to reveal plans to build a new stadium, the club need look no further than the Sacramento Kings' Golden 1 Center. Opened to purpose in September 2015, the arena has brought a whole new new meaning to 'game day'.
In an age dominated by the internet and connectivity, the stadium ticks all boxes. Twin 100-gigabit-per-second pipelines deliver super-fast bandwidth to the ground – similar to what a city with roughly 70,000 inhabitants would receive. To put that into numbers, Golden 1's connectivity allows up to 500,000 Snapchats to be sent per second.
But while the stadium makes full use of the technology on offer today, Golden Center 1 remains equally entrenched within its surroundings. That's why, then, 90 per cent of all food served to fans is sourced from within 150 miles of the ground. The Kings have also committed to turning food scraps into fertiliser that go back to the farms that provided the produce in the first place, creating a local and sustainable food cycle.
A look inside the Golden 1 Center

Show all 35
The stadium is also the first of its kind to be run completely on solar power, 15 per cent of which is generated by the ground itself, while a displacement ventilation system controls the internal temperature through vents at the seat level, instead of wastefully circulating high-volume forced air from the ceiling.
The arena is more than just a sporting and social hotspot, however. A once-in-a-generation catalyst, Golden 1 Center has injected a much-needed shot in the arm to the city's local economy. Nearly 75 per cent of the arena was constructed by local businesses, keeping the Kings' investment in the region's economy, while Downtown employment has grown by 27,607 jobs in the past 24 months of construction. Thanks to the Kings' new home, Sacramento is fast becoming a vibrant urban hub that is beginning to attract investors and, in doing so, shake off its reputation as California's forgotten city.
"The story of the arena is uniquely Sacramento," Chris Granger, president of the Kings, explains. "The food to art to tech, it speaks to Sacramento."
The stadium has ultimately set a precedent for how sporting arenas can engage and regenerate their surroundings, while embracing the technological and environmentally-conscious spirit of the age. It's not surprising then that a number of PL clubs have already approached the Kings in the hope of learning as much as possible about the ground. With Everton's own move to build their new £300m stadium on Bramley Moore dock well under way, the club would be wise to now turn their sights to Golden 1 Center.
But while the EPL could one day match the NBA for the grandeur and futuristic design of its arenas, there's one glaring aspect that looks unlikely to ever cross water: recruitment. Since their inception, Britain's top-flight division and the NBA have set upon drastically contrasting courses when it comes to player recruitment. In American basketball, the notion of club academies and multi-million transfers simply doesn't exist. Instead, the nation's college teams provide the NBA with the overwhelming majority of its stars. Through the annual draft, the best college basketball players who have made themselves eligible will be picked across two rounds by the NBA's 30 teams.
These players will have honed their trade at college, making a name for themselves within the National Collegiate Athletic Association (NCAA) - America's equivalent to BUCs, except the organisation generated almost a billion dollars in 2014. Up to 90 per cent of this revenue is made through 'March Madness', the annual single-elimination tournament that pits the nation's top college basketball teams against one another. As one of the largest sporting events in the American calendar - the fact CBS/Turner paid the NCAA $8.8bn in 2016 to secure coverage rights shows just how big this thing is - it serves as a prime platform for college basketball's best players to strut their stuff ahead of the draft in May.
Although caveats have begun to emerge within this feeder-system - more and more players are now being drafted from overseas - it is unrecognisable from the system in place within Britain. A far shout from Arsenal's Hale End or Liverpool's Kirkby Academy, where some of the Premier League's most iconic players have risen through the ranks to stardom.
Michael Wilbon, the former Washington Post columnist and one of NBA's biggest analysts, certainly doesn't see any chance of the NBA's recruitment system taking off in England. "That whole college system only works here, because we're the only ones playing college sports like that," he explains. But I don't think there's anything that suggests that those models work cross-culturally. I think we've got this system with dealing with colleges and that's how we roll, and you guys have got another system entirely and it works there.
"These systems are really old. I mean college sports feeding into the NFL and NBA, well for football it's almost 100 years old. They're celebrating their 96th anniversary this season. There's some things here you couldn't do, like selling a player. That's not going to exist here because the players' unions are too strong. There's some things that make it unique.
"Again it goes to the cultural identity of the places, of the differences between the two places. I think there are some real cultural differences that are hard to get away from… some things ain't crossing." As with the fundamental differences that keep EPL and NBA fan culture largely distinct, there are certain recruitment mechanisms and structures in place that run too deep to uproot and replant.
The NBA and the Premier League, however, share a similar outlook in their attitude towards community work. The notion of giving back to the local area has become part an important part of elite sport and is regularly put in to practice in both leagues. Arsenal, among many in England, have developed an extensive community-orientated initiative that specialises in all manners of programmes. School sports, language classes, employability schemes, BTEC courses, social inclusion projects: Arsenal actively puts back into the local area, often out of its own pocket.
In America, the NBA has encouraged a similar relationship between clubs and their communities. The Los Angeles Lakers and LA Clippers both run programmes that benefit the numerous neighbourhoods in the City. The Toberman recreation centre, based within the Pico Aliso region of LA, has benefited immensely as a result of its relationship with the Clippers. Because of the agreement in place, the centre can afford to run its summer basketball programme, charging parents $25 per child - down $50 from what it had been prior.
The children have been treated to new shirts, sponsored by the Clippers, and get to regularly meet players from the NBA. Donations are regularly made to the centre while school-styled tests -encouraging youngsters to write about their involvement in sport - and skill challenges are put on. The Clippers mascot has even been known to practice his dunk shots in the center's newly refurbished sports hall, much to the delight of the kids there.
Jonathan Sanchez, Toberman recreation coordinator, estimates that up to 200 children are now enrolling in the scheme each summer, compared to the 60 or so five years ago before the Clippers first got involved. "I think it's important to have that level of interaction with the various LA neighbourhoods," he says. "It's really important the Clippers are giving back to the community the way that they are, because they have their resources. It's definitely been an improvement for us and the local area has befitted hugely as a result."
In total, the Clippers work with nearly 150 centres and more than 56,000 youth basketball participants - something which Jalen Rose, an ESPN analyst and former NBA player, praises highly. "I love it," he tells The Independent. "The hardest thing to get anyone to do, whether they're a tax-paying citizen or professional athlete, is to dedicate their time, their money and their social media space to something that's not about them. So I support that."
But more can be done, Rose argues. He suggests donating the fines players incur to local communities. "To me the technical foul money should go now to the city where that player plays," he explains. "A lot of people don't realise technical fouls costs $2,500. So if Demarcus Cousins plays in New Orleans and he gets 19 [fines] and the other guys get 14, at the end of the year there should be some sort of cheque presentation to dedicate back to that community. We never truly know what happens to that money. I think the impact should be, and can be, a lot greater."
Rose's query poses an important question for the Premier League, too. What exactly happens to the thousands of money raised by the Football Association's fines? Since returning to England in 2013, Jose Mourinho alone has forked out nearly £200,000 to the FA - money that could be donated back to the community from where it came. For both leagues progress has been made over the years but, as Rose points out, more can be done.
Worlds apart from the Premier League, the NBA has fostered a unique identity for itself that, as Wilbon says, "ain't crossing water". The same applies for the EPL. But as the latter seeks new ways to further elevate its brand among the global audience, what harm can be done in taking a leaf or two out of the NBA's book? Certain aspects would undoubtedly enhance the game here in the UK and simply bring another dimension to the sport for us all to enjoy.
Even for those traits that would ultimately struggle to take off in the Premier League, the NBA can still serve as an effective model with which to illuminate those qualities of the English game which need improving. While its essential to hold on to and protect the idiosyncratic qualities that make English football what it is, perhaps its time to embrace those characteristics that could and should cross the Atlantic.
Fans in the UK and Ireland can watch the NBA Playoffs, Conference Finals and NBA Finals on BT Sport 1, BT Sport 2 and ESPN on BT Sport.
Register for free to continue reading
Registration is a free and easy way to support our truly independent journalism
By registering, you will also enjoy limited access to Premium articles, exclusive newsletters, commenting, and virtual events with our leading journalists
Already have an account? sign in
Register for free to continue reading
Registration is a free and easy way to support our truly independent journalism
By registering, you will also enjoy limited access to Premium articles, exclusive newsletters, commenting, and virtual events with our leading journalists
Already have an account? sign in
Join our new commenting forum
Join thought-provoking conversations, follow other Independent readers and see their replies