Super Bowl 2018: Great Britain's Jay Ajayi savours 'greatest feeling in the world' as Eagles beat Patriots
Ajayi, who lived in England until moving to America at the age of seven, embraced London grime artist Stormzy pitchside before the game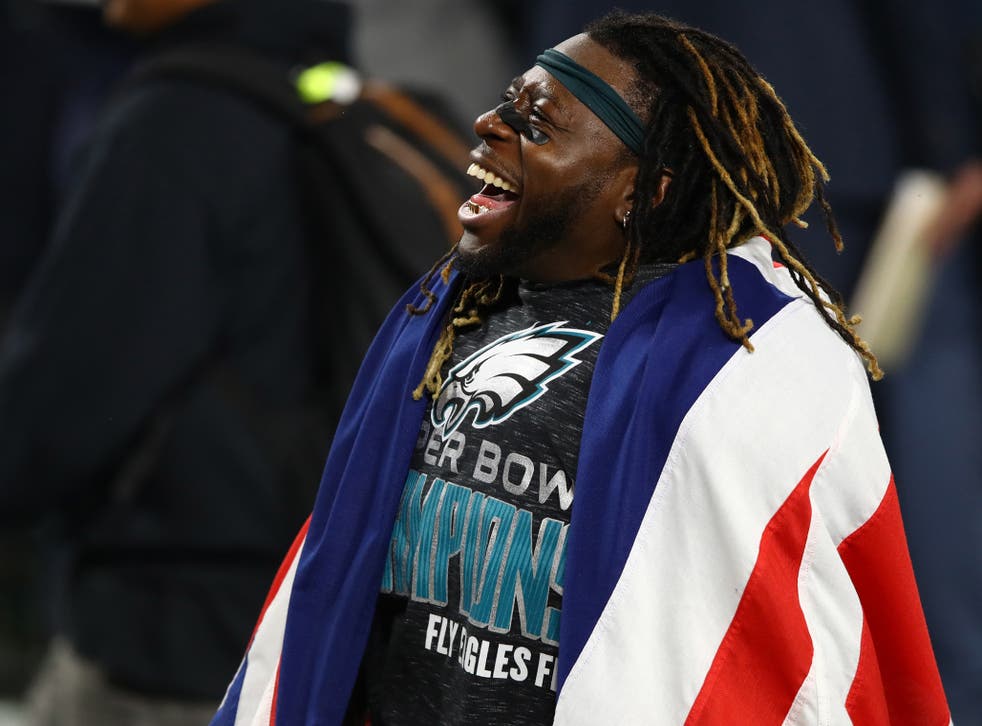 London-born running back Jay Ajayi was draped in a Union Flag as he described winning Super Bowl LII with the Philadelphia Eagles as the "greatest feeling in the world".
The 24-year-old played his part in Philly's maiden Super Bowl victory with 57 rushing yards as the Eagles upset the New England Patriots 41-33 in Minnesota and denied them a third ring in four years and a sixth title in 17 seasons.
Ajayi, who lived in England until moving to America at the age of seven, embraced London grime artist Stormzy pitchside before the game and said afterwards he wanted the victory, and his story, to motivate others in the country of his birth as he became the fifth Briton to win a Super Bowl.
"Hopefully it will inspire some people, just from the journey, from the challenges that I've been through, the adversity," said Ajayi, who was surprisingly traded by the Miami Dolphins in October.
"To still be at this point, to still be able to touch and kiss that Lombardi Trophy and understand I'm a Super Bowl champion, (it's the) greatest feeling in the world, I'm so blessed. I pray that someone is inspired by it.
"Hopefully, once all this stuff subsides, I will definitely love to get back out there (to London), see my family and I know they are going to be super excited to talk about this whole season and the journey.
"It will be amazing to get back to London and just feel the love and support from them."
Peter Dinklage and Morgan Freeman feature in Doritos Super Bowl 2018 advert
Super Bowl LII proved to be an offensive shoot-out with the two teams combining for 1,151 yards and a glut of points as both quarterbacks thrived.
New England's signal caller Tom Brady had been bidding to become the first player to win six Super Bowl titles at the age of 40 but he ended up on the losing side, despite accruing 505 passing yards.
Brady's third touchdown in the fourth quarter gave New England their first lead but Nick Foles responded by engineering a 75-yard, seven-minute sequence that restored Philadelphia's lead via a Zach Ertz score inside the final three minutes.
Even then, Brady had two more chances - the first ending with a strip-sack that the Eagles defence recovered and turned into three more points, and Brady then failed with a Hail Mary attempt as time expired.
"Losing sucks - that's part of it," Brady said.
"You try to win and sometimes you lose. That's the way it goes.
"We had our opportunities. (We) never really got control of the game, never really played on our terms."
Instead the winning quarterback, and Super Bowl MVP, was back-up Foles, who not only threw for 373 yards and three scores but also caught a touchdown with his first ever career reception on a gutsy trick play call on fourth down at the end of the first half.
Foles was thrust into the spotlight when Carson Wentz suffered a season-ending injury in December, and few expected the Eagles could win it all with the journeyman who contemplated retirement in 2016.
"We talked a lot this last week about a couple years ago, there was a time where I was thinking about hanging up the cleats," he said.
"I think as people, we deal with struggles. And that was a moment in my life where I thought about it, and I prayed about it. I'm grateful that I made the decision to come back and play."
Join our new commenting forum
Join thought-provoking conversations, follow other Independent readers and see their replies