Stop The Illegal Wildlife Trade: Chantecaille support campaign to save giraffes from 'silent extinction'
We are working with conservation charity Space for Giants to protect wildlife at risk from poachers due to the conservation funding crisis caused by Covid-19. Help is desperately needed to support wildlife rangers, local communities and law enforcement personnel to prevent wildlife crime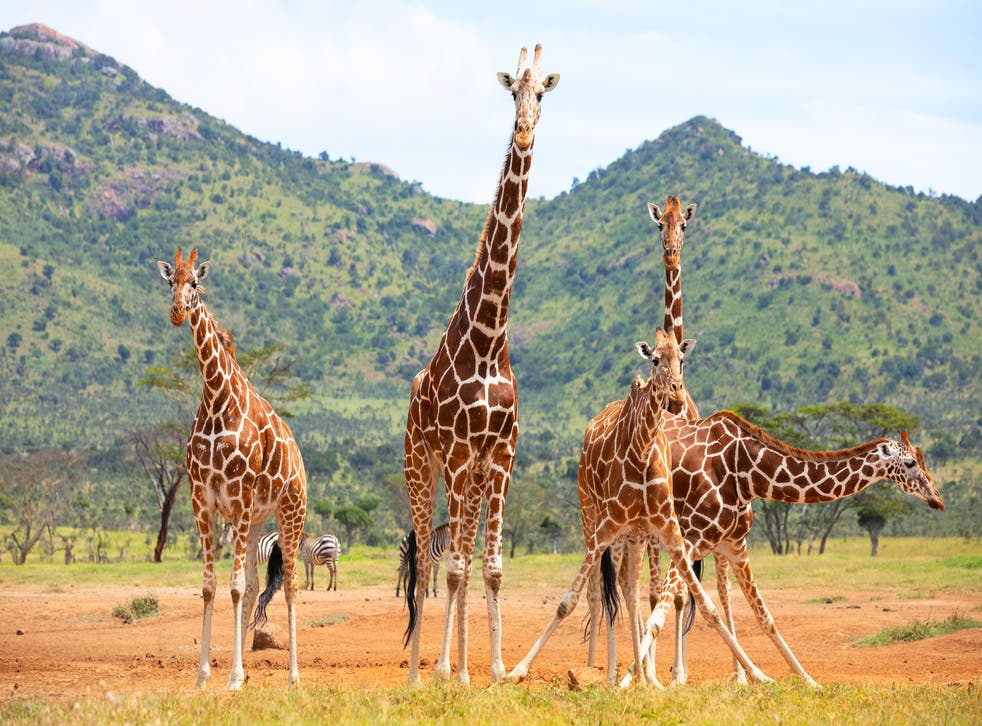 Prestige beauty brand Chantecaille has lent its support to a campaign set up by an American conservation charity to save the giraffe from extinction.
Kids Against Animal Poaching [KAAP] launched #StandTallForGiraffes, a viral letter writing campaign, to call for a ban on giraffe imports into the US.
#StandTallForGiraffes urges people to write a letter or email to the US Secretary of the Interior David Bernhardt, demanding that the government commits to banning the trade of giraffe parts, which would be achieved by adding giraffes to the US Endangered Species List.
Emily Walker, KAAP's teenage founder, says the #StandTallForGiraffes campaign was inspired by a recent report by The Independent's Stop The Illegal Wildlife Trade campaign which tells of how the species is in grave danger due to demand for its body parts and skin.
In what conservationists have dubbed a "silent extinction", giraffe populations have plummeted by 40 percent in the past 30 years.
Chantecaille's partnership with #StandTallForGiraffes, announced today, invites people to take a selfie with an augmented reality giraffe on their free app Chantecaille Wild Beauty, available on Android and Apple.
Supporters are then encouraged to share their giraffe selfie on social media with #StandTallForGiraffes to raise awareness of the campaign's action.
#StandTallForGiraffes urges people to write a letter or email to the US Secretary of the Interior David Bernhardt demanding that the government commits to banning the trade of giraffe parts.
KAAP has designed a letter template for supporters of the campaign to send to Bernhardt with the aim of creating a deluge of demands that cannot be ignored. To add your support and help protect giraffes click here.
Sylvie Chantecaille, who serves as president and CEO of her eponymous beauty company, tells The Independent "It was important for us to get involved because giraffes are going to disappear.
"The United States is a leading importer of giraffe parts and we need to bring an end to this terrible practice before it's too late.
"The fact that young people are taking the lead on this is what gives me hope. This is a generation that may not have a chance to see giraffes in the wild - we are very happy to support them in this effort."
Chantecaille has a rich legacy of using its platform to raise awareness of critical wildlife issues. It has long supported the world's first and only giraffe-dedication conservation charity, the Giraffe Conservation Foundation (GCF).
Based in Namibia, GCF was founded by Stephanie and Julian Fennessy, and now operates to protect giraffe in 15 countries across Africa.
"In most African parks giraffe are quite common, so understandably people haven't really realised there was an issue," says Julian. "Yet it is estimated that there are four elephants to every one giraffe in the wild.
"In all of the countries GCF works, giraffe face very different problems, so our job is to create strategies for their survival, by working with institutions and governments within each of those nations."
Chantecaille has previously donated $10,000 to GCF after 10,000 people had taken a photo of themselves with a virtual giraffe on their app Chantecaille Wild Beauty.
Charities protecting five of Africa's other most endangered species - cheetah, elephants, lion, pangolin, or rhinoceros - were also supported in this way.
Earlier this year Chantecaille became the first corporate supporter of our Stop the Illegal Wildlife Trade campaign, which seeks to protect wildlife at risk from poachers and to clamp down on the illegal trade of wild animals.
We are working with conservation charity Space for Giants to protect wildlife at risk from poachers due to support wildlife rangers, local communities and law enforcement personnel to prevent wildlife crime.
Sylvie Chantecaille, an industry-leader of the philanthropic model, says; "when you spend time with giraffes, you realise how vulnerable they are. They're shy and slow to run away, so they're easy prey for poachers. They're also extremely susceptible to snares. We are seeing a great amount of poaching for bushmeat and the giraffe is a primary target. It is a silent killing that can be done by one single man.
"We must do everything we can to help protect giraffes for future generations".
To find out more about KAAP visit kidsaap.org 
Join our new commenting forum
Join thought-provoking conversations, follow other Independent readers and see their replies