Stop the Illegal Wildlife Trade: The reformed poacher who became a ranger
We are working with conservation charity Space for Giants to protect wildlife at risk from poachers due to the conservation funding crisis caused by Covid-19. Help is desperately needed to support wildlife rangers, local communities and law enforcement personnel to prevent wildlife crime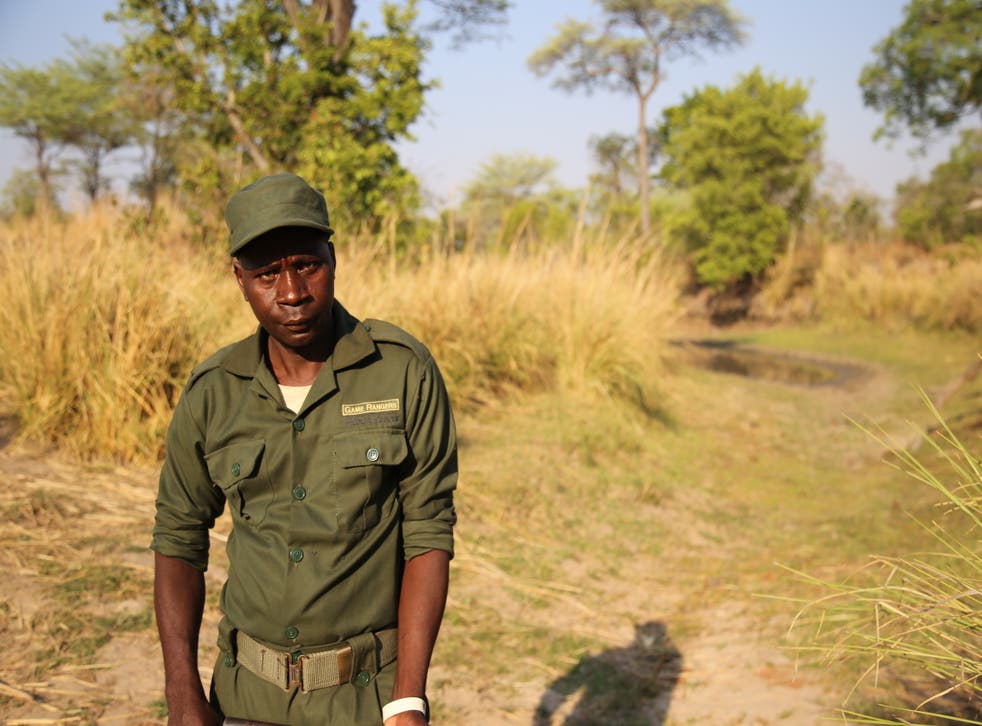 Luka Chinoya was 25 years old when he became a poacher. The Zambian man fell into poverty after his father, a soldier, died and it was left to him to look after his mother and two younger siblings.
Speaking exclusively to The Independent, the former poacher, who is now a wildlife ranger in the very place he used to hunt, described his old life and his hopes that other poachers will come to understand the damage they are wreaking on their natural environments.
As a young man who was not able to attend school, Luka did not have any skilled work awaiting him. He did odd jobs for his neighbours like "manual work, housework or gardening" to earn a bit of money. But after the death of his father, who served in the Zambian military, Luka was left as his family's principal breadwinner. He therefore took the decision to "go into the bush and become a poacher".
For 10 years Luka hunted in the Zambian bush in a team of four collaborators. Their target was almost always wild buffalo. They would shoot them for bushmeat, then sell the parts on to other members of the community.
Being a poacher was a difficult life. Luka would spend up to two weeks in the bush at one time. They would be on the lookout for buffalo, but also for wildlife rangers on patrol. They had to carry supplies with them this whole time. Breakfast would be mealie meal, a ground maize eaten as a staple in Southern Africa, made into porridge. For protein they carried fish.
In two weeks, Luka could expect to catch three or four buffalo. He would receive around $15 for each animal. After 10 years he finally found himself in front of a judge and sent to prison in Kaoma, a small town on the edge of the Kafue National Park.
After two weeks of prison, he met a representative of Game Rangers International, who offered him a job working in the park protecting the wildlife at a new release facility for orphaned elephants.
Game Rangers International (GRI) is a non-profit organisation working in partnership with the Department of National Parks and Wildlife (DNPW) and the local communities to protect Zambia's wildlife and wild spaces.
The organization has been active in Zambia since 2008 and The Independent's campaign partner, Space for Giants, contributes to ranger salaries and assists with training and equipment. They are also supported by the London-based David Shepherd Wildlife Foundation.
Luka's training, he laughs to his interpreter, was "tough and hard". It involved a lot of exercise: running, swimming. They went to Chunga training school, where they learnt to navigate the bush, track and handle weapons.
But a regular secure income has been life-changing for him. All three of his children have been able to go to school, and his eldest daughter plans to study medicine and become a doctor.
He admits his previous life as a poacher was good preparation for becoming a wildlife scout for the Kafue Release Facility, where GRI rehabilitate orphaned elephants in preparation for their return to the wild. He knew how to survive in the bush, and handle snakebites – black mambas are a real threat in Kafue as another ranger told The Independent.
His day-to-day life now involves long walks with the elephants, protecting them from poachers, other predators like lions, and hostile wild elephants. GRI hopes that, through gradual assimilation into the wild, the orphaned elephants in their care will find a herd to join and return to nature.
Anti-poaching units supported by Game Rangers International have apprehended over 1,000 poachers and recovered over 416kg of ivory within the Kafue landscape since 2013. Luka carries an M59 rifle in case he ever needs to defend the elephants, or himself, from aggressive poachers.
Luka is now the longest-serving scout at the Release Facility, working there since its founding 12 years ago. The facility manager, Timothy Hammond said to me: "Luka is one of the most faithful scouts at the Release Facility, he's got the animals' best interest at heart. He's not here for the money – he's a role model for the others".
Luka is proud to work as a ranger and his message to poachers is to stop what they're doing. His interpreter explains his final thoughts: "the wildlife they are trying to destroy is now the wildlife that gave him a job and is feeding his family and community".
Join our new commenting forum
Join thought-provoking conversations, follow other Independent readers and see their replies