Stop the Illegal Wildlife Trade: Elephants go hungry as climate crisis causes Africa's largest rainforest to 'wither and die'
Rising temperatures and depleted rainfall causes 'massive collapse' in vital food source for animals in Gabon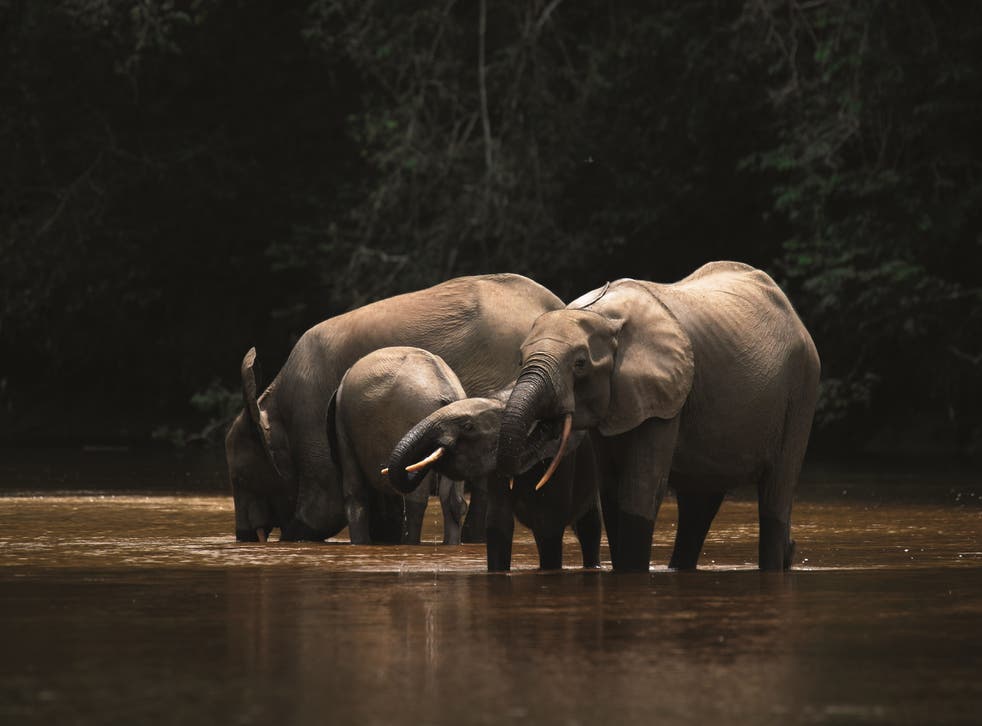 Elephants are going hungry as Africa's largest rainforest withers away from the climate crisis, scientists have warned.
A study published in the journal Science details 35 years of work by international researchers into the effects of rising temperatures on the yield of fruit trees in the Congo Basin, a vital source of food for forest elephants and other large mammals.
The research reveals that between 1986 and 2018 fruit production by trees in Gabon's Lopé National Park declined by 81 per cent. A visual survey of forest elephants observed a drop in their physical condition of 11 per cent between 2008 and 2018.
One of the paper's authors, Dr Emma Bush, of the University of Stirling, said: "The massive collapse in fruiting among more than 70 tree species studied at Lopé National Park may be due to species missing the environmental cue to bear fruit, because of increased temperatures and less rainfall."
"Less fruit in the ecosystem will have huge impacts on forest dynamics such as seed dispersal, plant reproduction and food availability for wildlife such as forest elephants, chimpanzees, and gorillas."
Spanning almost 5,000 square kilometres with as many elephants, Lopé National Park is a Unesco World Heritage Site and a haven for African megafauna, including lowland gorillas, chimpanzees and forest elephants. Gabon is proportionally the third most forested country in the world, after Surinam and Micronesia.
Speaking to The Independent, Gabon's minister for the environment warned this could be a sign that the earth is approaching a "tipping point where climate change is beginning to damage ecosystems that have typically protected us".
Lee White was born in Greater Manchester and was appointed to Gabon's cabinet as minister of forests, seas and environment after spending a decade running the country's national parks. He spoke on Thursday at The Independent's United Nations General Assembly side-event on the illegal wildlife trade.
Mr White warned: "The doom-and-gloom scenario is that this is the first sign that the Congo Basin is following the Amazon rainforest in beginning to wither and die because of climate change. All of the frugivorous, be they chimps, monkeys, gorillas, elephants or hornbills, if they've got 80 per cent less food, they are going to lose body condition, be more susceptible to disease, and population densities are going to start to crash."
The minister also explained that his team's unique 35-year old study of fruit tree yields gave researchers a fuller picture of how the rainforest has been impacted by the climate crisis. He warned "the same thing could be happening everywhere, and we just don't know it because nobody is watching."
He hypothesised that if elephants were unable to access sufficient food in the rainforest, they would begin encroaching more frequently on farmers' crops and human habitats.
"This looks like it's yet another warning sign that human interference with nature's balance is causing the species with which we share this planet huge distress," said Dr Max Graham, chief executive of Space for Giants, The Independent's partner charity, which works in Gabon and eight other countries.
"If elephants can't find food where they always have, in nature's larder, they're going to find it where they can and that means in farmers' fields. When farmers understandably retaliate to protect their livelihoods, they and elephants are hurt or killed in what we call human-elephant conflict. In many countries it's a worse threat to elephants than poaching, and the findings of this study suggest it may only get worse."
Conversely, the decline of elephant populations would also impact the carbon capture potential of the rainforest, according to another study published by the International Monetary Fund. Forest elephants knock down smaller trees as they move through the forest, creating space for other trees to grow taller and more efficient at storing carbon.
The research programme at Lopé National Park, was funded primarily by the Gabonese government, Total Gabon, the University of Stirling and the European Union's ECOFAC Program, with additional support from the Wildlife Conservation Society, Panthera and a number of other donors.
President Ali Bongo Ondimba said: "For years we have wondered why elephant crop raiding in Gabon is on the rise, when we have fewer elephants due to the poaching crisis. Today it appears that the phenomenon is another example of how Africa is being forced to adapt to a global crisis to which it has not contributed, but to which it is the most vulnerable continent".
The findings also suggest that the rainforest is losing its carbon-capture capacity. Mr White said: "If you follow [this process] to the end, the Congo Basin will become a carbon source. If we pump all the carbon from the Congo Basin into the atmosphere, you can forget about your 1.5-degree climate change target, we'll be living in a 5-6-degree world."
He added: "The reason I want to tell this story is that we figure that people have empathy with elephants. Our simple message is that climate change is resulting in elephants going hungry. This might provoke people to act".
We are protecting wildlife at risk from poachers due to the conservation funding crisis caused by Covid-19. Help is desperately needed to support wildlife rangers, local communities and law enforcement personnel to prevent wildlife crime. Donate to help Stop The Illegal Wildlife Trade HERE.
Register for free to continue reading
Registration is a free and easy way to support our truly independent journalism
By registering, you will also enjoy limited access to Premium articles, exclusive newsletters, commenting, and virtual events with our leading journalists
Already have an account? sign in
Register for free to continue reading
Registration is a free and easy way to support our truly independent journalism
By registering, you will also enjoy limited access to Premium articles, exclusive newsletters, commenting, and virtual events with our leading journalists
Already have an account? sign in
Join our new commenting forum
Join thought-provoking conversations, follow other Independent readers and see their replies