The Independent's journalism is supported by our readers. When you purchase through links on our site, we may earn commission.
British girls don't think they're smart enough for science careers, says study
EDF says it wants to inspire 100,000 young people into science and has launched a campaign for girls called #PrettyCurious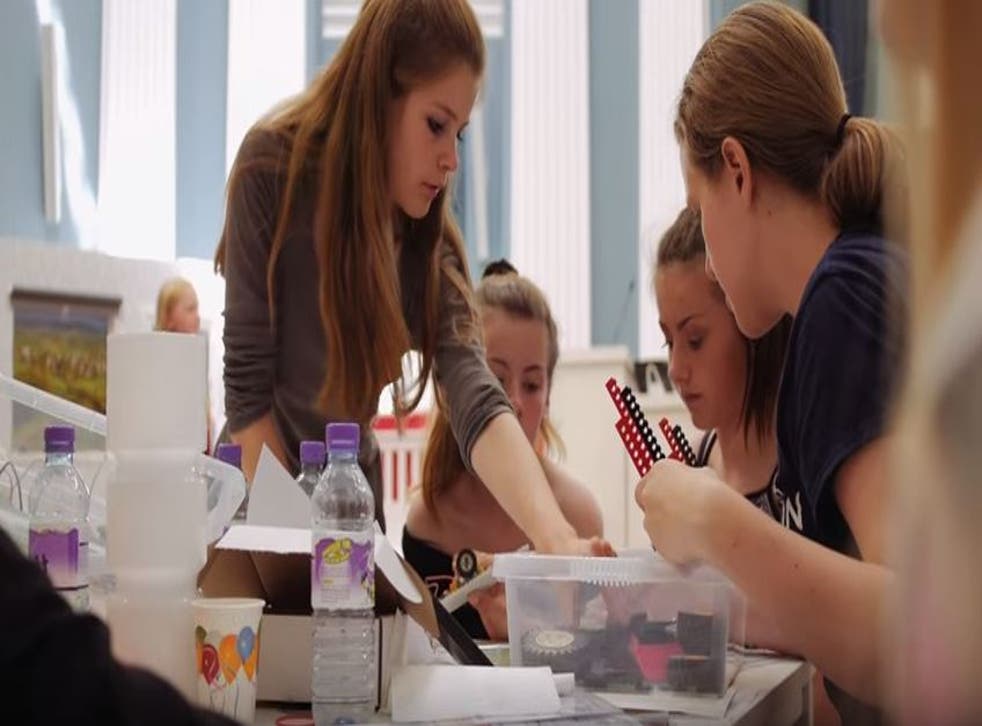 A UK-wide campaign is being launched to inspire teenage girls to pursue science-based careers after new research revealed how a third don't think they are clever enough for such jobs.
EDF Energy polled* over 2,100 pupils aged between 11 and 16 to find 32 per cent of young girls don't think they have the smarts to become a scientist – despite the subject being one of their most-enjoyed (28 per cent) and incurring the best performance rate in at school (38 per cent) in the last academic year.
As well as discovering girls enjoying science at school, EDF found boys are five times more likely than girls to want to be engineers.
The company added how the results demonstrate a lack of female role models in science careers, with less than a third of girls knowing a woman that works in a science or engineering-based job,
Now, though, the energy provider is keen to alter perceptions and has begun the #PrettyCurious programme to introduce teenage girls to role models they can identify with.
See the #PrettyCurious programme in action:
Each of the women has had varied and rewarding careers in science, technology, engineering, and maths (STEM), and will include:
Liz Bonnin: biochemist, wild animal biologist, and TV presenter
Jenny Griffiths: computer scientist and founder of fashion app SNAP Fashion 
Florence Adepoju: cosmetic scientist and founder of make-up brand MDMflow
Bethany Thomas: reactor chemistry engineer with EDF Energy
The programme will create hands-on experiences and EDF Energy will pilot a series of one-day events across the UK later this year which will challenge young girls to create a life-size 'smart' bedroom using 'Littlebits' electronic kits. As well as this, workshops will be held at the company's nuclear power station visitor centres across the country.
Speaking of the importance of the #PrettyCurious campaign, Liz Bonnin highlighted how there is no area of life today that isn't affected by science, meaning there's a STEM subject and career available for everyone, be that analytical or creative.
She added: "It's important we support today's young people, nurturing their curiosity, encouraging them to pursue their passion, and find the right fit for them so that, in the future, they can embark on fulfilling and exciting careers and help shape the world around them."
Head of strategic resourcing at EDF Energy, Fiona Jackson, described how the new initiative will aim to inspire and help girls to improve their career options. She said: "It's part of a long-term commitment from EDF Energy to improve the ratio of women to men in the company, as well as inspire 100,000 young people into science."
To find out more about the campaign, click here.
*Total sample size was 2,167 children aged 11 to 16, who were in Key Stage 3 or 4 in the last school year (2014/15). 1,127 were boys and 1,040 were girls.
Register for free to continue reading
Registration is a free and easy way to support our truly independent journalism
By registering, you will also enjoy limited access to Premium articles, exclusive newsletters, commenting, and virtual events with our leading journalists
Already have an account? sign in
Register for free to continue reading
Registration is a free and easy way to support our truly independent journalism
By registering, you will also enjoy limited access to Premium articles, exclusive newsletters, commenting, and virtual events with our leading journalists
Already have an account? sign in
Join our new commenting forum
Join thought-provoking conversations, follow other Independent readers and see their replies