Fancy a job in the Lake District climbing a 3,000ft mountain every day in Winter?
The mountain, Helvellyn, is famous for its summit – which is so pancake-flat that pilot Bert Hinkler landed an Avro Gosport biplane on it in 1926
Chris Beanland
Tuesday 28 October 2014 19:39 Comments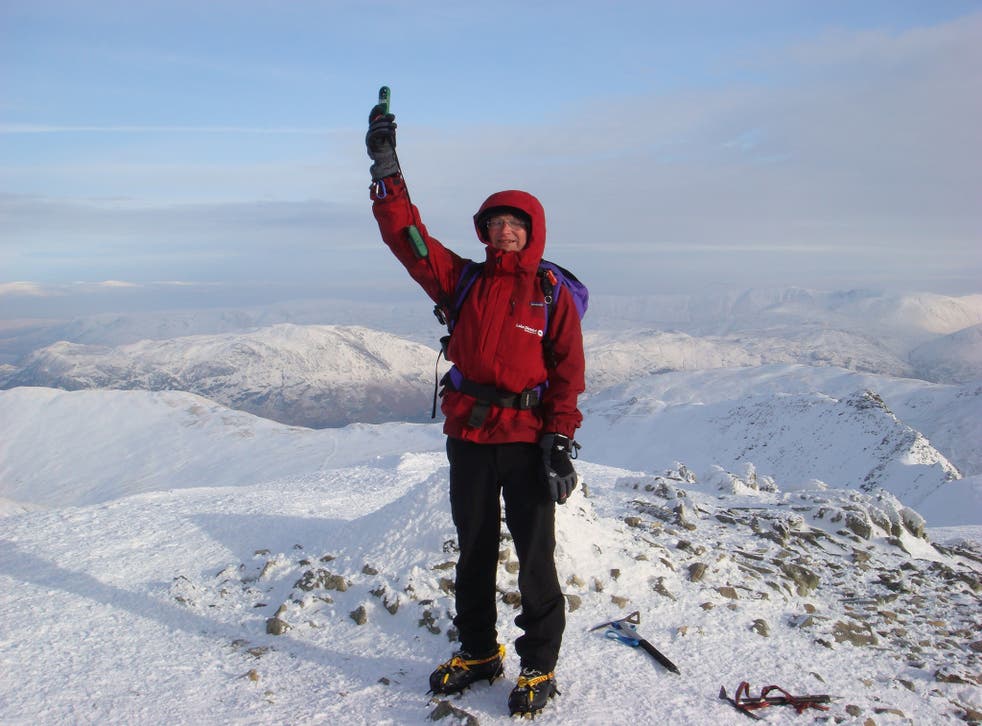 How would you fancy climbing England's third-highest mountain every single day of the week on seven days on, seven day off rotations for the whole of winter?
That's the "Marmite" job on offer in Cumbria. Helvellyn is famous for its summit – which is so pancake-flat that pilot Bert Hinkler landed an Avro Gosport biplane on it in 1926, and as the location where Alan Partridge confesses that his son Fernando was conceived "behind a large boulder" on Alan's birthday.
But this pile of volcanic rock, which inspired Wordsworth and Coleridge, isn't such a laughing matter on winter afternoons when the light fades and the temperature can drop to -16C. So, from December to April, the Lake District National Park Authority pays two adventurers to ascend the 950m (3,120ft) peak, to check that it's safe and to post temperature, wind and snow conditions to the Weatherline website (lakedistrictweatherline.co.uk) – so that fell-walkers get a sense of how safe the mountain is. One of the assessors, Jason Taylor, won't be back for the coming winter, hence the vacancy for the £21,394-£25,240 (pro rata) job.
The other current incumbent is Jonathan Bennett – often called the eyes and ears of Helvellyn. Bennett, of Ambleside, moved to the Lakes from Buckinghamshire. The 52-year-old talked to me after spending the day driving a tourist boat across Lake Windermere – that's his summer job. "You've got to use your common sense; there are days you don't get to the summit," he explains. Yet he estimates that he has climbed the mountain more than 500 times during the past eight winters. "You've got to be independent to do this job, and have a memory like a goldfish," he says, laughing. "You need to remember the lovely days when the hail's biting and it's blowing a hoolie in your face."
The mountain has claimed its share of victims. Robert Pascoe, a 24-year-old RAF engineer, was killed last October after falling 200m off Striding Edge, the iconic "arête" ridge, which has perilous drops on both sides. Alfred Wainwright confessed the fear that he felt when traversing Striding Edge, and in the recent BBC TV series Wainwright Walks the reason was plain to see: as the presenter Julia Bradbury traced the late writer and walker's steps to the ridge, a terrifying pea-souper descended. "You have to check the conditions," says Bennett. "Visibility can fall, fog comes down, you can't see where you put your foot down. There can be high winds. There's a steep drop and a large easterly face – they keep the snow far longer." Last Saturday, Patterdale Mountain Rescue was called up Helvellyn to rescue two lost walkers who got into difficulty in 80mph gusts.
The Met Office announced yesterday that it is spending almost £100m on a forecasting super-computer. With all the technology we have today, isn't there an easier way to check the weather on Helvellyn? Not so, says Bennett. "You could put a weather station on top – but it wouldn't tell you the condition of the snow." Bennett tells me he doesn't like to use the word "avalanche" but that's essentially what he and the new recruit will also be checking for. "What heights the snow begins at, is it firm or not, how stable is it?"
Bennett – who previously managed Ambleside's Waterhead Hotel – spends two-and-a-half hours going up, always alone. For variety, he heads up from Glenridding five times a week, and twice up the fell side. He then takes an hour-and-a-half going back down. He doesn't eat on the mountain, or upload the weather data, preferring to write everything up back at ground level for his 5pm daily deadline. He does take photos, though. "It's interesting how many compliments we get on the pictures," he says.
Some Lakeland folk use the Weatherline service to decide whether to peg out their pants on the clothesline. "I was told that!" he says. "Weatherline is used by all kinds of people."
Register for free to continue reading
Registration is a free and easy way to support our truly independent journalism
By registering, you will also enjoy limited access to Premium articles, exclusive newsletters, commenting, and virtual events with our leading journalists
Already have an account? sign in
Join our new commenting forum
Join thought-provoking conversations, follow other Independent readers and see their replies