'Please give me a job': Unemployed graduate spends last £500 in his bank account on billboard begging for people to 'EmployAdam'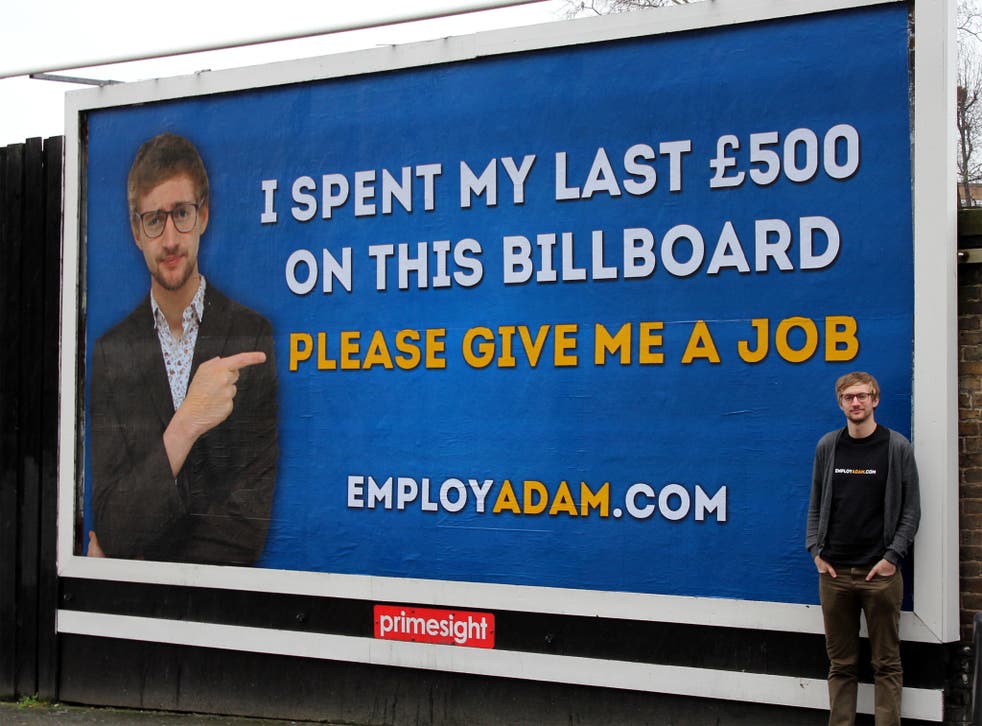 As thousands of recent graduates go into the New Year unemployed, one enterprising young hopeful has made his own desperation for paid work the centre of an advertising campaign that went viral yesterday.
Adam Pacitti, who graduated from the University of Winchester with a First Class degree in Media Studies, today unveiled a billboard in the London borough of Camden that reads "I spent my last £500 on this billboard. Please give me a job", complete with a link to his website, employadam.com, and a 10 foot self-portrait.
Within 24-hours, almost 10,000 people had tweeted references to the billboard, and as many again visited his website for more information on the unconventional mass-job application.
The 24-year-old from the Isle of Wight is yet to be offered his much sought-after first job in television production, but he is optimistic that his off-the-wall approach will bring success.
"This is it for me," he told The Independent. "I am just looking for a job, that what it's all about. I'm getting enough attention now that I'm hoping someone will come along and offer me one soon, hopefully in production. I've had no formal job offers yet, but fingers crossed within a day or so I should have something."
Adam said he launched the campaign after hundreds of failed job applications and a string of only moderately successful home-made documentaries left him without a clear career path.
"I've probably sent 200 CVs out, but it's so difficult to stand out on paper," he said, echoing the concerns of thousands of graduates who are forced to find interesting answers to questions like 'what would you say your weaknesses are in the workplace?'.
"This is my way of trying to stand out. I had a summer job in an arcade, which I have done every summer for the last three years, but I finished that in late September and I've been out of work since then."
The billboard, which was actually £530 including VAT and genuinely did cost Adam every penny in his bank account, is accompanied by a 4-minute video CV, in which the unemployed student makes a series of humorous pleas for gainful employment.
"I am desperate, and I think I am showing that desperation," he said. "I mean, all graduates are victims of the economic recession. People are willing to work for free, and that's not easy. Their parents are able to fund them, but unfortunately I don't have that luxury. It's difficult to find a paid, entry-level job in media or anywhere."
Though Adam's approach is original, the situation he has found himself is far from uncommon.
Rebecca (who asked for her surname to be withheld) graduated with a 2.1 BA Hons degree in Media Arts and Cultural Studies at St Mary's University College, Twickenham. She said: "Since leaving university I've been struggling to get into a career. I have been temping and volunteering for different jobs and I am desperate for an employer to give me a real opportunity.
"Right now, I feel like going to university was a waste of time and fighting not to loose motivation. "
Career services that make a living finding recent graduates work have been quick to warn against others using such unusual methods of job-hunting.
A spokesman for TARGET jobs, the largest database of graduate employers in the country, said: "We applaud Adam for having a go at what he's done, and within his industry it's what they want to see. It's all about showing ingenuity and creativity. But he needs to make sure that when he's in front of these people at interviews he can back it up. All he's done is put his CV in front of their face, basically. It's not something we would recommend for other industries."
Register for free to continue reading
Registration is a free and easy way to support our truly independent journalism
By registering, you will also enjoy limited access to Premium articles, exclusive newsletters, commenting, and virtual events with our leading journalists
Already have an account? sign in
Register for free to continue reading
Registration is a free and easy way to support our truly independent journalism
By registering, you will also enjoy limited access to Premium articles, exclusive newsletters, commenting, and virtual events with our leading journalists
Already have an account? sign in
Join our new commenting forum
Join thought-provoking conversations, follow other Independent readers and see their replies