Thousands of graduates working in jobs that don't require any qualifications
Record numbers of new graduates surveyed said they were in work or further study, but figures suggest the gender pay gap for first jobs is rising
Rachael Pells
Friday 01 July 2016 15:02 Comments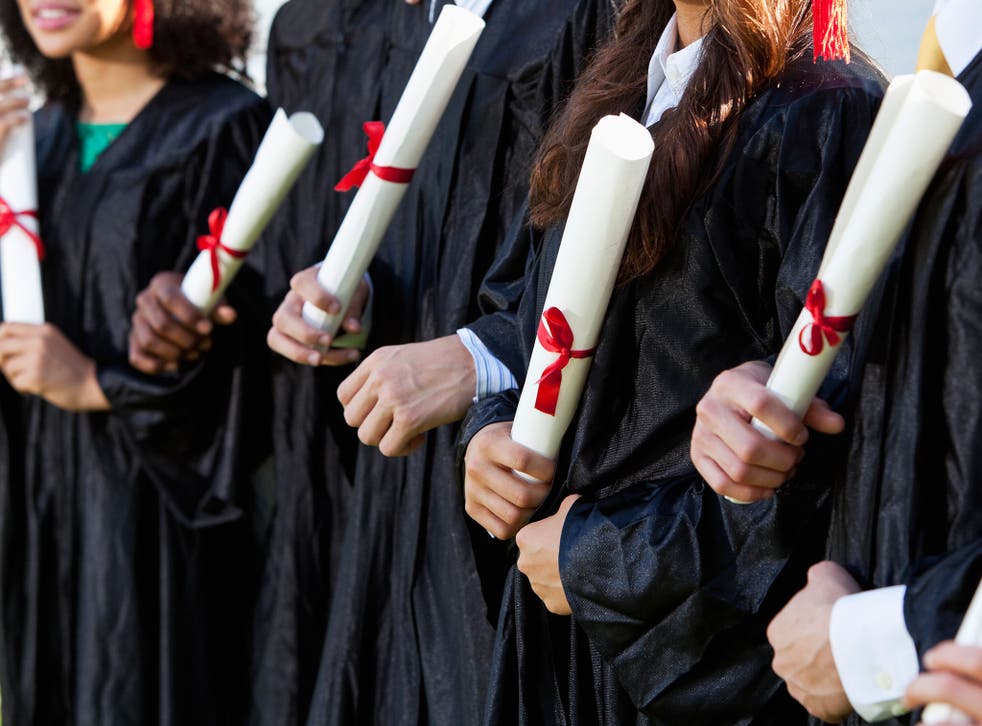 Over 50,000 new graduates are in non-graduate jobs, including lollypop ladies, factory workers and hospital porters, new figures have revealed, leading experts to question the value of costly university degrees in the Brexit climate.
While the proportion of UK university leavers going on to work or further study hit a record high this year, employment data released by the Higher Education Statistics Agency (HESA) suggests that more graduates are finding work wherever possible to avoid unemployment – even if that means taking jobs unrelated to their course.
Non-professional industries listed by the HESA included jobs as secretaries and clerks, but close to 10,000 graduates were also involved in "elementary jobs" such as retail assistants, security guards and farm workers in the first six months after graduating.
Despite 75 per cent of graduates surveyed confirming they were in UK-based work, nearly 14,000 new graduates remained unemployed.
Responding to the data, Sir Peter Lampl, Chairman of the Sutton Trust and of the Education Endowment Foundation, said: "While university education still leads to professional employment for a majority of graduates, it is worrying that over one in four is not in a graduate job [six months] after graduation. We need to ensure that young people get much better information about the earnings and job opportunities linked to each degree course, and that the government expands the number of higher and degree apprenticeships. Universities should do more to prepare students for employment, and we need more paid internships recruited on merit."
Overall, the questionnaire of 399,345 UK and European Union students who completed their course in 2014-2015 found that 90 per cent of full-time first degree graduates were in work or further study six months later, the highest level since the survey began in its current form.
There remains a significant gender pay gap, however, with female and male graduates starting out on average salaries of £21,000 and £24,000 respectively – an increase of £1,000 on the previous year, suggesting that gender inequality is rising.
The highest unemployment rate was among computer science graduates, one in 10 of whom were out of work. However, this has fallen steadily since 2011-12, when it was 14 per cent.
In contrast, fewer than 1 per cent of medicine and dentistry graduates were unemployed.
The data is the first set to show the results of students subject to the higher tuition fees set in place in 2012. It also follows Government proposals to link the quality of teaching with the standing a university has in league tables and with the possibility of raising tuition fees further.
Steve West, vice-chancellor of the University of the West of England and chair of the University Alliance, said that it was "reassuring" to see that graduate employment was "trending in the right direction", but expressed concern that the UK's vote to leave the European Union could impact on the statistics in future.
"Following the result of the EU referendum it is even more important that we improve UK competitiveness and productivity," Professor West said.
"My hope is that we can mitigate the unintended consequences of Brexit by building the right UK workforce that can tackle many of the high-skill requirements employers need."

Register for free to continue reading
Registration is a free and easy way to support our truly independent journalism
By registering, you will also enjoy limited access to Premium articles, exclusive newsletters, commenting, and virtual events with our leading journalists
Already have an account? sign in
Join our new commenting forum
Join thought-provoking conversations, follow other Independent readers and see their replies