Birkbeck, University of London
Tuesday 29 July 2014 12:46 Comments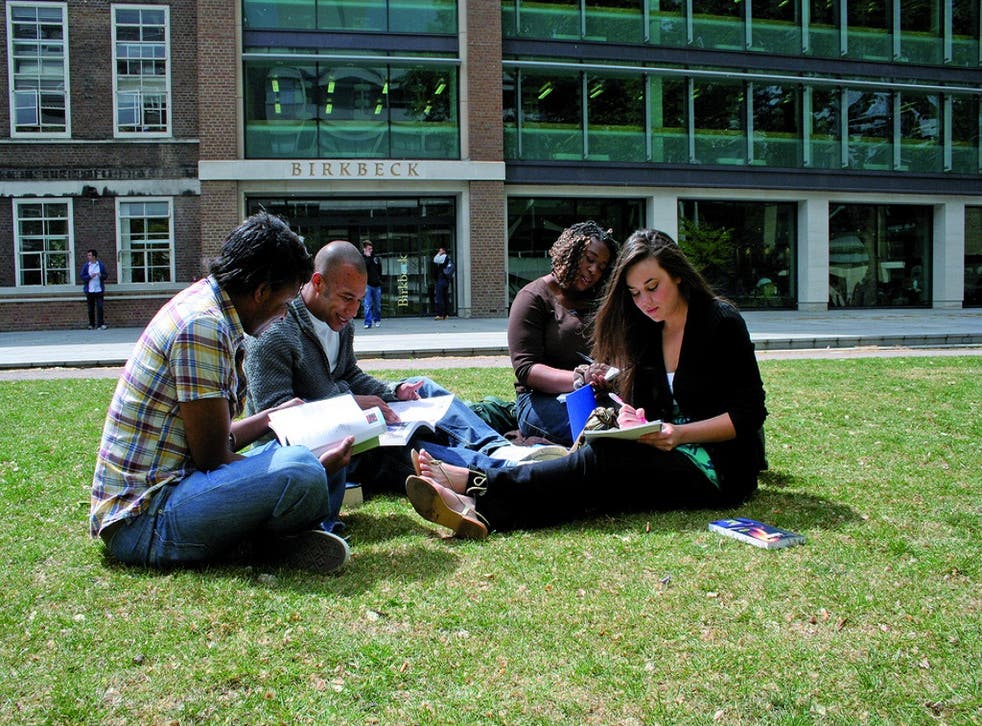 History: A progressive university. Created two centuries ago as the London Mechanics Institution to extend higher education to the working people of London. Became Birkbeck College in 1907, and has been a member College of the University of London since 1920. It's a research-intensive institution and London's only specialist provider of evening higher education.
Address: Bloomsbury WC1, London's academic hub and the University of London's central London campus. The British Library and British Museum are a stroll away, and the rest of London is on its doorstep. A £33million campus – University Square Stratford – opened in east London in October 2013.
Ambience: Studious. Strong academic and research reputation, with highly motivated and focused students who are there to work, achieve and get head in their careers. Main building is a 50s redbrick block which has undergone a £18.5m campus redevelopment, resulting in new lecture theatres, lab and research accommodation, and a five-floor library.
Who's the boss? Professor David Latchman CBE, who is also professor of human genetics at UCL. He gained his BA, MA and PhD from Queen's College Cambridge.
Prospectus: 020 7631 6316 or order one online here.
UCAS code: B24.
What you need to know
Easy to get into? Its roughly 280-300 UCAS points for most full-time undergraduate programmes. Birkbeck also welcomes applicants with qualifications that do not have a UCAS equivalence, particularly Access to Higher Education Diplomas, where the minimum of 15 credits is achieved at Merit or Distinction in subject related units. Pre-degree foundation certificates are available.
Vital statistics: Around 15,000 students study at Birkbeck. The intensive, evening-taught model attracts a wide variety of students, and the university has experienced a big increase in demand for its 3-year evening undergraduate degrees. Currently nearly 80 undergraduate degrees are available by 3-year evening study. There's also the option to complete an undergraduate degree over 4 or 6 years – also by evening study. You apply direct to Birkbeck for the 4- and 6-year evening degrees. All teaching takes place between 6pm and 9pm. Note that international students must study full-time, so can only join Birkbeck's 3-year evening degrees. Average graduate salaries are among the best in the sector, while DHLE 2013/14 data puts Birkbeck number one in London for part-time university graduates in employment or further study.
Added value: The unique evening model brings together a diverse community of learners and academics. All the facilities and services are geared around evening study and busy students who are juggling work and study. The state-of-the-art library and cafés are open late. There's lots of learning support, including study skills and English language, as well as careers advice and a new professional in-house service geared to finding Brikbeck students work experience while studying. Most alumni are in London – building careers across all sectors, including business, industry, NGOs, cultural organisations and government – and are actively engaged with current students, providing professional and careers insights through mentoring schemes and seminars. The campus is in historic Bloomsbury, where the famous arts and literary Bloomsbury Group were based. The School of Arts is in Virginia Woolf's old house in Gordon Square. The University of London student centre is next door to Birkbeck's main building, containing sport and social facilities. This year Birkbeck introduced new three-year full-time evening-taught degree programmes such as Bsc Economics, BA Global Cinemas and Screen Arts and BA History of Arts either with Film or Curating.
Any accommodation? There's a variety of accommodation at different price levels to suit a wide range of students, including a quota of rooms in the University of London's intercollegiate halls of residence. Provides access to the University of London Housing Service for advice on private rented accommodation.
Cheap to live there? London is not cheap, though the majority of students are based there already.
Transport links: Ace. Surrounded by Tube and rail stations, and bus routes. Lots of London cycle scheme docking stations on and around campus.
Fees: Generally, fees for 2014/15 for home and EU students on Birkbeck's 3-year evening-taught (full-time) degrees are £9,000 per year, with one or two lower-priced exceptions. Fees for Birkbeck's 4- and 6-year evening undergraduate degree courses are generally £6,750 per year, with individual course fees charged according to length of study. See the website for more details.
Bursaries: Generous range of non-repayable cash bursaries and fee waivers are available; approximately 40% of all undergrads got some financial help in 2012/13. Cash bursaries available through the university are paid directly to students, Check here for more details.
The fun stuff
Nightlife: Great location, bang in central London. The leafy squares of Bloomsbury are also lively and student-centred – full of University of London students including from UCL and SOAS. The best of London nightlife and entertainment is on your doorstep. It's a short walk to the lively bars, cafes and clubs of Soho, Chinatown and Covent Garden – and a quick tube or bus ride to Hoxton, Hackney and Shoreditch. Right on campus, there's the George Birkbeck student union bar, plus the University of London student centre – a well-known music venue – is right next door, and there are any number of bars, pubs and cafes in Bloomsbury.
Price of a pint: £3.65 is the average pint price in London but student nights and drinks at the union will be cheaper.
Sporting reputation: No entry in the BUCS league and not particularly sporty, bar large swimming pool, gym and other facilities of the University of London student centre next door to the main building.
Notable societies: Loads of course-related groups, plus Bookshare Society for peer to peer book lending - a great means of saving some cash. Joomla Club trains students to build and run their own websites, while Lamp and Owl is the student magazine.
Glittering alumni: Juliet Davenport OBE, CEO of Good Energy Ltd; adventurer Edward 'Bear' Grylls; Carole Souter CBE, CEO of the Heritage Lottery Fund; rower and 2012 Olympic silver medallist Rob Williams; former punk turned ambient popster Jah Wobble; Ed Davey MP and Secretary of State; Alan Davey, CE of the Arts Council; Jenny Rowe, Chief Executive of the UK Supreme Court.
Alternative prospectus: Check into The Student Room to chat with current, former and prospective students about the Birkbeck university experience.
Register for free to continue reading
Registration is a free and easy way to support our truly independent journalism
By registering, you will also enjoy limited access to Premium articles, exclusive newsletters, commenting, and virtual events with our leading journalists
Already have an account? sign in
Join our new commenting forum
Join thought-provoking conversations, follow other Independent readers and see their replies