The Independent's journalism is supported by our readers. When you purchase through links on our site, we may earn commission.
New College of the Humanities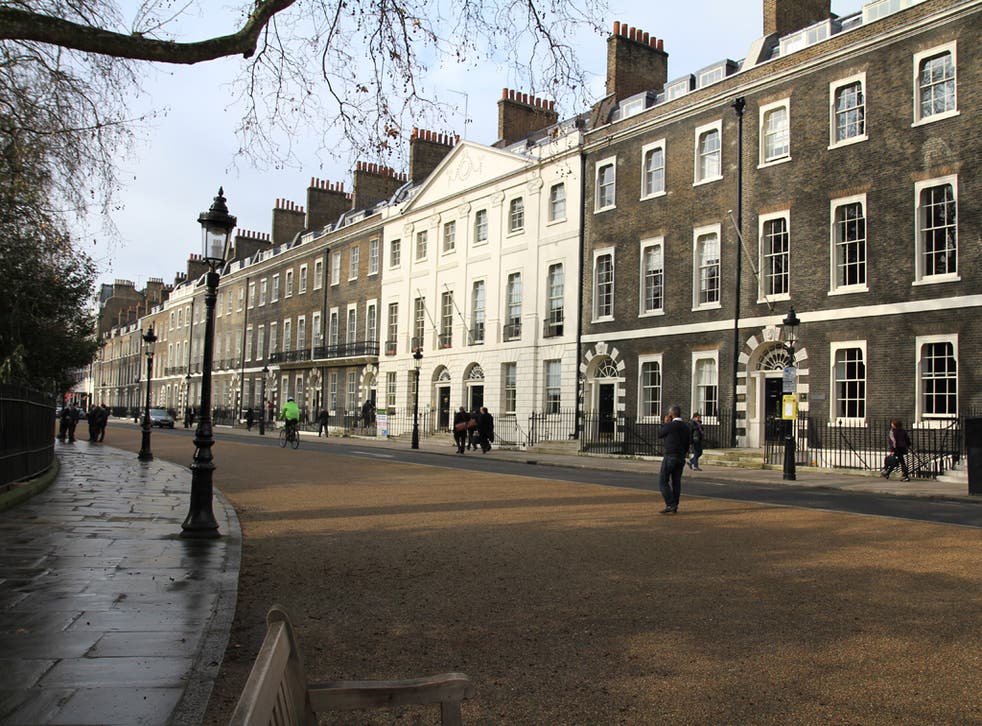 History: Founded in the summer of 2011 by the philosopher A C Grayling with the participation and advice of some of the world's top academics, New College of the Humanities (NCH) is an award-winning, university-level college offering liberal arts-inspired, undergraduate degree programmes, as well as an expanding portfolio of postgraduate degrees.
NCH welcomes applications from talented students irrespective of background or financial situation, and is pleased to offer a number of generous academic scholarships for undergraduate students. The College is able to sponsor Tier 4 visas for international students.
Address: Situated in Bedford Square, Bloomsbury, the London publishing heart and five minutes away from Tottenham Court Road Station.
Ambience: Within 200m of Senate House Library and the British Museum, and just a short walk from Student Central (the central social hub for all students across London), and many of London's highlights including Covent Garden, West End Theatres, Regents Park, Oxford Street, and a huge variety of galleries, shops, cafes, bars and restaurants.
Who's the boss?: Master of New College of the Humanities, Professor A C Grayling, is one of Britain's foremost academics and public intellectuals.
Prospectus:
Click here to view the undergraduate prospectus
Click here to view the Historical Research & Public History MA prospectus
What you need to know:
Vital statistics - At NCH, undergraduates choose a combined honours degree comprising a 'major' subject and a complementary 'minor' subject. Subjects include Art History, Creative Writing, Economics, English, Geography, History, Philosophy, and Politics & International Relations, as well as Philosophy, Politics & Economics (PPE) and Philosophy, Politics & History (PPH) combinations, and a single honours Law LLB.
Added value: In addition to their major/minor degree, all undergraduates at NCH combine their studies with the NCH Diploma, which is a rich mix of core courses in Applied Ethics, Critical Reasoning, Science Literacy and LAUNCH, the College's professional development programme, which is designed to equip students with the essential skills and capabilities they require to succeed after university.
LAUNCH is delivered through project work, interactive seminars and small group discussions with leading professionals from a variety of industries. Each year, students work in teams to explore and address current issues faced by a range of enterprises and, to date, have developed projects for organisations including On Our Radar, Find-A-Cure, Give Me Tap, Angelus and 21st Century Tiger.
Easy to get into?: Applications can be made directly to NCH, or through UCAS. With regard to entry requirements, admissions tutors at NCH understand that a one-off performance in an exam is not always an accurate indicator of a candidate's true potential. As a general guide, most students obtain between AAA and AAB at A-Level, 38 to 36 in the IB or international equivalents, although in addition to grades the College looks at a candidate's potential to thrive at the College, and all promising applicants are required to attend an interview with an academic tutor to assess their individual merits.
Teaching: NCH undergraduates benefit from Oxbridge-style one-to-one tutorials each week, small group tutorials and seminars, and lectures of fewer than 50 students, ensuring a highly personalised teaching experience.
As NCH is smaller than most universities, the student-to-staff ratio is better than at other institutions, with NCH students experiencing at least 13 full contact hours per week with academics, versus an average of 9.85 contact hours at Russell Group institutions (HEPI, 2014).
The College's professors and academics are world-renowned experts in their fields. NCH Visiting Professors, who include Richard Dawkins, Lawrence Krauss, Steven Pinker, Daniel Dennett, Bettany Hughes, Simon Blackburn and Sir Christopher Ricks, deliver approximately 100 undergraduate lectures between them each year.
Any accommodation?: Plenty of options are available, ranging from shared flats to self-contained studio flats, for a range of budgets and with all offering excellent facilities only a short distance from the College. These include Tufnell House, Unite Students (Woburn Place), Urbanest St Pancras, Urbanest Westminster and Helen Graham House. NCH also offers advice on private rental.
Cheap to live there?: As with any major city, London can be an expensive place to live. However, NCH has a dedicated support team on hand to offer help and advice on how to live cost-effectively.
Transport links: Close to Euston Square, Russell Square, Goodge Street and Tottenham Court Road underground stations. Rail stations nearby include Euston, Kings Cross and St Pancras International. Served by numerous city-wide bus links.
Fees: Annual tuition fees are £12,000 per year for students from the UK EU and EEA, whilst for international students fees are £19,750.
Scholarships & Bursaries: NCH offers a select number of prestigious scholarships to recognise exceptional academic potential and achievements. Students from the UK, EU and EEA can apply for a scholarship providing a subsidy of up to £2,000 towards annual tuition fees.
In addition to being eligible for a scholarship, UK and European applicants who are offered a place to study at NCH can apply to the NCH Trust for a means-tested bursary to cover up to 100 per cent of their tuition fees.
The fun stuff:
Nightlife - London's social life is second to none. The city has a diverse clubbing scene and much of the action is only a short walk away. The social and cultural life on offer is an important part of an education in London, and students at NCH are encouraged to take full advantage of it. The NCH Student Union (NCHSU) runs regular bar nights in the Junior Common Room (JCR) as well as a variety of social events including movie nights and balls.
In addition to NCH societies, students at the College are able to participate in a huge array of clubs and societies, as well as events such as pub crawls, club nights, parties and balls, run by Student Central for students across the whole of London.
Sport and Societies:
NCH has a wide range of clubs and societies to suit all tastes, including:
Anchor Magazine
Art Society
Bedfellows Drama Society
Bright Futures Society
Debating Society
Economics Society
Eruditio Capital Equity Fund
Film Society
Football Society
Herbivore Hub Vegetarian and Vegan Society 
Law Society
Literature and Creative Writing Society
LGBTQ+ Society
Maths Society
Model United Nations Society
Music Society
Outdoor and Adventure Society
Philosophy Society
Politics Society
The Bloomsbury Forum
SOBER (Society of Beer Enthusiasts and Rascals)
The Green Stripe Student Shop
The Parturient
WO-MEN's Society
As a new institution with a growing student body, the students' union actively provides funding to new clubs and societies that fulfil the interest of its members. In addition to NCH societies, students at the College are able to participate in a huge array of clubs and societies, as well as events such as pub crawls, club nights, parties and balls, which are run by Student Central for students across the whole of London, including:
Archery
Art
Athletics
Cross Country
Triathlon
Breakdance
Canoe Polo
Chamber Choir
Conservative Friends of the Chinese
Cricket
Dancesport
Debate
Drama
Fencing
Gymnastics
Harry Potter
Ice Hockey
Jazz
Judo
Ju Jitsu
Karate
Koinonia
Krishna West
Lacrosse
Legal Forum
LGBT
Lifesaving
Mountaineering
Orchestra
Overseas Christian Fellowship
Polo
Revelation Rock Gospel Choir
Rifle
Rowing
Sailing
Shaolin Kung Fu
Skydiving
Snowsports
St John Ambulance 
Sub-Aqua
Swimming
ULBUDA
UoL Aikido
Volleyball
Student Central operates the excellent Energybase Health & Fitness Club, which features the largest swimming pool in Central London. In addition to the 33m swimming pool, Energybase features include a 53 station fitness suite and up to 50 classes per week. NCH students are eligible for membership of Energybase starting at £26 per month when paying by direct debit or £4.50 for day membership.
Alumni: NCH saw its first cohort of undergraduate students graduate from the College in September 2015. Over 80% of these graduates had gained offers of employment or postgraduate study positions before they even graduated, attaining competitive positions in a variety of corporations (both professional services and the creative industries) or postgraduate study at some of the world's top universities.
Contact Information:
Address - New College of the Humanities, 19 Bedford Square, London, WC1B 3HH.
Telephone - + 44 (0) 20 7637 4550
Website - www.nchlondon.ac.uk
Facebook - NCHLondon
Twitter - @NCHLondon
Join our new commenting forum
Join thought-provoking conversations, follow other Independent readers and see their replies