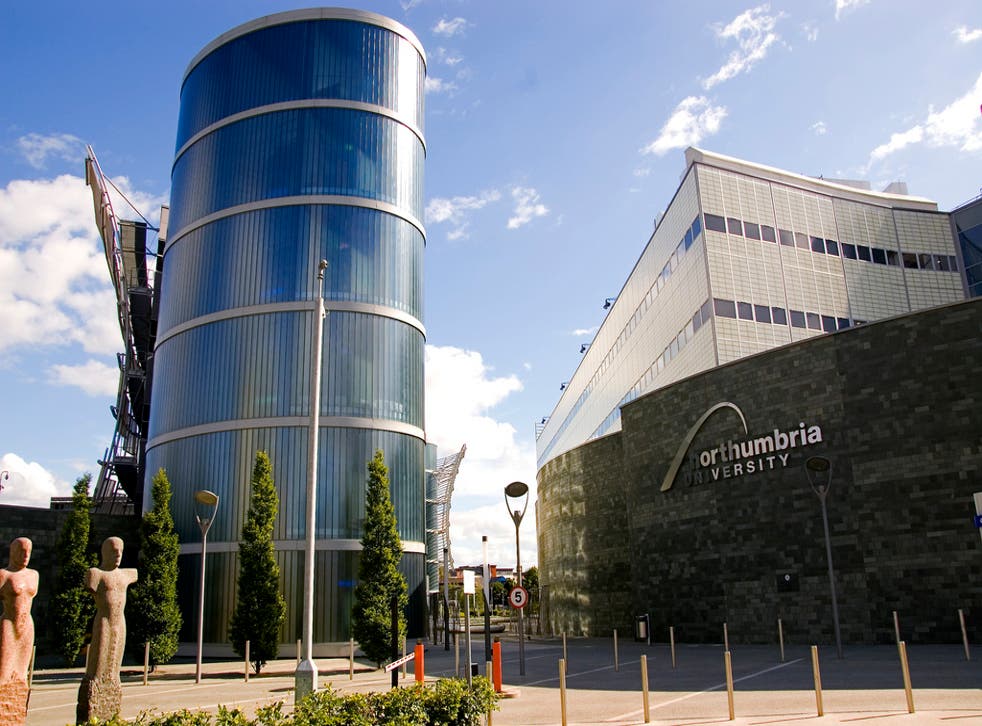 Overall ranking: Came 60th out of 126 in the Complete University Guide for 2016.
History: Dates back to the late 19th century. Newcastle Polytechnic was reborn as Northumbria University in 1992.
Address: Two campuses in and near to Newcastle upon Tyne's city centre- City Centre and Coach Lane. There's a satellite base in Islington, London, for students on some masters design programmes.
Ambience: City Centre West campus in the centre of Newcastle is a mix of Victorian municipal and sixties concrete. Newcastle itself is buzzing 24/7 with a vibrant cultural scene, while Northumberland's coastline and countryside is within easy reach. Newcastle has been ranked as the UK's 8th safest city.
Who's the boss? Professor Andrew Wathey, a music historian, is vice-chancellor and chief executive.
Prospectus: 0191 243 7420 or request one online here.
UCAS code: N77
What you need to know
Easy to get into? Yes on the whole. The average entry requirement is 300 UCAS points but there are a range of access schemes for those from non-traditional backgrounds. Work or other relevant experience is sometimes accepted in place of formal qualifications. Big for fashion and nursing.
Vital statistics: One of the biggest of the new universities with over 31,000 students and 3,000 staff. More than half of students are full-time undergraduates.
Added value: Big on solar power: Northumberland Building in the City Centre campus was fitted with the largest solar panel in the country and the university has opened a new and renewable energy laboratory. A £100m development was completed at City Centre East in 2007, comprising of two buildings which provide a learning space to 9,000 students studying at Newcastle Business School, the School of Design and the School of Law. Recent expansions to the University Library, now rated joint 3rd in the UK with Cambridge. Top notch IT helpline support. New accommodation set to house 1,000 students opens on the banks of the Tyne in September 2014, and the Northern Design Centre in Gateshead has received a huge investment, establishing a world class centre for Open Innovation and Growth. The city ain't have bad too- Newcastle has been voted the UK's best student city four times in the past five years, after winning the MSN Travel survey for three consecutive years in 2009, 2010 and 2011, and more recently the best "City Life" award in this year's WhatUni Student Choice Awards.
Teaching: 88th out of 126 in the Complete University Guide.
Graduate prospects: 79th out of 126 with 62.2 per cent finding graduate level employment.
Any accommodation? Yes. There are approximately 5,500 students rooms available and all first year students are guaranteed accommodation. Prices start from £88.90 per week for a self-catered room with shared bathroom, £113.50 a week for a self-catered, en suite room, and larger en suite studios are available at £174.95. Catered accommodation is also available for £130 a week, which includes all week day meals.
Cheap to live there? Yes, depending on the area. Rents vary greatly across the city and range from around £50 in Fenham to £85 in Jesmond. The most popular students housing areas for Northumbria students are Jesmond, Sandyford, and Heaton.
Transport links: Good for trains: high-speed service links London, Newcastle and Edinburgh. International airport with direct links to Dubai, London, Paris, Amsterdam and many other UK and European cities, just a fifteen minute drive. Five minute walk from three Metro stations.
Fees: Full time home and EU undergraduates will pay £9000 in tuition fees for the 2014/15 academic year.
Bursaries: Students from households with in income of less than £40,000 can receive up to £4,000. Click here to see if you're eligible.
The fun stuff
Nightlife: Hot. Four award-winning union bars (particularly Habita and Domain) with four dance nights a week. Live music is a big attraction in the city. Visit the large arena or smaller clubs.
Price of a pint: About £3.10 on average in Newcastle but £1.50 for pints of Carling and Strongbow in the SU.
Sporting reputation: Very sporty- ranked 8th out of 145 in the BUCS league. Recent investment in sporting facilities.
Notable societies: Stitch, Bake and Bitch offers exactly what it says on the cake tin, with the Aerobic Dance club is great for working on your fitness to the latest hits.
Glittering alumni: Pop star Sting; Rodney Bickerstaffe, UNISON; Scott Henshall, fashion designer; Jonathan Ive, one of the designers of the iPod and iMac; and Victoria Pendleton, gold Olympic medal winner.
Alternative prospectus: Find out more and ask questions of current Northumbria students on The Student Room.
Join our new commenting forum
Join thought-provoking conversations, follow other Independent readers and see their replies