Regent's University London
Monday 28 July 2014 16:03 Comments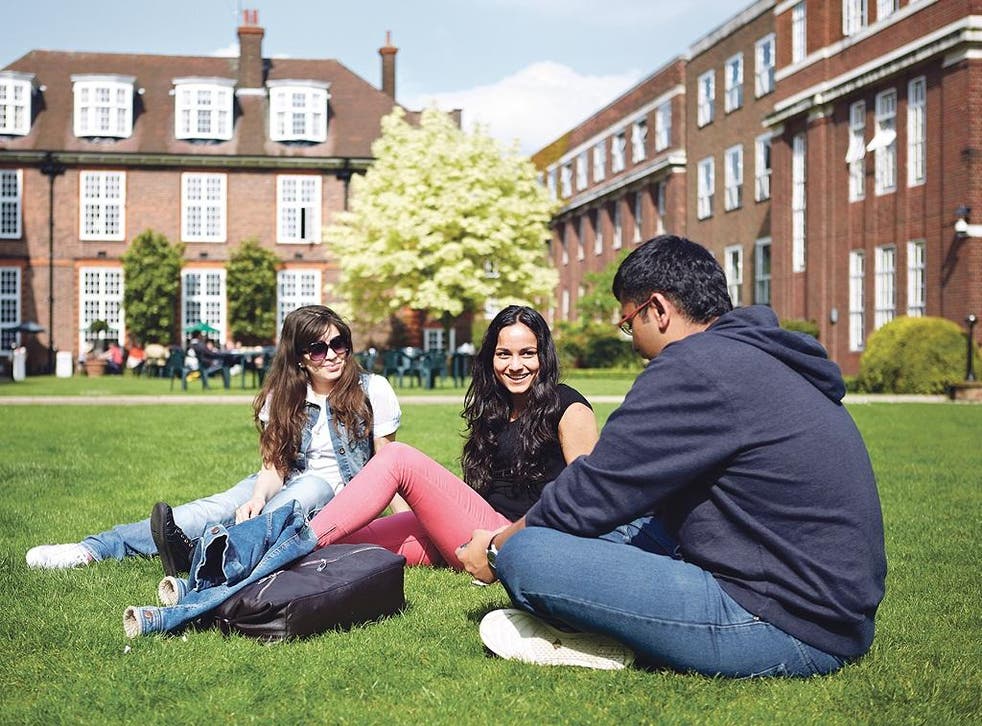 History: In 1908, Bedford Ladies' College established a campus in Regent's Park. The campus went on to house Rockford College Illinois' study abroad programme, The European Business School London, and the London campus of Webster University, USA. In 2006, a number of different institutions on campus merged to become Regent's College London. In 2012, Regent's College London gained its own taught-degree awarded powers, and in 2013, university status was granted, and the institution became Regent's University London. In the same year, Regent's acquired and took over the London campus of the American InterContinental University (AIUL). The Regents School of Fashion and Design, which offers a range of qualifications in fashion design, marketing, interior design and visual communication, was launched at the former AIUL campus, now called Regent's Marylebone.
Address: The main campus is located in the Inner Circle, Regent's Park, in the heart of central London. The second campus, home to the fashion and design school, is a short 10-minute walk away in London's Marylebone village.
Ambience: The main campus in Regent's Park enjoys beautiful, tranquil surroundings while being just minutes away from all that central London has to offer. A short walk away, the Marylebone campus, home to the fashion and design school, sits in a lively historic area, known for its up-market boutiques, cafés and design shops, which retains the artisan feel of the Georgian village it once was. At Regent's, London is your classroom.
Who's the boss? Professor Aldwyn Cooper joined Regent's University as principal and chief executive in December 2006. A cognitive psychologist by background, he was a Harkness Fellow at Stanford and Berkeley in the seventies.
Prospectus: 0207 487 7505 or visit the website here.
UCAS code: R18
What you need to know
Easy to get into? Being an internationally focused university, students can apply with a variety of worldwide qualifications. Regent's doesn't make offers on UCAS points, and focuses on grades instead. A minimum of three passes in A-levels at C or above, along with five c-grade GCSEs including English and maths are also expected.
Foundation degrees: Regent's offers both British and American degree programmes in a wide range of fields, including business and management, psychology, drama, film and media, arts and social sciences, fashion and design. Qualifications range from foundation level through to bachelors, masters and doctoral degrees.
Vital statistics: 5,000 students from over 140 different countries; 3,400 undergraduate and 1,600 postgraduate studying across the university's seven schools (European Business School London (EBSL), Regent's Business School London (RBSL), Regent's Institute of Languages & Culture (RILC), Regent's American College London (RACL), Regent's School of Psychotherapy & Psychology (RSPP), Regent's School of Drama, Film & Media (RSDFM) and the Regent's School of Fashion & Design (RSFD).
Added value: Students have a choice of British or American degree programmes, and many courses offer study abroad opportunities. The university's practically-focused courses develop students' skills and employability in and outside of the classroom. Many courses place a strong emphasis on experiential learning. Not-for-profit status means that all surplus is reinvested back into the university for the benefit of the student experience. Research centres at the university include the Institute of Contemporary Studies (iCES), Regent's Centre for Transnational Studies (RCTS), Psychotherapy and Counselling Psychology Reflections Research Centre (PCPR), and the Centre for Banking and Finance. One of particular interest is the 'Networks of power' research centre, which brings together a number of scholars in Regent's University with common interests in the construction of power relations on a national and international level. It aims to raise the research profile of the university by organising conferences and seminar series and by publishing the results of individual and collaborative research in books, periodicals and the wider media. Regent's has invested £3million in converting a former church in nearby Marylebone village into a new teaching space including a significant large performing facility, while the library study space has expanded, with the opening of a new area. A number of new programmes have also been recently launched, including BSc accounting and finance, MSc psychology and MSc digital marketing and analytics.
Teaching: Students benefit from small tutorial-style classes which offer optimum learning conditions, alongside work experience, internships and international experience through the extensive range of opportunities for studying abroad.
Any accommodation? Yes - although it is limited. For on-campus accommodation, weekly rates per person range from £270 - £390 (including a meal plan). The university offers a range of off-campus university-managed accommodation close to campus. The current offering including studio and flats in Urbanest St. Pancras, and apartments in North Gower St. For urbanest, prices currently range from £226 to £384 per week for 39 or 51 weeks contract. In North Gower Street, prices currently range between £4250 and £5510 for a semester.
Cheap to live there? You've got to be kidding - this is London. Prices in central are very high, but travel further out and you might find a bargain. Don't expect to be paying much less than £100 per week though.
Transport links: The main campus in Regent's Park is minutes away from all that central London has to offer. Excellent transport links make it easy to get around. The campus is close to central London Tube stations, 10 minutes by Underground from the Eurostar and less than an hour's travel from London airports.
Fees: All students pay the same tuition fees, regardless of nationality. Annual tuition fees range between £14,750 and £15,450. In addition, programme fees also include a refundable registration fee (currently £420) and an alumni fee (currently £360).
Bursaries: Regent's offers a number of scholarships and bursaries to help with the cost of tuition fees. Students can also apply for external loans, sponsorship, or other funding opportunities to help finance their studies. See here for more details.
The fun stuff
Nightlife: With central London on your doorstep, the world is your Oyster. Situated in one of the pricier areas of the city, there's no end of swanky bars and nightclubs, but if you explore deeper there's a wealth of hidden gems. There's something for every taste in the big city.
Sporting facilities: The Regent's Polo Team this year secured two British Universities (SUPA) National Champion titles in two of the most advanced sections. Sports teams vary from year to year and usually include men's and women's football, basketball, volleyball and polo teams.
Glittering alumni: TV chef Anjum Anand; Stephanie Vidal, European head of marketing for Apple; television personality Ruby Wax.
Register for free to continue reading
Registration is a free and easy way to support our truly independent journalism
By registering, you will also enjoy limited access to Premium articles, exclusive newsletters, commenting, and virtual events with our leading journalists
Already have an account? sign in
Join our new commenting forum
Join thought-provoking conversations, follow other Independent readers and see their replies