School of Oriental and African Studies (SOAS), University of London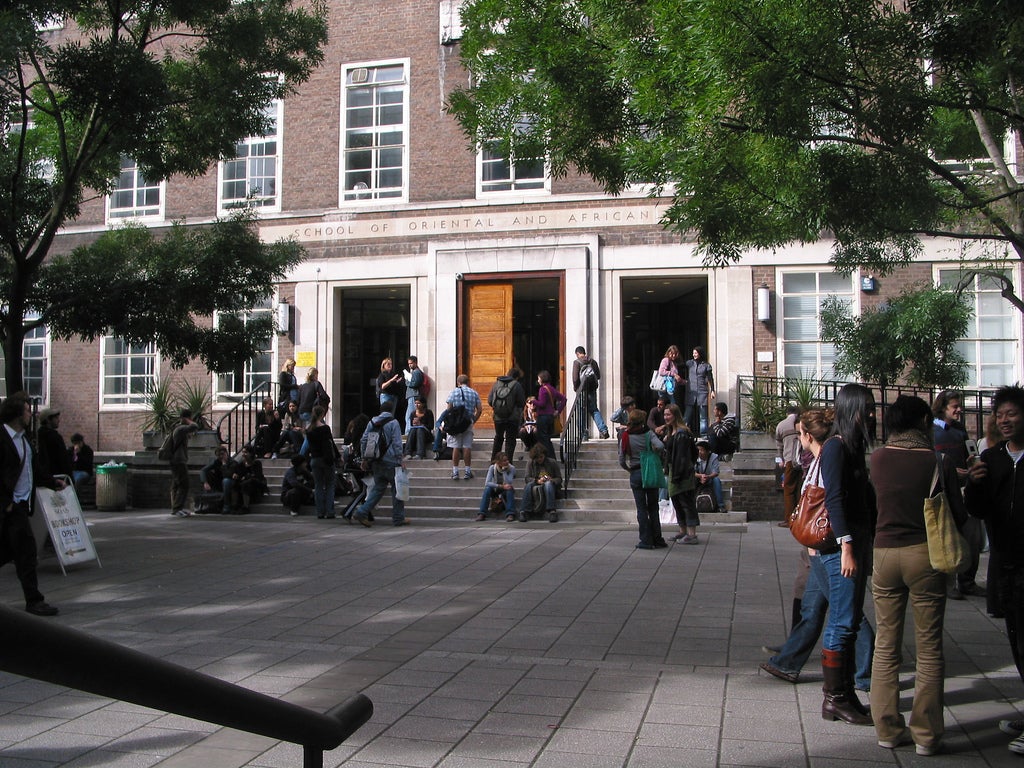 Overall ranking: Came out 43rd of 126 in the Complete University Guide for 2016.
History: Founded in 1916 as the School of Oriental Studies to train colonial administrators. It is the major national centre for the study of Asia, Africa and the Middle East and a global academic base.
Address: Smack bang in the heart of London with campuses in Russell Square in historic Bloomsbury and Vernon Square in Islington.
Ambience: Housed in a functional brick block dating back to 1941 and an additional 1970s building containing the five-storey national library. College is small so you get to know people.
Who's the boss? Professor Paul Webley, an economic psychologist who previously served as senior deputy vice-chancellor at the University of Exeter.
Prospectus: 020 7898 4034 or request one here.
UCAS code: S09
What you need to know
Easy to get into? Nope. You'll need between AAA to ABB at A-level (or equivalent) but they will consider lower grades if the overall application is strong. Other qualifications and experience will also be considered.
Vital statistics: Offers a unique mix of Asian and African studies. The largest concentration of specialist staff concerned with the study of Asia, Africa and the Middle East at any university in the world. The only place where you can study politics, law and economics with a non-Europe focus. Mixed student population of more than 5,400 students representing over 133 countries, with an additional 3,600 students taking distance learning programmes worldwide. The school provides briefings and short courses in languages and politics to business and government, including the Foreign Office and the Ministry of Defence.
Added value: The impressive library is recognised as a collection of national importance and houses over 1.5 million volumes in more than 400 languages. 366 undergraduate degree combinations are offered in social sciences, arts, humanities and languages. Combined subjects such as history, economics, history of art and music with an Asian or African language- for example, economics with Japanese, or history of art with Persian. Vast Brunei Gallery, given as a gift from the Sultan of Brunei, consisting of an art gallery, lecturing and teaching rooms.
Teaching: Came 99th out of 126 for student satisfaction in the Complete University Guide.
Graduate prospects: Ranked 75th with 62.6 per cent finding graduate level employment.
Any accommodation? Rent ranges from £147.28 for a single en suite room in Dinwiddy House to £347.55 a week for a flat in College Halls. See what rooms SOAS has on offer here.
Cheap to live there? As this is London it'll cost you upwards of £100 per week to rent privately.
Transport links: Central so great for the tube. Euston is the closest national rail station and there are excellent bus connections within easy access of the main Russell Square campus.
Fees: Full-time home and EU students pay £9,000 while overseas students are charged up to £15,320 per year.
Bursaries: Applicants are automatically considered for a range of scholarships, bursaries and awards based on financial need and academic excellence. Click here and see what you could get.
The fun stuff
Nightlife: You're right in the heart of London, with an infamous college bar at hand.
Price of a pint: London prices I'm afraid, so around £3.65
Sporting reputation: Far from the best- ranked 139th in the current BUCS points-based league table.
Notable societies: Lots of cultural-based groups as you may expect- everybody is included here. Music is popular too with a Reggae, Horn of Africa and Mouth Harp societies.
Glittering alumni: Jung Chang, author of Wild Swans; Aung San Suu Kyi, leader of opposition to military junta in Burma; Michael Jay, former ambassador to France and head of the Diplomatic Service; Paul Robeson, singer, actor and political activist; Prof. Fred Halliday, Middle East expert at the LSE; Zeinab Badawi, newsreader; Dom Joly, comedian.
Alternative prospectus: Sneak a peek at what current students really make of SOAS on What Uni? here.
Join our commenting forum
Join thought-provoking conversations, follow other Independent readers and see their replies