Clearing case study: 'I feel grateful and lucky'
Oliver Lewis had to reassess his options, yet still found a place on a degree he loves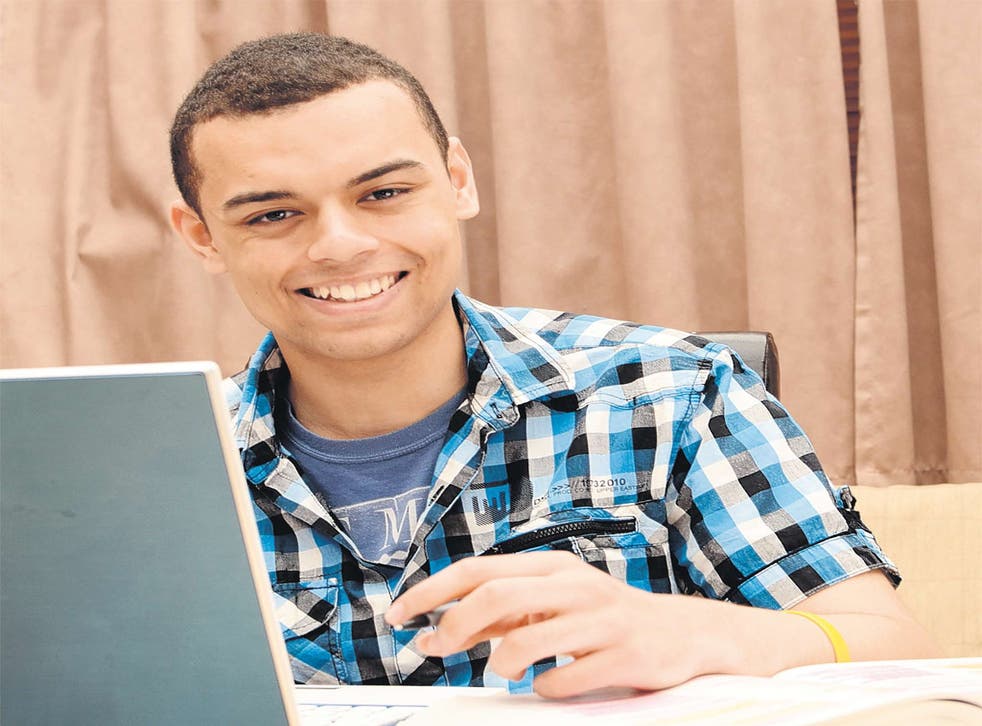 When Oliver Lewis opened his English literature A-level paper he found himself facing a passage from Thomas Hardy's Jude the Obscure, in which a farmer's daughter throws "a piece of flesh, the characteristic part of a barrow-pig" at Jude to attract his attention. It was enough to throw Lewis too.
"The exam was about different perceptions of love through the ages," he says. "We were expecting to get something about jealousy or forbidden love. Instead, we basically got pure sex extracts. I looked around at people's faces and you could see everyone was thinking, is this what our future depends on? A guy getting a pig's penis thrown at him? I thought it was a joke."
Lewis, now 19, was at Townley Grammar School in Bexleyheath. He had joined the sixth form there with 16 GCSEs. His A-level subjects were English, history, psychology and classical civilisation, with critical thinking as an AS-level. For extra Ucas points, he also had a Lamda grade 6 speaking qualification. His grades had been good and he had been predicted As or Bs for most subjects at A-level, which should have been enough to get him into his preferred universities.
"I'd been to several open days. I applied to four universities that I thought I could get into easily and an aspirational one – Cardiff. However, as the Ucas process went on, my first choice was Kent and my back-up was Essex."
Lewis was looking for somewhere near London to study English literature, ideally with some specialism in ancient literature – Homer or Virgil. He also wanted courses that didn't just focus on limited literary eras in history. "I wanted something more thematic than periodic. I like the idea that concepts from classical literature are still used in some the most iconic books today, such as Wuthering Heights or even Harry Potter. The same techniques, images and use of language."
His tutors at school had given him firm guidance on his personal statement. "I'd done some charity work – I sang in the Gillingham Male Voice Choir at the Royal Albert Hall for Cancer Research UK. It was a massive concert with choirs from all over the country. We raised £150,000."
When results day came – 18 August last year – Lewis looked online to see whether he'd been accepted by a university before going into school to get his results. This was the last year before tuition fees tripled. Demand for places was heavy and the Ucas website kept crashing. "I wasn't too concerned what my grades were provided I got in. When I found I'd been rejected, I felt numb," he recalls.
He had scored a B in History and in his AS subject, but Cs in his other classes, including English, He went home feeling disconsolate, to see what he could get through Clearing. "My parents hadn't been to university, but they were very supportive. My mum was checking online, looking through prospectuses and modules. I was in an awkward position. I couldn't be too picky, but still knew I shouldn't go to a university where I wouldn't enjoy what I did for three years," he says.
His father, meanwhile, was filtering numbers and contacts. Lewis hit the phones. "I was being put on hold for 10 or 15 minutes and you're thinking, should I stay or give up? When you know that everyone else in your position is doing the same thing. There's this massive rush.
"When I finally got through I encountered some rejections as courses were already full. I had my personal statement in front of me, thinking it might be useful, picking extracts from it and read them out."
"One woman was unbelievably rude and didn't believe I really liked English. I was panicking and stressed enough as it was. When she said ring back later, I knew I wouldn't be comfortable anywhere where she was."
Lewis had got worse grades than expected, but still had 390 Ucas points and, based on that, he got a provisional offer from a university that gave him until 4pm to make his mind up.
"It was a relief. It gave me breathing space to look around for somewhere better. Then the University of Roehampton came to mind – the other side of London from where I live. The prospectus asked for a B in English, but when I called them they asked for my individual grades and they said based on my Ucas points they were happy to accept me.
"By the end of the day I had a few offers by email including a few other universities. I had some days to decide, so I thought I'd go and have a look at Roehampton – make my own open day," he says.
The next day Lewis and his mother were guided around the Roehampton campus by a history student. They asked a few general questions on subjects that typically would have been answered at an open day – accommodation, for example, and the library resources. But Lewis already knew he liked the feel of the campus university, complete with lawns and a history stretching back to 1841.
The same day he accepted the offer, and has not regretted it. Now at the end of his first year, he has particularly enjoyed studying Milton's epic poem Paradise Lost and taking part in a project on Soho – both its cholera epidemic and its modern reputation – which students had to present to their peer group.
"People think English literature is simply reading, but there's a lot more to it," he says. "It's interpreting, analysing and communicating."
Lewis found three other students to share a flat with through the university's Facebook page. He has made friends and his results have been good. Post-degree, Lewis plans to do either a law or journalism conversion course. "I feel sorry for the people that are going to go through Clearing," he says, "but I also feel grateful and lucky. I've got a place at a university where I'm doing well. I have a good place to live, great friends – and prospects."
Join our new commenting forum
Join thought-provoking conversations, follow other Independent readers and see their replies