New friends and more earnings: University is a higher education in every respect
The potential for increased income is just one advantage of a degree, explains Glynis Kozma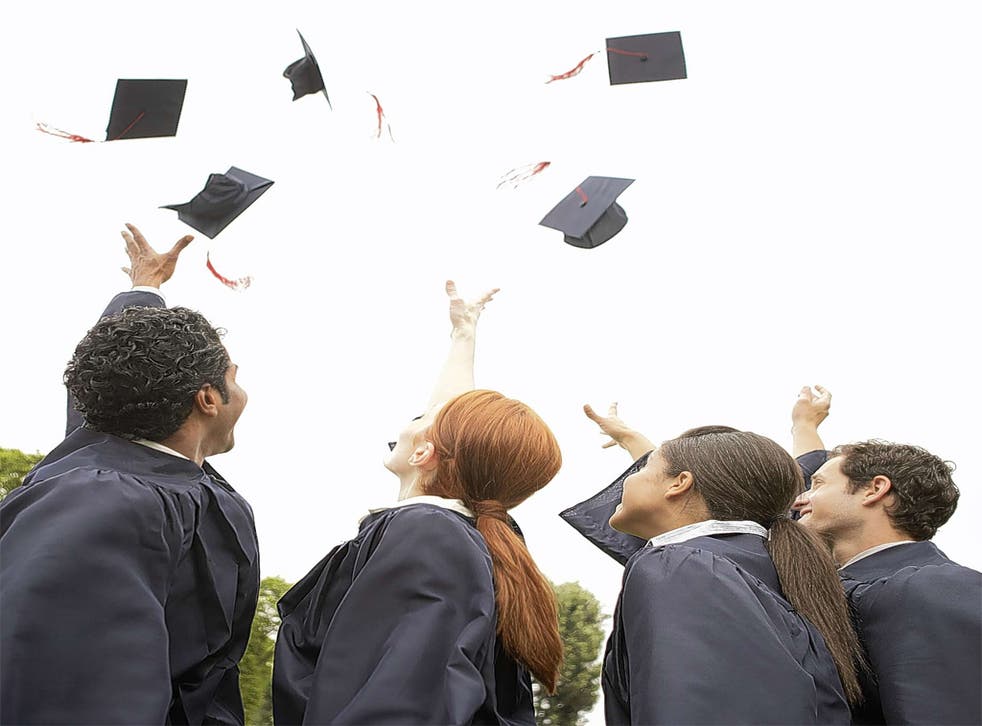 With tuition fees of up to £9,000 a year, it's a relevant question whether higher education is really worth the costs. But students and parents can take some comfort from the fact that graduate earnings exceed those of non-graduates: in 2010, starting salaries of graduates were £6,184 higher. But income is not the only benefit of a degree.
Studying at university involves, for the majority of students, living away from home. Most first year students live in halls of residence, which provide an introduction to independent living: managing a budget and, most importantly, living alongside other people with not too many arguments over the washing up. Learning to live harmoniously alongside other people is a valuable experience. Dealing with dripping taps, elusive landlords, flatmates who won't do their share of the housework or who are noisy requires diplomacy and negotiating skills. Skills that are crucial in future personal and employment relationships, and which can teach students more about themselves than any degree can.
Rebecca is a language graduate from the University of Bristol. "The friendships you make are invaluable. Going to a new city allows you a fresh start. You can change a lot during these years and the friends you make at university reflect the person you have grown into." Polly, who completed a degree in architecture, agrees: "You meet people different to those you have grown up with, and have to work constructively with them. You have the chance to be more independent than you have probably ever been, and experience living somewhere very different to home."
Who are you at 18? Three years as a student gives time and space in which to mature and not make premature career choices. Most large companies recruit graduates from all disciplines, so the choice of degree course doesn't necessarily dictate a particular career, which is chosen at 18 years old. Rebecca acknowledges this: "My degree course gave me some perspective on what I wanted to do with my career, but I didn't have to jump in and make a choice at 18. I was able to continue learning, but had four years to work out where I wanted to go with my career."
But university is hardly all work and no play. The range of activities at university is immense. There are hundreds of clubs and societies where students can develop or learn new skills. Most universities have superb sports facilities, including the University of Southampton, which invested £8.5m into its sports setup, including 160 stations in the gym, fitness suites and a climbing wall. Tom, a graduate, explained: "It's possible to try new sports very cheaply. This makes it easier for students to participate in sports they might otherwise not be able to afford to try."
This is confirmed by Professor Tom Ward, pro-vice-chancellor of Durham University (Education). "Universities can provide a safe space in which to nurture unexpected talents. Many people have huge potential that is not obvious to anyone, including themselves. There are a huge number of opportunities enabling students to leave with a wider set of skills than they had on entry. This can include leadership and organisational abilities as well as networking, and post-graduation there is an active alumni society."
Rebecca endorses the opportunities for networking. "Your peers will be your most important connections. With social networking connecting us to almost everyone we met at university, the opportunity to develop your career through diverse contacts is definitely a consideration."
With graduate employment now increasingly competitive, university contacts can make a difference. The University of Newcastle has a dedicated team of business advisers, business support staff and entrepreneurs-in-residence who can offer one-to-one advice for those students and graduates wanting to set-up and run their own business. The university helps students find graduate apprenticeships and relevant work experience, while offering extra- curricular activities that enhance students' CVs and provide the skills employers value.
Many courses, including Rebecca's, include a year overseas. "I'd advise students to choose a degree where there is this option," she says. And even if you can't, university is, Professor Ward explains, "a global community, with staff and students at Durham from 150 countries".
Having won that place at university, your teenager should be encouraged to get the most of it by immersing themselves in whatever is on offer: the benefits far exceed the degree alone with regard to personal and professional development. There's the opportunity to create lifelong personal and professional contacts, develop interests in a safe environment, and leave university with a CV that will resonate with potential employers. If your child is hesitating, or shows reluctance to immerse themselves in university life, it's worth giving them a gentle push so they benefit from everything else on offer which, in many ways, rivals as a life-changing experience alongside the valuable degree.
Studying overseas: points to consider
Studying for a degree overseas can be a cheaper option.
Studying in the EU is easier than outside the EU.
Some countries — including Austria, Cyprus, Denmark, Norway and Sweden — do not charge any tuition fees.
Low tuition fees — a few hundred pounds — are paid in France, Germany, Italy and Spain.
Check the local regulations – they might restrict or prevent students from working part- or full-time to support their studies.
If they are allowed to work where they are studying, they may not be able to work if they are not fluent in the language of the host country.
Students should make sure that the cost of travelling, living expenses, visas and health insurance are factored in.
Most applications are made directly to the university.
Scholarships, bursaries and grants may be available from universities or the government of the country.
They should start making enquiries 12-18 months before they want to study.
Ensure that the degree is accepted by professional bodies back in the UK.
For information: www.ukcisa.org.uk
Register for free to continue reading
Registration is a free and easy way to support our truly independent journalism
By registering, you will also enjoy limited access to Premium articles, exclusive newsletters, commenting, and virtual events with our leading journalists
Already have an account? sign in
Register for free to continue reading
Registration is a free and easy way to support our truly independent journalism
By registering, you will also enjoy limited access to Premium articles, exclusive newsletters, commenting, and virtual events with our leading journalists
Already have an account? sign in
Join our new commenting forum
Join thought-provoking conversations, follow other Independent readers and see their replies