Private universities: An independent advantage
The increase in tuition fees has made private universities a more popular option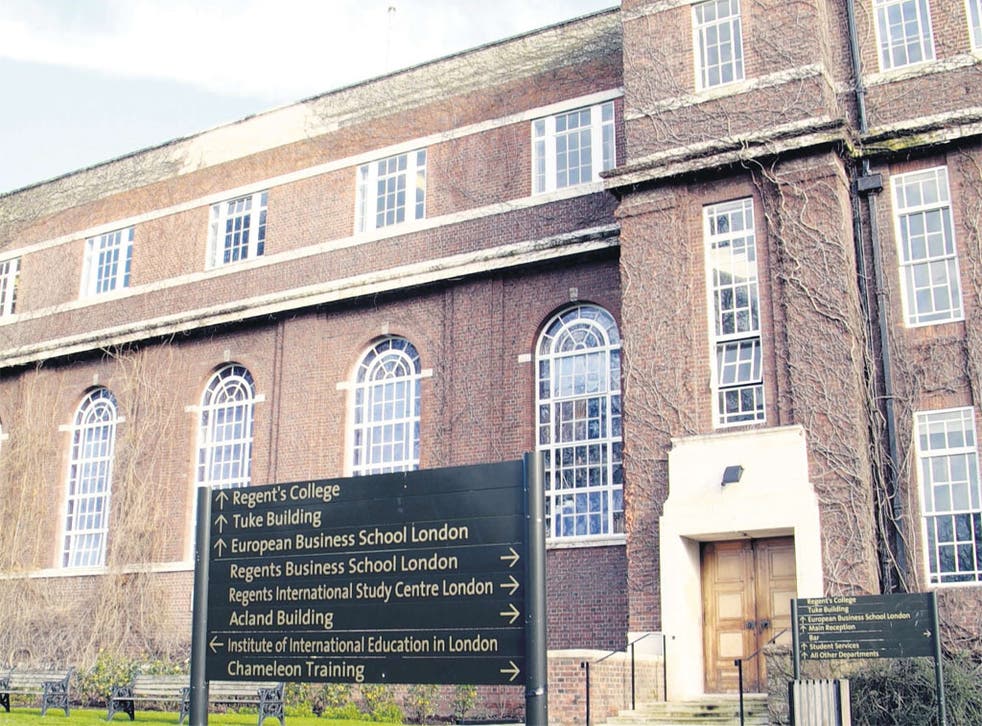 Private universities are in the news. On 27 July Regent's College, a private institution in Central London, announced that it has been granted "taught degree awarding powers" from 1 September and hopes to have university status by the end of the year. This is part of the Government's higher education reforms designed to broaden student choice by opening universities to competition.
There are currently only two private universities in the UK: the University of Buckingham, which is the only independent university to have a royal charter; and London-based BPP, which is a university college. "This designation is given to specialist institutions which can confer their own degrees like a university," says BPP's principal Carl Lygo. "BPP specialises in professional degrees in law, business, accounting and healthcare."
Although BPP University College is privately operated and run, students on its undergraduate programmes are still eligible for student loans. Unlike Regent's College and the University of Buckingham, which are registered charities, BPP is a for-profit establishment with two major shareholders: Carlisle, a UK private equity group; and the US higher education company Apollo.
In the past, the fees charged by private degree providers made them financially uncompetitive against their public university counterparts. With the new tuition fee structure coming into effect this autumn BPP's fees will be among the lowest in the UK at either £6,000 or £5,000 per annum for a two- or three-year degree respectively. "We offer excellent value for money," claims Lygo, but there are other reasons for a student to go for a degree from a private provider. "They tend to be specialists and BPP is highly focused on our students' future career. One third of all new entrants to the English legal profession are educated by us. Our students want to go into a profession rather than have a general career."
Small class sizes are another attraction in the private sector, says Lygo. "Ours usually have 12 to 18 participants, and in some cases, such as role play for a barrister in court, it is one to one teaching."
The private London School of Business and Finance (LSBF), founded eight years ago, has a range of partners, such as the universities of Bradford and Central Lancashire, the London Metropolitan University and Grenoble Graduate School of Business. Dr Ann Thorne, an executive dean at LSBF, worked for 15 years in the university sector and is conscious of the benefits which private providers supply. "We don't necessarily build on a historical background, but look at what the students require for their future careers. Most universities have a static campus, but LSBF is lean and flexible, so we can to where the market is – for example we're setting up shop in Birmingham [to meet health sector demand]."
There are clearly plenty of non-university private providers who offer a combination of options, such as partnerships with universities, the sanction to award degrees, and some that aspire to university status, but Buckingham is currently the only independent university in the UK. It does not receive government funding and is therefore free of bureaucratic governmental controls. It was set up as a charity 40 years ago by academics who were increasingly concerned about the creeping nationalisation of universities, which were becoming subject to more government direction as to what they taught and who they took.
The University of Buckingham has come top of the National Student Survey for five years running. What's it doing right? "All our staff are conscious that the students are our salary so our principal energies are directed at them," says Professor Alistair Alcock, deputy vice-chancellor of Buckingham. " We have a maximum of 20 in a class, and our size – under 2,000 students – means that we offer individual pastoral care. We have properly funded two-year degrees with a taught summer term, not distance learning like other establishments. All this is reflected in the fact that our applications are up 100 per cent this year, while across the sector they are down 10 per cent."
Many public universities are principally driven by research and the government funding that comes with it. Professor Alcock sees Buckingham's independence as a huge advantage. "When there's a dilemma between spending time and energy on students or getting the research project finished, it's clear which you go for."
With some traditional universities offering degree programmes that have little relevance to students' careers while chasing public funding for research that is of little relevance to the workplace, private universities are creating healthy competition and sharpening up the provision of programmes that are more relevant to the needs of employers and students.
Register for free to continue reading
Registration is a free and easy way to support our truly independent journalism
By registering, you will also enjoy limited access to Premium articles, exclusive newsletters, commenting, and virtual events with our leading journalists
Already have an account? sign in
Register for free to continue reading
Registration is a free and easy way to support our truly independent journalism
By registering, you will also enjoy limited access to Premium articles, exclusive newsletters, commenting, and virtual events with our leading journalists
Already have an account? sign in
Join our new commenting forum
Join thought-provoking conversations, follow other Independent readers and see their replies