Blurred Lines debate: Drawing a line under Thicke's lyrics
Banning Thicke's Blurred Lines is not a issue of free speech but of student unions catering to the most vulnerable in their communities, argues Rosie Collington
Rosie Collington
Friday 27 September 2013 10:55 Comments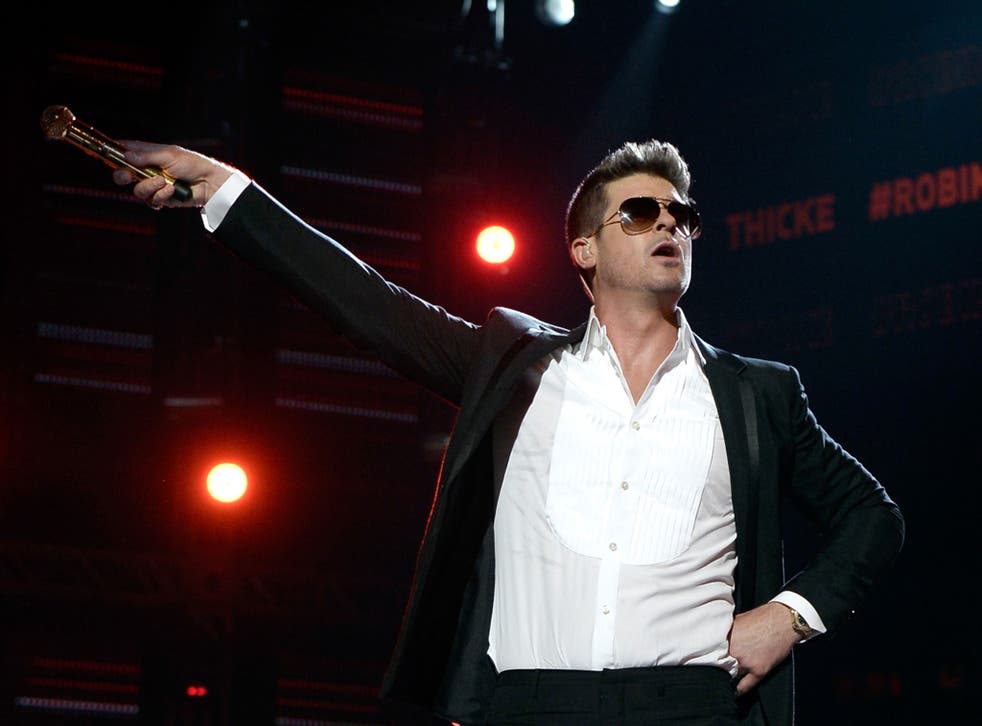 Not playing "Blurred Lines" in student unions across the UK is not going to ruin anyone's night. It's not enough to stop students attending events at union venues – as Freshers at Leeds University is proving. And it's certainly not going to affect Robin Thicke's pay package, if anyone was worried about that.
But if we allow this song to play in our union venues, we are sacrificing public spaces where students and others in society can feel safe and comfortable. Most people won't shudder when they hear the words "I know you want it", but for many students, the lyrics of Thicke's number one hit are offensive and in some instances serve as a trigger.
At the University of Leeds, the union executive committee's decision to stop playing the song in union venues has sparked debate across campus.
Although I was over the moon when I learned there was no longer any chance of being subjected to "something big enough to tear your ass in half" while eating my lunch, others disagree.
Among the arguments of those against the decision at a debate on Tuesday at Leeds university union was the song is supposed to be taken lightly, as a tongue-in-cheek humour maybe some of us just don't get.
Previously unknown Thicke has himself stated the intention behind the single's controversial music video was to make fun of "everything that is completely derogatory towards women". The fact that the supposedly ironic nature of this song needs explanation indicates it does not easily come across as so.
The union at my university prides itself on being a safe space not only for students, but for their families as well. If there is one thing "Blurred Lines" isn't, it is family-friendly.
And it's not exactly female-friendly either. Or male-friendly. It's just not a particularly friendly song, despite what its catchy melody and bouncy rhythm might lead us to believe.
"Ironic" or intended, the song promotes negative attitudes towards consent; as far as I;m concerned, it implies that "no" doesn't always mean "no". If the lyrics are a metaphor for sexual fantasy, as was suggested during the debate, it normalizes ideas that can be damaging and harmful for both sexes.
For victims of sexual assault, among the most vulnerable in the student community, the content of the song can serve as an unnecessary reminder of a time they would rather forget. A photo exhibition by Project Unbreakable shows a possible connection between the utterances of Thicke and his cohorts, and those of sexual abusers.
The unions which have taken a stance against "Blurred Lines" are not trying to censor what students listen to. No one has suggested we can't listen to the song in private. Evidently it's popular, and not because we all agree with what the lyrics suggest - most of us just haven't been listening properly.
But unless we want to start playing ratings and warnings before songs, unless the music conglomerates start changing the content of their lyrics, as a student body we must cater for vulnerable members of our community and anyone else who could be affected, not just those who are upset that a song won't be played tonight.
Who knows, maybe Thicke and that whole industry might listen to us next time.
Register for free to continue reading
Registration is a free and easy way to support our truly independent journalism
By registering, you will also enjoy limited access to Premium articles, exclusive newsletters, commenting, and virtual events with our leading journalists
Already have an account? sign in
Join our new commenting forum
Join thought-provoking conversations, follow other Independent readers and see their replies