Government green paper: Why the UK higher education system and students will not go down without a fight
Having read through the Government's green paper, there's now one fundamental question: who actually benefits from education?
Callum Cant
Friday 06 November 2015 17:22 Comments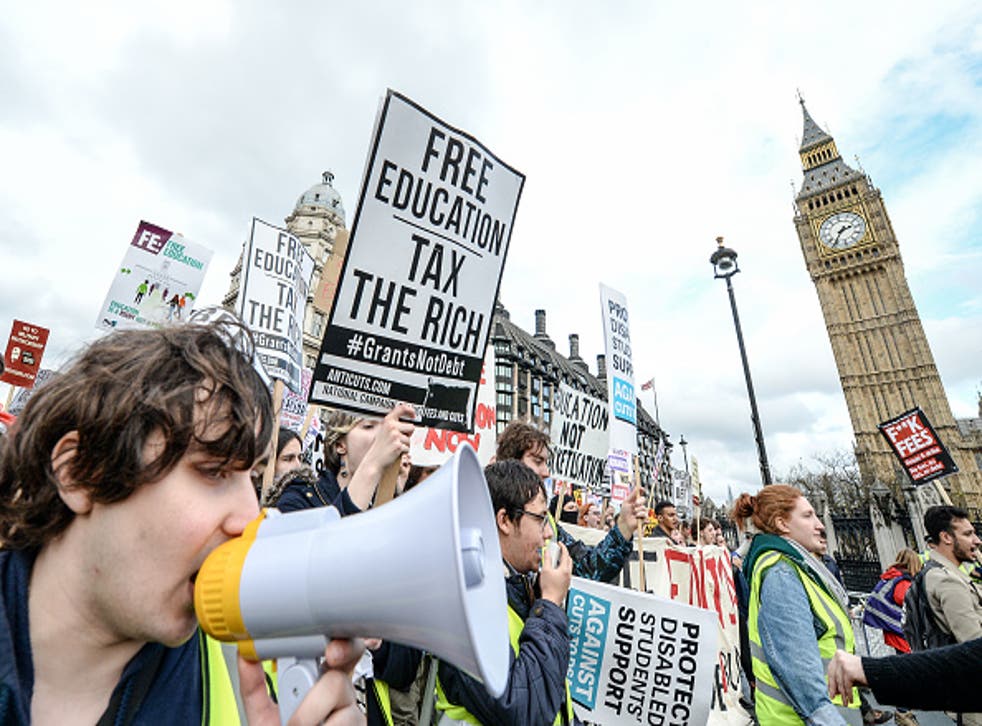 Just two days after thousands of students marched for #GrantsNotDebt, the Government has now released a green paper, effectively announcing their plans to end public higher education as we know it. Their confrontational timing suggests that a dispute between students, workers, and the Government is inevitable.
The plans in the green paper amount to nothing less that the full marketisation of higher education. The idea that universities should be public services run for the common good has been decisively abandoned by Jo Johnson, the Minister for Universities and Science. Instead, students are consumers, universities are businesses, and education is a commodity. This is the broad ideological vision at work in the green paper - but why are these proposals being made now?
The reforms of 2010 were a stepping stone towards marketisation, but the market the coalition imagined never really materialised. The Government established a £9,000 fee limit which they imagined would begin price competition between universities, but almost all institutions immediately charged the maximum. We ended up with a dysfunctional fee system, one which is now rapidly approaching the point of being more expensive than the system it replaced, due to variations in debt repayments.
Read the green paper in full:
Our higher education sector was in an odd middle ground, with the most expensive publicly-funded education in the world and, at the same time, the most restricted private market. The Government has always known this situation will have to be resolved in one of two ways: by going towards free education, or towards full marketisation. The green paper marks the start of their attempt to provide that resolution - and the direction they've chosen should come as no surprise.
So now the Government is having another go at forcibly creating a market in education. Given the current mindset of students and education workers, they will have to force through these changes, because there is very little appetite for increased competition and conflict within the sector. But how, specifically, are they proposing to do this?
Firstly, the Secretary of State would be given the extraordinary (and profoundly undemocratic) executive power to raise tuition fees in line with inflation without going through Parliament. Any flaky Conservative backbenchers worried about losing the student and parent vote would not be given the chance to rebel.
Fee rises would be guaranteed, without the interruption of democracy. This would also normalise year on year tuition fee rises - until it becomes a matter of course that every generation entering university education is more indebted, in absolute terms, than the generation before it.
Student protest: Video shows arrest - 'What sort of justice is that?'
If implemented, this new power would guarantee a baseline of fee increases from 2017 onwards for institutions that do well in the new metric-based teaching evaluation system: the Teaching Excellence Framework (TEF). This benign sounding jargon actually hides a performance indicator based on the idea that universities are only functional if they fit the demands of the wider economy and, in particular, employers in that economy. Rather than teaching being intended to help students, teaching becomes a way of producing high quality workers to funnel along what Jo Johnson has called 'the pipeline of graduates we need for a 21st century economy'.
This poses the fundamental question: who actually benefits from education? Students will no longer be the primary beneficiaries. Instead, businesses will cash in. Graduate wages are likely to continue to fall. The average graduate income fell 11 per cent in real terms from 2007 to 2012 and the much talked-about bonus impact of education will becomes less and less obvious. But, when graduates lose out, their employers gain from a constant stream of workplace-ready, well trained recruits. This is, apparently, what is meant by a '21st century economy'.
And this market, functioning as a pipeline of graduates, will be run by the Government with the intention of introducing private providers and anticipating the collapse of public institutions. New private providers will be given special treatment in an attempt to boost the private education industry. They'll get quicker access to funding, no caps on student numbers, and there will be lighter checks and balances on who can award degrees and call themselves a university.
At the same time, preparations will be made for the 'exit' of institutions from the market, meaning large parts of the public university sector could be allowed to go bankrupt. This will particularly impact those who are not fast enough to transition to TEF-suitable teaching and who don't meet the criteria set by the Government. Institutions that don't produce particularly employable graduates - like art schools - will be in real danger.
But education is not easily turned into a commodity. It isn't easily produced on a production line and it has a habit of opening up people's minds and their ability to imagine alternatives. This creative potential - and collective organised strength - will be what students rely upon to fight the changes. There are calls for student unions to back a student strike - a level of student action not seen in the UK since 1971. So it is perhaps unsurprising that the Government is likely to take steps to muzzle students unions, following an ominous-sounding consultation.
Student protest: Demonstrators dispute the actions of Black Bloc anarchists after violence erupts
Given the context of the anti-trade union bill, this makes complete sense. Under their influence, democratic student unions - that have historically been a thorn in the side of right-wing governments - will become more like charity consumer watchdogs than collective political representatives. The justification for this change is to ensure that student unions are more 'accountable and transparent'.
This is what makes the proposal to bizarrely exempt universities from the Freedom of Information act look somewhat out of place. At the same time as the Government is claiming to increase transparency for the democratic and accountable bodies students use to make themselves heard, they will also be helping unelected university managers 'cover up' what they are doing in their own institutions.
All together, the green paper indicates the Conservatives doubling down on their neoliberal conception of what education really is. The pipeline model of market education - aimed at maximum benefit for the top of society - is their view of the future. It's a continuation of tendencies that began in 2010, but a continuation that aims to reach the same goal through a huge variety of small changes.
In combination, these changes will cause a fundamental shift in higher education but, individually, their hope is that none are objectionable enough to spark a recognition of the fundamental conflict of interests within universities.
The likelihood of this approach succeeding is uncertain. Students are unlikely to accept a combination of higher fees, cut maintenance grants, and marketisation without a fight.
In 2010, the Government forced through monumental changes to education - but they did so without any well-organised opposition. The student movement, then, was a spontaneous product of the tripling of tuition fees, rather than a co-ordinated, pre-existing movement.
That's no longer the case. When the thousands of students took to the streets of London this week, they were part of a long-term series of mobilisations. Given the heightened levels of organisation and national coordination from bodies - such as the National Campaign Against Fees and Cuts - and the recently-seen willingness of workers to take wildcat action to defend themselves the UK's higher education system will not go down without a fight.
Callum Cant is an organiser for the National Campaign Against Fees and Cuts and a postgraduate student at the University of Sussex
Register for free to continue reading
Registration is a free and easy way to support our truly independent journalism
By registering, you will also enjoy limited access to Premium articles, exclusive newsletters, commenting, and virtual events with our leading journalists
Already have an account? sign in
Join our new commenting forum
Join thought-provoking conversations, follow other Independent readers and see their replies