Maintenance grants: Free education can only be achieved in our communities and on campus, not through Parliament
'The sense that most young people have no stake in this country and no future will be stronger than ever'
Callum Cant
Tuesday 19 January 2016 14:16 Comments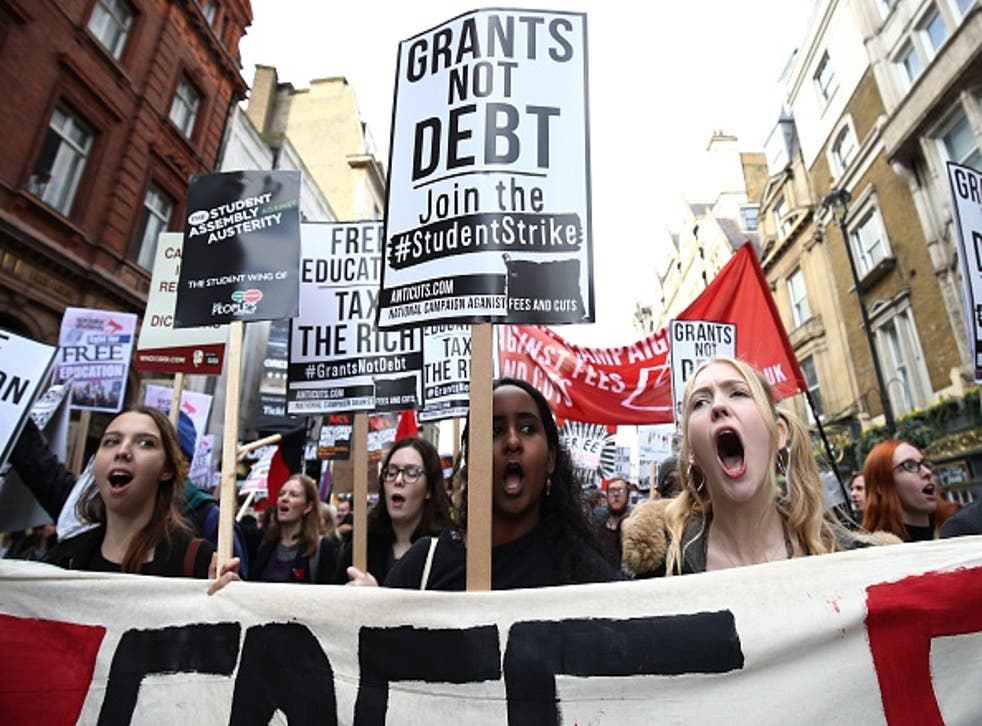 Without the arguments for or against ever reaching the floor of the House of Commons, student maintenance grants were scrapped last week.
On Tuesday, however, Labour used their position as the opposition to call for a debate on the issue. Retrospectively, after the cuts have already been approved, the future of more than half a million of England's poorest students is going to have a small, largely irrelevant, hearing. Barring a remarkable last-minute turn around, the day's events in Parliament will not prevent the cuts from going ahead.
If Tory plans had succeeded, these cuts would never have been discussed beyond a backroom committee, made up of just 18 MPs. Universities Minister Jo Johnson - along with others of the seemingly endless stream of 'Bullingdon Boys' - wanted one of the most important changes to student funding in decades to slip through unnoticed. The reason was clear: there was to be no repeat of the Battle of Parliament Square, the name later given to the 2010 protests outside Parliament when the tuition fee vote was being held. The strategy has been, from the start, to limit public scrutiny of a move that sees over 500,000 of the poorest students be piled with more debt than their better-off counterparts.
Perhaps this fear of public discussion is because these cuts are so profoundly, and obviously unfair, or perhaps it's symptomatic of the profound anti-democratic sentiment that has seen this government essentially ban most forms of strike action and redraw constituency boundaries to disadvantage their opponents. Whatever the reason, students will draw three clear conclusions from the way they have been treated by this government.
First, the sense that most young people have no stake in this country and no future will be stronger than ever. If you have over £50,000 of debt before the age of 21, and the conditions on that debt are always vulnerable to be changed by any government who feels like it, the future begins to look a lot less stable. On top of this, the extortionate housing market, the withdrawal of benefits, the stress and precarity of the job market makes one thing crystal clear: we are a generation with very few options, bearing the brunt of a government that considers us irrelevant.
Second, the strength of both Parliament and the police will be mobilised to prevent us building a movement and crush political opposition wherever possible. They will skip debates in the Commons, and send the police in on campus and on the streets. These two tactics are not separate. In fact, they form part of a combined strategy to oppose the political mobilisation of young people with the repressive power of the state.
Lastly, we will have to rely on power beyond Parliament to have our say. What we demand - free education, universal living grants, decent pay and contracts for all academic staff, freedom from police repression, the decolonisation of the curriculum, and more - can only be won in our communities and on our campuses. Jeremy Corbyn has mobilised some sections of young people more than ever before, But, after Tuesday, even the most enthusiastic young Labour supporters will recognise the balance of power in our society cannot be changed by votes alone.
Since 2010, these realities have been made clear over and over again. Now, we face the issue of building a campaign that can deal with them. Tuesday's demonstration will demand #GrantsNotDebt but, as a movement, we will have to demand a whole new future.
Callum Cant is an organiser for the National Campaign Against Fees and Cuts and a postgraduate student at the University of Sussex
Register for free to continue reading
Registration is a free and easy way to support our truly independent journalism
By registering, you will also enjoy limited access to Premium articles, exclusive newsletters, commenting, and virtual events with our leading journalists
Already have an account? sign in
Join our new commenting forum
Join thought-provoking conversations, follow other Independent readers and see their replies