A-level results 2014: Students who do better than expected can 'trade up' offers
Richard Garner
Thursday 14 August 2014 10:30 Comments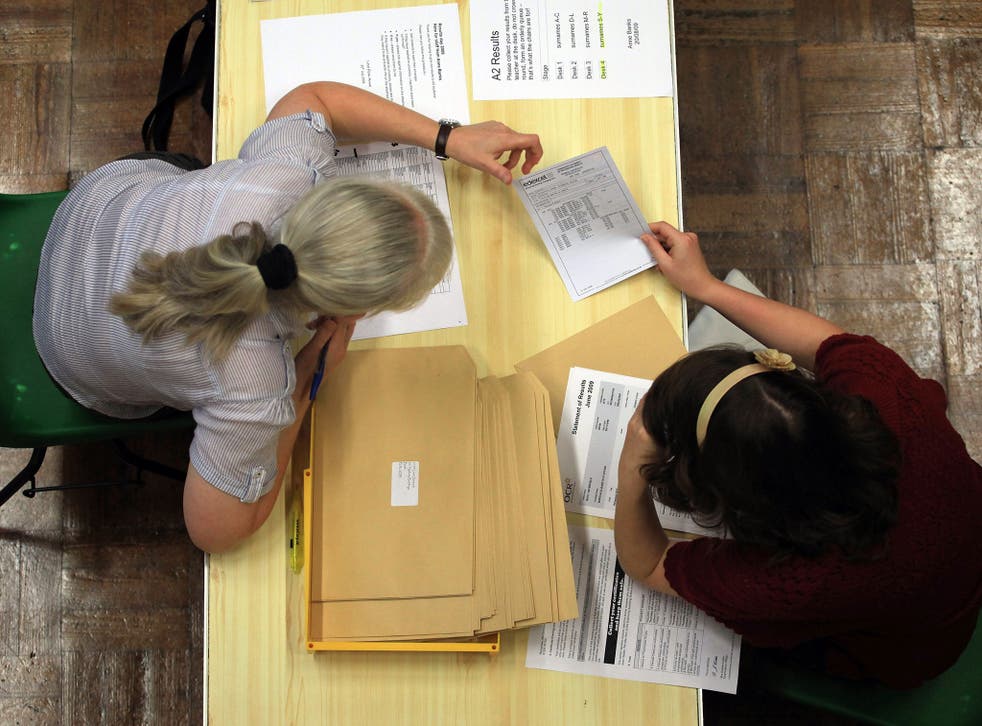 Many of the UK's most prestigious universities will be wooing students today with places that they have reserved for those who do better than expected in their A-levels.
More than 1,000 candidates are expected to "trade up" their existing offers and opt for one of the UK's most selective universities instead.
Many of them are likely to be from disadvantaged backgrounds, as research shows they are less confident about aiming for elite universities before receiving their results.
Academics said the prospects for those who perform better than expected are brighter this year, as leading members of Russell Group – which represents 24 of the most selective universities in the UK – openly join the scramble to recruit more of the brightest students.
In addition to universities being allowed to expand to take in as many students as they want with at least an A and two B grade passes, the number of places available this autumn is going up by 30,000 as a prelude to scrapping the cap on numbers altogether by 2017.
"Some Russell Group universities may still have places available in some subjects for students who have done better than expected," said Dr Wendy Piatt, director general of the Russell Group. "There may also be places available for highly qualified students who have narrowly missed out on their first choice."
Sheffield University is launching a "one better" campaign to persuade students to "trade up", saying it wants "to send a strong message to students that if they do better than expected in their A-levels they should upgrade". It already has a register of those interested in upgrading.
Other Russell Group universities set to have places include Birmingham, Bristol, Durham, Glasgow, Kings College London, Leeds, Liverpool, Queen Mary's London and Queen's University Belfast.
The figures for those who "trade up" have tripled since the scheme was first introduced five years ago from just under 400 to an expected more than 1,000 this year. Those who fail to get the grades necessary to snap up a conditional offer were also given hope last night.
Nick Foskett, vice-chancellor of Keele University, said the increase in student numbers "means more students are likely to be accepted into their first choice even if their grades are slightly lower than universities requested".
In all, well over 650,000 candidates have applied for university places this year. "It will be competitive and not all applicants will get a place," said Nicola Dandridge, chief executive of Universities UK – representing vice-chancellors.
Both she and Jane Phelps, from the New College for the Humanities – the new private university launched by Professor ACGrayling in Holborn, London – counselled students to research course options carefully before they switch.
Scores of schools are bracing themselves for worse results than last year, however, due to a shift in emphasis from modules to end-of-course exams. Others, however, are expecting to do better.
Overall, while there is expected to be a drop in the number of top grade A* or A grade passes, the overall results are likely to be similar to 2013.
Russell Hobby, general secretary of the National Association of Head Teachers, said: "A further decline in the proportion of top grades is likely. The reduction in opportunities to sit modules could harm some schools but others have favoured a more linear approach to A-levels."
Decision day: No offer, no problem
Today will be decision day for 300,000 A-level candidates as they get the results that will determine their future for the next few years.
If a student has not received an offer or has not managed to get the grades to take up a provisional offer, they should go through the Clearing system to see what is available. They can log on to Ucas's Track service as they might be eligible to enter Clearing. Even if they haven't got the grades demanded, it doesn't necessarily mean their provisional offers will be withdrawn.
The increase in the number of student places this year is expected to lead to some students who have just missed out still finding their provisional place is available.
If a student has done better than expected, they can go through the Adjustment process. It provides the opportunity to apply post-results to some of the country's leading universities.
Register for free to continue reading
Registration is a free and easy way to support our truly independent journalism
By registering, you will also enjoy limited access to Premium articles, exclusive newsletters, commenting, and virtual events with our leading journalists
Already have an account? sign in
Join our new commenting forum
Join thought-provoking conversations, follow other Independent readers and see their replies