A-levels fail pupils and should be replaced with baccalaureate, new report finds
Teenagers are being failed by current system that is 'narrow and outdated'
Kashmira Gander
Monday 27 January 2014 11:22 Comments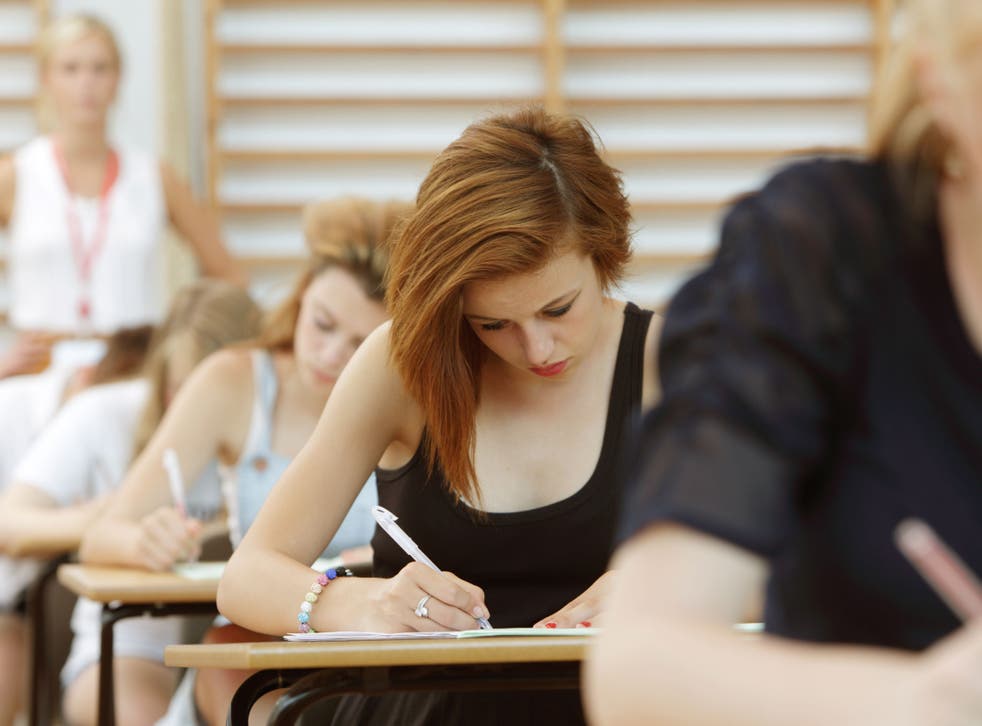 The A-level system should be scrapped and replaced by a broader, baccalaureate style of qualification, a major report has recommended.
The findings published by academics and business leaders warned that A-Levels are "two narrow" and should be replaced with a European-style baccalaureate to equip teenagers with a wider skill-set.
The Making Education Work independent advisory group, led by former rector of Imperial College London Sir Rory Anderson, also concluded that the current system promotes "learning to the test", with too many sixth-formers leaving college with poor writing and numeracy skills. It also found teenagers are unable to think critically, solve problems, and act with emotional maturity.
Sir Roy raised concerns that English classrooms have changed little over a course of 60 years, adding: "While the past has much to teach us, that shouldn't be at the expense of keeping a keen eye on the future."
Students currently taking A-levels at college specialise in three of four subjects.
The report instead recommends that A-levels should be phased out over six to eight years to make way for a baccalaureate-style system where students study six subjects, including English, maths, languages, science and technology.
If their plans are put in place, new courses would also include a compulsory extended project and assessments on skills including team work.
The six-month inquiry included input from Sir David Bell, the Reading University Vice-Chancellor, former Permanent Secretary at the Department for Education, and Sir Michael Rake, Chairman of BT and President of the Confederation of British Industry.
Sir Michael said that A-levels are "narrow and outdated" and that other skills necessary for success "including the fundamental need to improve the basic skills of literacy and numeracy" are at "an unacceptably low level".
The report also called for an independent body comprising of teachers, employers, universities and political parties to be created, with a focus on establishing consistency and a "long-term political consensus" to protect education from the political cycle.
The findings point to the fact that, on average, education secretaries have remained in post for two years over the past 25-year period.
The report comes after the Government's re-working of the national curriculum and an overhaul of A-levels which did not adopt the baccalaureate system.
A spokesman for the Department for Education said: "Our new curriculum was developed following extensive consultation with a wide range of experts and will give children the essential knowledge they need.
"Alongside wider reform to GCSEs, A levels and vocational qualifications this will mean young people leave school with the skills and qualifications they need to secure a job, apprenticeship or university place."
The Association of School and College Leaders, which represents head teachers, welcomed the report according to the BBC.
Brian Lightman, the association's General Secretary, said it supports a similar approach to the Making Education Work report.
"Countries that do consistently well in international comparisons, like Singapore, have a long-term plan for their education service that rises above political considerations and is not driven by the electoral cycle," he said, "and there is no reason why England should not be able to do the same," he said.
Register for free to continue reading
Registration is a free and easy way to support our truly independent journalism
By registering, you will also enjoy limited access to Premium articles, exclusive newsletters, commenting, and virtual events with our leading journalists
Already have an account? sign in
Join our new commenting forum
Join thought-provoking conversations, follow other Independent readers and see their replies