The billionaire factory: Why Stanford University produces so many celebrated web entrepreneurs
What is it about Stanford that breeds the best web talent in the world?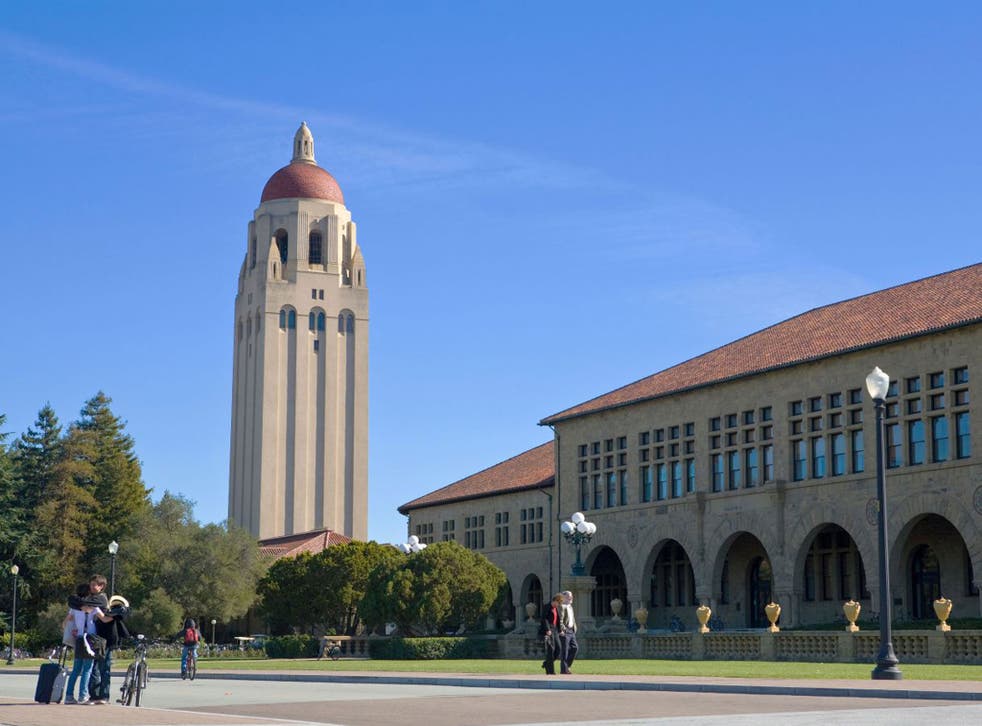 By all accounts, Lucas Duplan is a born tech entrepreneur. The 22-year-old from Orinda, California, began selling iPod cases on eBay when he was still in short trousers. On trips to his grandmother's home in Croatia as a teenager, he would rent out her Wi-Fi connection to the neighbours. More recently, as a computer science undergraduate at Stanford University, he invented a smartphone app called Clinkle, for which he generated seed funding to the tune of $25m (£16.5m).
That whopping investment round, announced late last month, was described by Clinkle's PR reps as "the largest seed funding in Silicon Valley history". Even Mark Zuckerberg could only raise $500,000 in start-up money for Facebook. But then, Zuckerberg went to Harvard.
Stanford has educated just one US President (Herbert Hoover, since you ask) to Harvard's eight, but its leafy campus in the heart of Silicon Valley has probably produced more celebrated technology entrepreneurs than every other US college combined. Its recent graduates include the founders of the photo app Instagram, who sold their creation to Facebook for $1bn in April last year; and the team behind Snapchat, whose 18-month-old brainchild has been valued at $800m.
William Hewlett and David Packard, founders of what is now the world's leading PC manufacturer, met as Stanford undergraduates in the 1930s. Subsequent Stanford alumni include the founders or co-founders of Cisco, Sun Microsystems, Intel, Yahoo!, Netflix, Paypal, TechCrunch, Electronic Arts, LinkedIn, YouTube and Mozilla Firefox. Oh, and Sergey Brin and Larry Page, the founders of Google. In fact, one in 20 Google employees is a Stanford graduate.
According to a recent study by business research firm CB Insights, between 2007 and 2011 Stanford-educated entrepreneurs raised $4.1bn in venture capital and angel investment deals (Harvard alums ranked second in the list of top US colleges with $3.8bn – but $2bn of that came from Facebook alone). Another 2012 study, conducted by Stanford academics Charles Eesley and William Miller, estimated that Stanford alumni and faculty members had founded 39,900 companies since the 1930s, creating 5.4 million jobs and generating annual revenues of $2.7tn. If Stanford grads formed their own country, it would have one of the world's 10 largest economies.
Eesley, who teaches a course in technology entrepreneurship at the university's School of Engineering, says that entrepreneurial spirit started with its founders. "Stanford was created by people who came to the Western frontier," he says. "The settlers were community builders. They took risks by coming west and starting from scratch. But they also recognised that they wouldn't succeed without building a broader community and lending a hand to the people around them."
Duplan was among Eesley's students two years ago. "Lucas arrived in the class with the idea for Clinkle already formed, which is rare," Eesley says. "He was extremely confident about it."
The Clinkle concept had occurred to Duplan on a visit to London. He'd forgotten his credit card, and was forced to walk around with fistfuls of pound coins "clinking" in his pockets. While details of the app remain sketchy, it is said to use high-frequency sound to turn a phone into a virtual wallet, enabling payments between a handset and other devices. In a blog, Duplan explained, "The way in which we transact hasn't significantly changed in decades… [people] still rely on the same technology humans used centuries ago: paper and coins. So we've decided to do something about it."
Stanford directly facilitated the app's creation. Duplan found a ready-made group of co-workers on Eesley's year-long course, for which 16 teams of five students apiece are each assigned a pair of experienced mentors from Silicon Valley. Eventually, he recruited more than a dozen fellow Stanford students to the staff of Clinkle, some of whom suspended their degrees to join him. Meanwhile, Eesley helped to persuade the dining halls and cafés on the Stanford campus to trial the app. Though the Silicon Valley mentors are banned from taking a financial interest in their students' projects during the class, one of its guest speakers in Duplan's year was Google board member Diane Greene, who later invested.
Was the confidence of Clinkle's investors boosted by its creator's Stanford pedigree? Most likely, seeing as several of them have that pedigree themselves, including Mendel Rosenblum, a Stanford professor of computer science; Bob Joss, former dean of the college's Business School; Mehran Sahami, its associate chair of computer science – not to mention John Hennessy, the President of Stanford, a serial tech investor who also sits on the boards of Google and Cisco. Even the wife of tech mogul Marc Andreessen, another Clinkle backer, teaches philanthropy there.
Depending on your point of view, the faculty's investment in their students' projects represents either a serious conflict of interest, or a virtuous cycle that enriches everyone. The university's unique relationship with Silicon Valley has direct financial benefits: thanks in part to the generosity of its alumni, Stanford set a record for fundraising in 2012, reportedly becoming the first US college to add more than $1bn to its endowment in a single year. Its biggest ever single donation was $400m in 2001 – from the Hewlett Foundation.
Two years ago Stanford started offering several of its courses over the internet. One class, an introduction to Artificial Intelligence, was taken up by 160,000 students around the world. But while future online students may benefit from Stanford's teaching, they'll never savour the benefits of being on campus, where tech investors cram into the Venezuelan-themed Coupa Café in search of the next big thing, and where at any moment you might bump into a senior Google or Facebook or Twitter exec, on their way to address a class.
Clinkle also benefited from the assistance of StartX, an accelerator programme founded by a Stanford student which offers shared office-space, legal advice and mentorship to Stanford start-ups. StartX also helped 30-year-old Brendan Marshall, a Stanford MBA, when he and two fellow alums founded Kitchit, their online platform for professional chefs to sell "food experiences". Marshall says the college's thriving start-up ecosystem is not an official aspect of the institution, but "an organic by-product of Stanford and its culture".
Google employee Raymond Braun agrees. Braun, who is 23, graduated from Stanford last year and is now on the YouTube marketing team. "There are lots of similarities between the Stanford culture and the Google culture," he says, "which may explain why so many people from Stanford want to work here. Stanford is always looking towards the future, and it pushes students to take an entrepreneurial attitude to their own education."
"There are so many brilliant minds at Stanford," says Marshall, "and they're all trying to invent the future." That lofty aspiration is shared by Lucas Duplan, who completed his degree earlier this year and moved his firm to Mountain View, half a mile from Google HQ. Clinkle is expected to be available to consumers in the autumn.
"This isn't the next social app," Duplan told the Wall Street Journal. "Clinkle is a movement to push the human race forward by changing how we transact."
Lucas Duplan
Clinkle
Lucas Duplan, 22, is the founder and CEO of Clinkle, a new mobile payments application which aims to replace cash and credit cards using some sort of high-frequency sound technology. The details are still under wraps, yet in late June Duplan secured a record-breaking $25m (£16.5m) in seed funding from some of Silicon Valley's most successful serial investors, including PayPal founder and fellow Stanford graduate, Peter Thiel. Duplan graduated from Stanford earlier this year.
Mike Krieger & Kevin Systrom
Instagram
The world's favourite photo-based social network was founded in 2010 by a pair of Stanford graduates, Kevin Systrom and Mike Krieger. Instagram allows people to share smartphone images, filtered to resemble tatty old Polaroids. In 2004, Systrom turned down an offer from Mark Zuckerberg to join the team at Facebook. He accepted Zuckerberg's next offer, though: 15 months after Instagram was founded, Facebook bought the company for $1bn.
Evan Spiegel & Bobby Murphy
Snapchat
Snapchat is a photo-sharing application in which the photos being shared self-destruct after 10 seconds or less. The app started as part of a class project by Stanford students Bobby Murphy and Evan Spiegel, and was formally launched from Spiegel's father's sitting room in September 2011. More than 200 million images are snapped using Snapchat every day; the company operates out of a beachside cottage in Venice, California, and was recently valued at $800m.
Sergey Brin & Larry Page
Google
The search giant was a research project by two Stanford PhD students, Larry Page and Sergey Brin. In 1998 they invited John Hennessy, then dean of the engineering school, to test their creation by Hennessy typing in the name Gerhard Casper, Stanford's president (whom he succeeded). The era's dominant search engine, Altavista, delivered results for Casper the Friendly Ghost, but Google offered links to Stanford's Casper. Hennessy now sits on the Google board.
Join our new commenting forum
Join thought-provoking conversations, follow other Independent readers and see their replies