Boris Johnson 'no platformed' by King's College London students over Barack Obama comments
News comes on the day BBC survey shows two-thirds of students support no platforming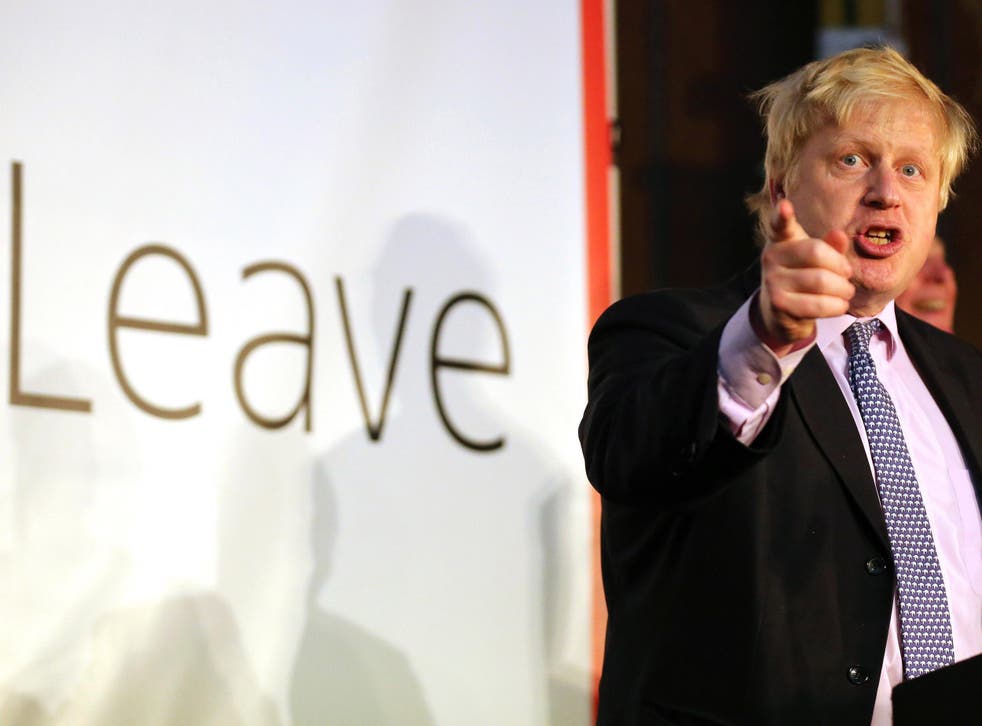 UPDATE: King's Think Tank issues statement saying email circulating on social media has been a "misunderstanding":
The Independent has contacted Margot McDonnell for comment.
A student group at King's College London (KCL) has revoked a speaking invitation it extended to Boris Johnson after he made "inappropriate" comments regarding Barack Obama's heritage.
King's Think Tank sent Mr Johnson an email over the remarks he made, saying Mr Obama is "rightly proud" and highlighting how it was "formally withdrawing" its invitation over his "general tone of disrespect."
The London mayor had been asked to take part in one of a series of debates at the university on the pros and cons regarding the EU referendum.
Writing a column for The Sun newspaper last week, Mr Johnson criticised the US president for allegedly removing a bust of Winston Churchill from the Oval Office in 2009.
Mr Johnson wrote: "Some said it was a snub to Britain. Some said it was a symbol of the part-Kenyan President's ancestral dislike of the British empire - of which Churchill had been such a fervent defender."
Social media users criticised the move, with some saying King's Think Tank no-platformed Mr Johnson.
However, despite receiving the invitation from the group - as well as from various other think tanks and colleges - Mr Johnson had not yet accepted.
King's Think Tank describes itself as being "the first student-led policy institute in Europe."
Founded in 2010, after the student protests over tuition fees, the group has said it aims to give students a means of getting their voices heard by using the practical skills and subject knowledge acquired at KCL.
Student news in pictures

Show all 34
The group's description says: "Students from all disciplines are invited to come and contribute to problem-solving on a wide variety of issues such as foreign policy, energy and environment, business and finance, immigration, defense, healthcare, education, crime, and many other areas of public policy."
The news has come on the same day an exclusive survey for the BBC reveals 63 per cent of students across the UK believe in banning speakers from visiting students' unions.
The National Union of Students (NUS) - which has a no platform policy in place - told BBC News the poll results showed students recognised it was important to stand up to racism and fascism.
Brunel students walk out on Katie Hopkins
The full email sent to Mr Johnson:
Dear Mr Johnson,
Given your inappropriate comments and inferences toward President Obama's Kenyan heritage, of which he is rightly proud, and your general tone of disrespect over the past few days in relation to the President of the United States of America, we are now formally withdrawing your invitation to speak at Kings College London.
We are looking forward to providing a forum for both sides in the EU Referendum Debate to argue their point of view without fear or favour. The level of discourse over the past few days does not meet the bar we set for these events nor do we feel does it help the British people in making the most momentous decision of our lifetime. Furthermore we believe it does not reflect the true greatness of the United Kingdom, a land of tolerance, respect and fair play towards all.
Mike Molloy (Director of EU Referendum Events at Kings College London)
Margot MacDonnell (President of Kings College London Think Tank)
Erica Arcudi (Vice President of Kings College London Think Tank)
Join our new commenting forum
Join thought-provoking conversations, follow other Independent readers and see their replies