Cambridge students launch campaign to 'disaffiliate' from NUS after Malia Bouattia elected president
Campaign's leader says election of Ms Bouattia sends 'a horrifying message' to Jewish students in the UK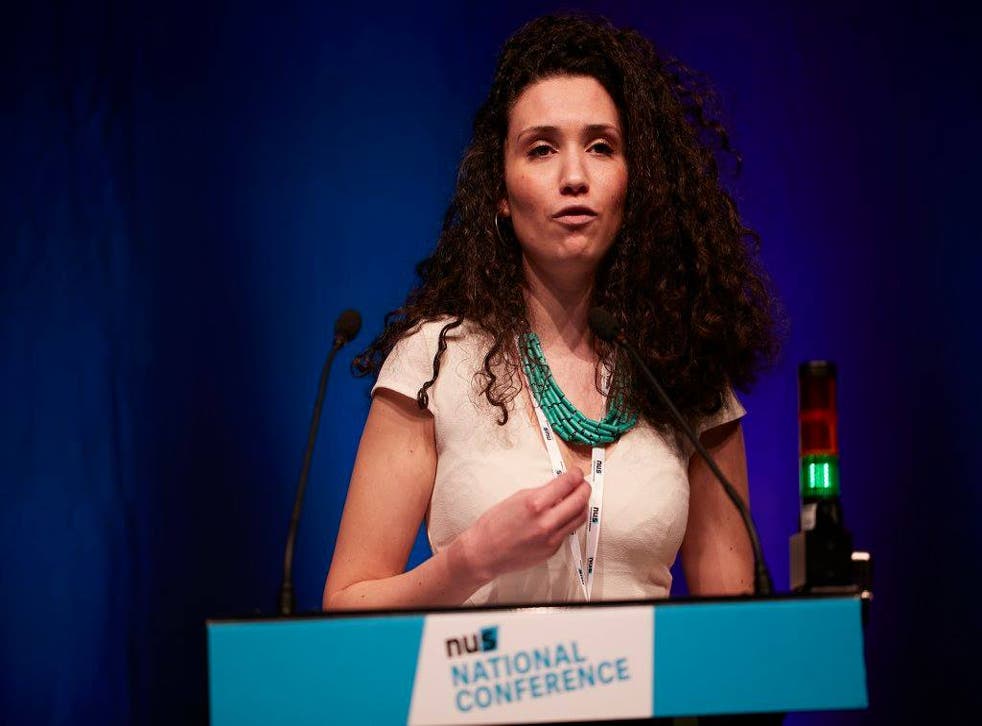 Students at one of the country's top universities are launching a campaign to pressure their union to "disaffiliate" from the National Union of Students (NUS) after the controversial election of its new national president.
The group at the University of Cambridge confirmed it has submitted a motion to the council of Cambridge University Students' Union (CUSU) which would ensure an institution-wide referendum before the end of the academic year.
The announcement has come after the NUS elected Malia Bouattia as its new president in Brighton on Wednesday.
Her appointment - which is the highest post in UK student politics - was met with a mixed response after allegations of "anti-Semitism" surfaced just last week.
More than 300 heads of student Jewish societies and protesters issued Ms Bouattia with an open letter, asking her why she referred to the University of Birmingham as "something of a Zionist outpost in British higher education" in a 2011 article.
The Cambridge students said they have also taken issue with the fact that, at an event in 2014, Ms Bouattia - as NUS's black students' officer - claimed a "Zionist-led media" oppresses the "global south," adding that she gave support to "resistance," an alleged reference to the "violent form."
The students claim she also "led opposition" to a motion at last year's NUS conference condemning Isis. However, Ms Bouattia said post-election that to suggest she condones terrorist groups is "simply false."
The top 10 universities in the UK

Show all 10
Jack May, leader of the campaign and English literature student at Gonville and Caius College, described the election of Ms Bouattia as being "a horrifying message" to Jewish students in the UK.
He said: "Attention has been repeatedly drawn to her anti-Semitic comments. Unfortunately, Malia's election is just the latest event in a tide of anti-Semitism sweeping UK universities.
"Cambridge students should be given a chance to decide whether or not to remain part of the increasingly toxic culture and management of the NUS."
Adam Crafton, a Jewish student at Cambridge and a supporter of the campaign, described Wednesday as "a deeply disappointing day" for Jewish students at Cambridge.
In a statement, he said: "The NUS claims on its website to be 'a leading exemplar of equality and diversity'. Regrettably, the rise of Malia to NUS president clearly contradicts this mission statement, alienating a minority group whose fears about her previous conduct and comments are yet to be satisfactorily answered.
"The failure of the national body means the responsibility now falls upon our own Cambridge representatives."
Therefore, both students said they are calling upon the CUSU council to "recognise this shift in the political landscape," and sense the need to offer students "the freedom to choose who should represent their interests."
Mr Crafton concluded: "As such, we implore CUSU council to pass this motion, engage in a democratic process, and ensure the freedom and security of Jewish students."
In a post-election statement on Wednesday, however, Ms Bouattia said she is committed to putting liberation at the heart of the student movement, adding that she has "a long track record" of opposing racism and discrimination "in all its forms."
She said: "Jews have faced horrendous persecution over thousands of years, and Jewish students on campuses and elsewhere continue to face anti-Semitism. Our movement knows this, and will stand alongside them.
"I responded straight away to an open letter from Jewish society presidents and addressed every allegation, making it clear that I am fully supportive of Jewish students and societies."
However, just a day before she was elected, the students' union at Oxford University confirmed it would not be voting for Ms Bouattia, and said: "The sabbatical team do not believe [her] response was adequate, and believe that there are still questions to be answered."
Join our new commenting forum
Join thought-provoking conversations, follow other Independent readers and see their replies