Canadian engineering student builds rollercoaster in his own back garden
Jack Gevertz
Tuesday 29 July 2014 12:51 Comments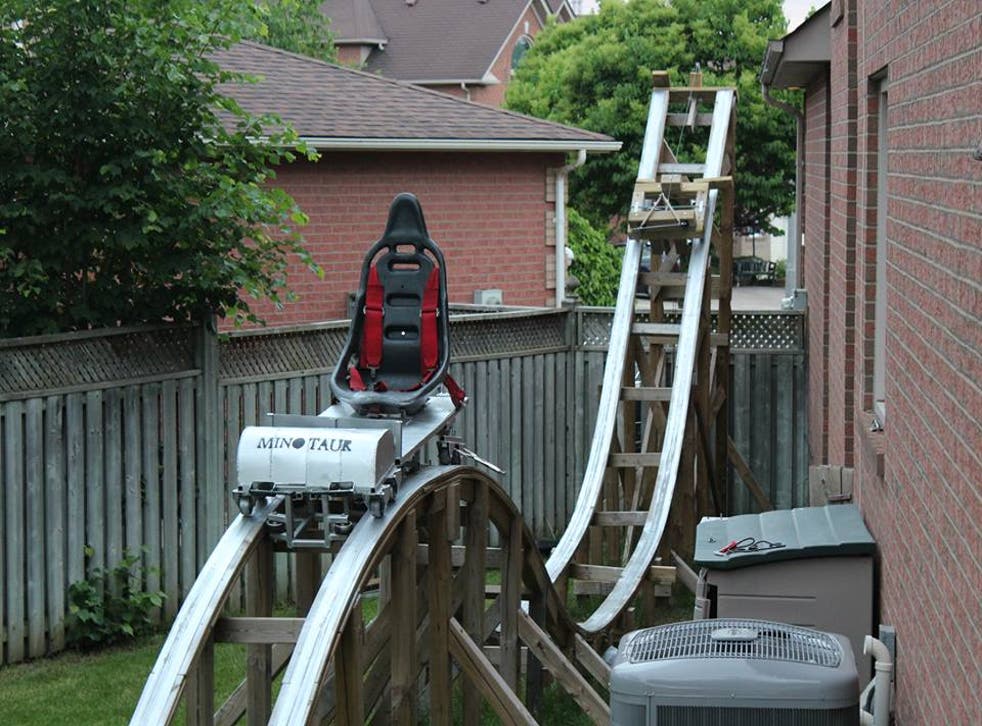 Tired of queuing to get on your favourite rollercoaster?
This Canadian teenager reckons he's got the solution: he's built one in his parents' back garden.
Queen's University student David Chesney took four years to put the 12-foot tall and 92-foot long wooden construction together in his backyard in Toronto.
The 19-year-old, who studies engineering, has named the thrill ride "The Minotaur" and says the steel car can ride at speeds of 20 km/h.
He assembled the rollercoaster using bits of scrap wood from his home and tools he borrowed from his uncle.
And the steel car he made after acquiring the know-how from working at a metal door factory last summer.
"My dad didn't like the idea at all from the beginning," Chesney explained to the Toronto Star. "Mom was kinda, 'Uhhhh, I guess so.' I don't think that either of them understood the scope of what I had in mind."
Eventually, Chesney managed to put together a ride assembled from 28m of steel-plated wooden track with two 3.6m drops.
"It just got bigger," he added. "Then it got to the point where my parents said 'it's huge but you've gotten this far so just finish it and then take it down after.' "
The ride even has its own Facebook page, which Chesney has used to upload photographs of his construction.
But its days may be numbered as his parents have now asked for the ride to be removed.
"My dad wants it out of the by the end of the summer but I don't really want to take it down so I'm trying to find a new home for it," he says.
"It's a pretty cool thing to have and I don't want to see it turn it into a scrap pile."
It's not the first time someone has gone very DIY in their own back garden.
Earlier this year, a man from California wanted to make his son's dream of having a coaster at their home come true so he built a 180ft long one.
The project cost $500 more than Chesney's at $3,500 but has suffered a few problems as it crashed on the third time it went round the track.
Register for free to continue reading
Registration is a free and easy way to support our truly independent journalism
By registering, you will also enjoy limited access to Premium articles, exclusive newsletters, commenting, and virtual events with our leading journalists
Already have an account? sign in
Join our new commenting forum
Join thought-provoking conversations, follow other Independent readers and see their replies