'Come to England and date Harry Potter': Boris Johnson pitches London to Chinese students
"No limit" to the number of Chinese allowed to study in the UK, George Osborne announces in same speech
Tom Mendelsohn
Monday 14 October 2013 19:46 Comments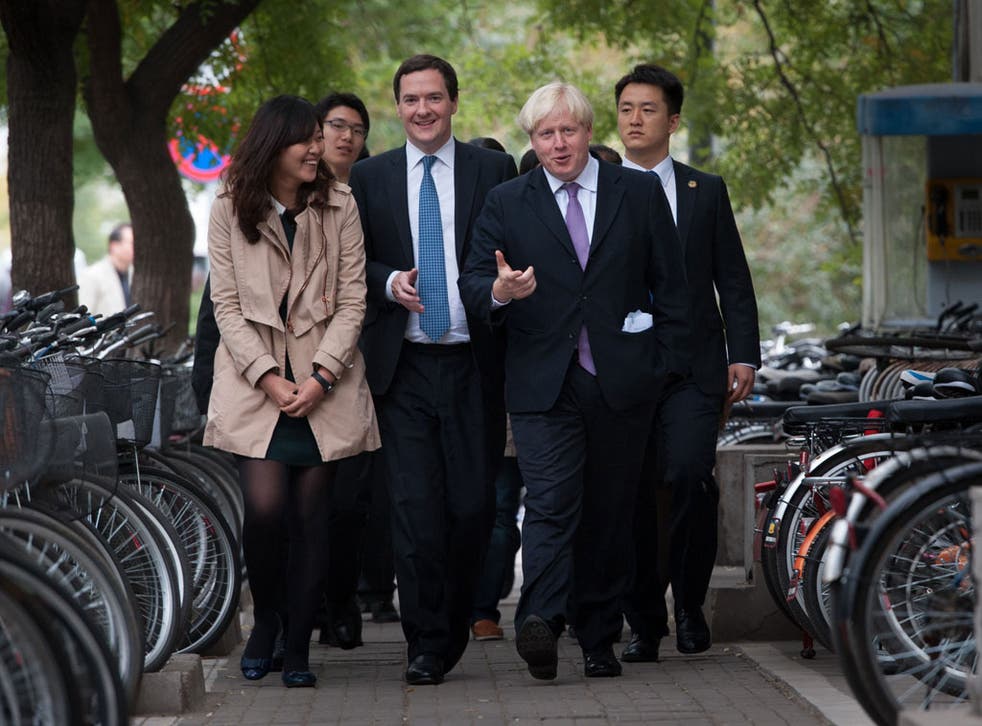 Boris Johnson wants Chinese students to study in London – and he's hoping to lure them here on the possibility of romantic liaisons with a fictional – not to mention married – boy wizard.
In a speech to students at the prestigious Peking University this morning, Johnson was at pains to stress certain aspects of JK Rowling's world-famous trainee wizard.
"Who was Harry Potter's first girlfriend?" he asked with his customary rhetorical aplomb. "Who is the first person he kisses? That's right, Cho Chang, who is a Chinese overseas student at Hogwarts school," he asked. "Ladies and gents I rest my case."
London mayor Johnson is on a six-day trade mission to China, and he's already making his presence known. He also claimed that London was home to "more Chinese students than any other city on earth, outside China".
Warmed to his Potter pitch, he asked the crowd where Harry caught his trains to school.
"King's Cross, absolutely right, which is where? London."
He continued: "Where does Harry Potter buy his uniform and his wand and stuff like that and his books? I think it's in Diagon Alley which is in London.
"Where is the location of the Ministry of Magic? London."
Also on the mission to China is Chancellor George Osborne, who shared the stage with Johnson in a joint speech. He told the crowd that there would henceforth be "no limit" on the number of Chinese students allowed into Britain.
Announcing a new partnership between Peking University and Manchester University to build a centre for genomic medicine, he spoke of opening a greater dialogue between the two nations, and of "embracing the future together".
Osborne said: "This partnership will - I hope - give even more of you the chance to come to Britain and study there.
"We already have 130,000 Chinese students like you studying in Britain. I want more of you to come. Let me make this clear to you and to the whole of China. There is no limit to the number of Chinese who can study in Britain."
Of course, London's magical pedigree isn't the only trick up Johnson's sleeve. During a speech yesterday, given in Beijing's trendy 798 district, Johnson suggested young Chinese might find London appealing due to its "beautiful communist bicycles".
Register for free to continue reading
Registration is a free and easy way to support our truly independent journalism
By registering, you will also enjoy limited access to Premium articles, exclusive newsletters, commenting, and virtual events with our leading journalists
Already have an account? sign in
Join our new commenting forum
Join thought-provoking conversations, follow other Independent readers and see their replies