The Independent's journalism is supported by our readers. When you purchase through links on our site, we may earn commission.
Edinburgh University student protesters occupy building over fossil fuel divestment
This is the students' second protest after a similar one lasted ten days last May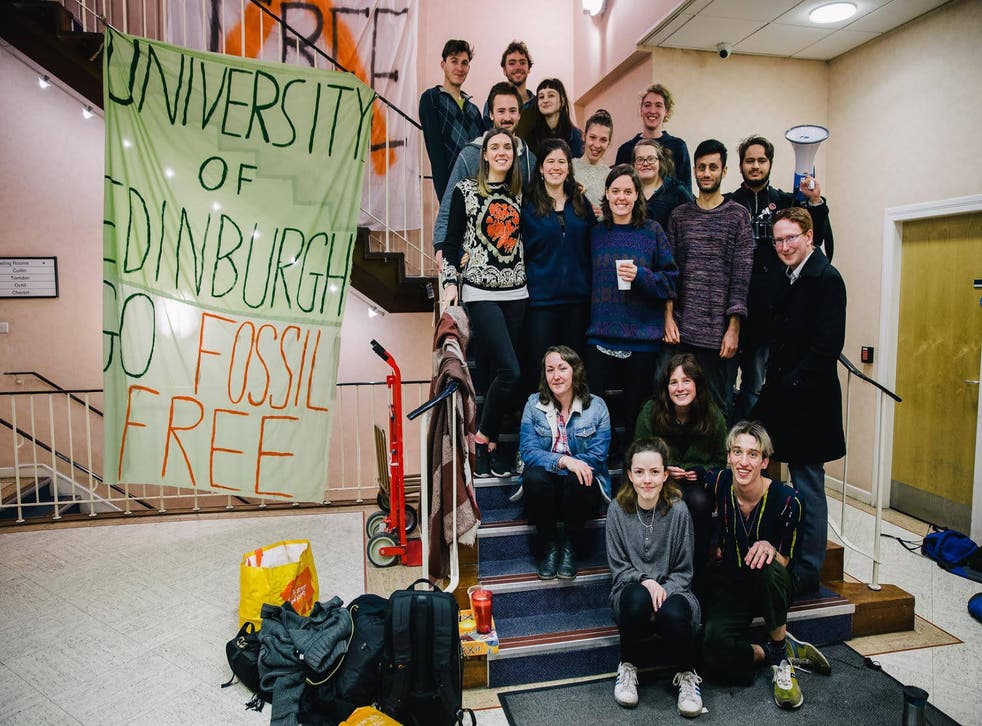 Student protesters at the University of Edinburgh have occupied one of the institution's buildings in a bid to pressure the university to divest from fossil fuels.
Making the announcement on social media on Monday, the group of around 20 demonstrators confirmed they had moved into Charles Stewart House - the university's financial building - in the city's Chambers Street.
The demonstrators are part of the People and Planet movement which says it is the largest student network in Britain campaigning to "end world poverty, defend human rights, and protect the environment."
Highlighting its demands in a short statement, People and Planet Edinburgh said: "We are occupying Charles Stewart House in demand that the university publicly commits to not reinvesting in any companies that attain more than five per cent of their profit from fossil fuel or arms."
The group is also demanding that the Russell Group institution agrees to "fully divest from all fossil fuel companies" within the next five years.
The Edinburgh University Students' Association (EUSA) also issued a statement saying it "fully supports" the campaign for full divestment from arms and fossil fuels.
EUSA added: "Actions like the occupation of Charles Stewart House continue to show that students see ethical investment as a crucial issue within the university.
"The student campaign for divestment deserves credit for keeping these issues at the top of the agenda of senior management, and galvanising a culture change within the university on ethical investment."
The top 10 universities in the UK

Show all 10
Speaking with the Independent, a university spokesperson said the institution supports the right of all students to "protest lawfully and peacefully," adding how it is working with the students to ensure they are safe and that their basic needs are being met.
The spokesperson continued: "We are committed to using our finances to make a significant, sustainable, and socially responsible contribution to Scotland, the UK, and the world.
"In line with our responsible investment policy - which was formulated in consultation with staff and students - we do not invest in companies involved in the highest carbon-emitting industries. Last summer, we divested millions of pounds from three of the world's biggest fossil fuels producers.
"Last September, we also confirmed we do not, and never will, invest in companies involved in controversial weapons or any company with a significant interest in armaments."
Monday's occupation has come after the group staged a sit-in in the same building for ten days last May, claiming the university had "not committed to divestment."
Three weeks later, in June, the protesters celebrated "partial progress" after the university issued a statement to say it would be writing to three of the world's biggest fossil fuel producers to inform them it "intends to fully divest from their activities within the next six months."
On Monday, though, People and Planet Edinburgh said in a blog post it will only end its latest occupation when the university makes a public commitment to "never invest" in any companies taking over five per cent profit from fossil fuel extraction and arms manufacture, and to "withdraw its remaining two oil and gas investments" with Apache Inc. and EOG Resources, which "stand at just over £2 million."
Register for free to continue reading
Registration is a free and easy way to support our truly independent journalism
By registering, you will also enjoy limited access to Premium articles, exclusive newsletters, commenting, and virtual events with our leading journalists
Already have an account? sign in
Register for free to continue reading
Registration is a free and easy way to support our truly independent journalism
By registering, you will also enjoy limited access to Premium articles, exclusive newsletters, commenting, and virtual events with our leading journalists
Already have an account? sign in
Join our new commenting forum
Join thought-provoking conversations, follow other Independent readers and see their replies