GCSE and A-level English curriculum dominated by 'white, deceased, male writers', say campaigners
Campaign calls on the Government to ensure women and ethnic minorities are fairly represented on the UK's curriculum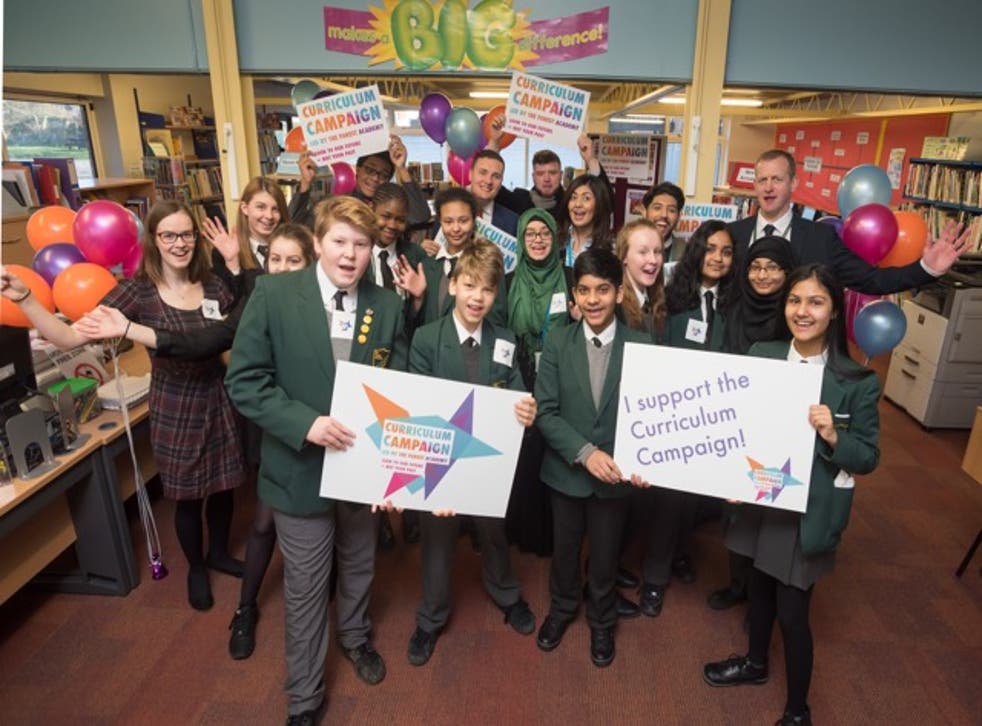 Students and teachers at an East London school have launched a campaign calling for women and ethnic minorities to be fairly represented on the GCSE and A-levels curriculum after finding current reading lists being weighted in favour of "white, deceased, male writers."
English teachers at The Forest Academy secondary school and sixth form in Ilford described how they were choosing texts to teach students after new curriculum changes came into effect in schools across the UK last September.
Having noticed a "concerning" lack of female and ethnic minority authors on offer to pick from, staff and pupils have now launched a petition as part of a new Curriculum Campaign with a petition to pressure the Government to recognise the lack of representation.
Research, said the teachers, showed that female writers were represented by an average of just 31 per cent of texts across AQA, Edexcel, and OCR's 2015/16 GCSE and A-level English literature reading lists, despite women accounting for more than half of the UK's population.
In addition, texts by writers from black, Asian, and ethnic minority backgrounds had been "marginalised" with some courses only having five per cent of texts represented by authors of these backgrounds, despite them accounting for 14 per cent of the UK population.
Lascell Taylor, 17, an AS-level student at The Forest Academy, said: "Now, more than ever, I wholeheartedly believe schools must welcome, encourage, and promote a wide range of cultures into the curriculum, regardless of the subject studied; it is a necessity - not just for our generation - but for those to come if we are serious about challenging cultural, racial, and gender ignorance.
"If we turn our backs on the hundreds and thousands of well-renowned writers from female, black, Asian, and ethnic minority backgrounds, how, as an English literature student, can I grasp the true nature of literature itself?"
The campaign is also being supported by Ilford's Beal High School, the Association of School and College Leaders (ASCL), Woodford County High School for Girls in Essex, and the Palmer Catholic Academy, also in Ilford.
Wes Streeting, Labour MP for Ilford North, helped to launch the petition on Thursday at the school where he urged the Government to ensure the curriculum includes a proportionate number of texts by female and ethnic minority writers in English and across all subjects.
Olivia Eaton, English teacher at The Forest Academy and creator of the Change.org petition, described how her students come from a range of backgrounds, therefore making it "crucial" for them to be able to "enjoy and relate to what they are reading."
She said: "It's important they're able to recognise themselves and their heritage in some of the texts they study, and that they're exposed to a variety of authors and backgrounds to gain a better understanding of the society they live in."
"The current reading lists are weighted in favour of white, deceased, male writers and this has - in turn - muted the voices of an integral part of our society, sending a message to students that these other voices and narratives are not as relevant."
In a statement, a Department for Education (DfE) spokesperson said the Government is commitment to social justice, and wants every child to be able to read widely and well, including from texts by both male and female authors.
The spokesperson added: "Our reforms have already helped tens of thousands more pupils to leave primary school reading properly.
"Female authors have played a key role in shaping modern day literature, and it is absolutely right that pupils should learn about both classic and contemporary literature from a diverse range of authors.
"That's why we are freeing teachers from a prescriptive curriculum and giving schools more freedom to decide which authors are taught in their classrooms."
Register for free to continue reading
Registration is a free and easy way to support our truly independent journalism
By registering, you will also enjoy limited access to Premium articles, exclusive newsletters, commenting, and virtual events with our leading journalists
Already have an account? sign in
Join our new commenting forum
Join thought-provoking conversations, follow other Independent readers and see their replies